Okay. I probably should have written this blog a bit earlier, but the public has until October 7th to post comments on WHETHER TO REQUIRE DEALERS TO ADOPT A "BEST EXECUTION" STANDARD FOR MUNICIPAL SECURITIES TRANSACTIONS. I encourage all serious municipal bond buyers to read through MSRB Notice 2013-16 and post your comments (via the comment link) as you see fit.
What is the MSRB you ask? The MSRB is a self-regulatory organization created under the Securities Acts Amendments of 1975 and a Virginia non-stock corporation, whose mission is to protect investors, municipal entities and the public interest by promoting a fair and efficient municipal market, regulating firms that engage in municipal securities and advisory activities, and promoting market transparency. It fulfills its mission by operating programs to protect market participants through regulation, market leadership, outreach, and education.
Now, back to MSRB Notice 2013-16. Of the specifics mentioned in the notice around "best execution", the one phrase that got me excited was the following: 'MSRB rules generally require dealers to trade with customers at "fair and reasonable" prices and to exercise diligence in establishing the market value of municipal securities and the reasonableness of their compensation. However, MSRB rules, unlike rules that apply to the equities and corporate fixed income markets, do not impose a "best execution" standard.'
I am glad to see the MSRB finally taking a more active and direct stance on the matter of achieving better execution for customers. For the uninitiated, the municipal bond market is largely composed of retail customers, where bonds are purchased either indirectly via traditional mutual funds and ETFs (i.e. MUB), or directly using bond brokers such as Fidelity and ZionsDirect. This particular MSRB notice is applicable to bonds purchased or sold through brokers.
The main reason for writing this post was to highlight what I consider the "ripping off of the public" by bond dealers when trading with retail customers. You, the retail bond customer, should be aware of where your bonds have been trading before you buy or sell them. Otherwise, you can wind up paying several points over the last trade as a buyer, or receive a rock bottom price if you're trying to sell. So, how can the retail investor get more information about where her bonds have been trading lately?
Apart from having access to a Bloomberg terminal (sweet!), the best way is to visit the MSRB's Electronic Municipal Market Access (OTCQX:EMMA) website. From the site you can enter a bond cusip into the Quick Search box, hit the arrow button, and instantly find out where it's been trading. Below is an example for cusip 745190KC1.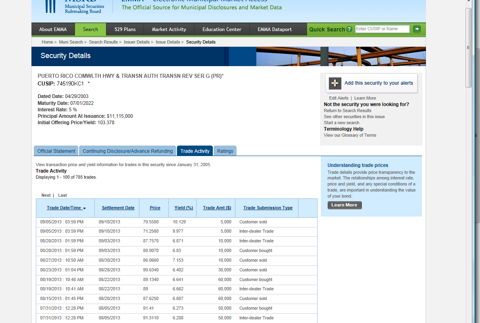 And here are the first two rows...

Finally, here is my broker's screen which displays prices and quantities available for purchase:

What is striking is that a customer sold her five bonds at 70.558 on September 5th, and on the same day were put back up for sale at 83.52, which would imply a roughly 13 point profit to the dealer! What is also interesting is that another dealer is offering to sell 70 of these bonds at an even higher price, 98.04 (as per EMMA trade data there have been no trades close to this price since July 10th). After reviewing the latest trade history you might still decide to trade at the prices provided by your broker, but by first checking out the EMMA website you'll at least have made in informed choice. To get an overview of EMMA, this introductory video does a decent job.
If you are bothered by the above example (and there are plenty more where this came from), then I encourage you to submit your suggestions, experiences, and ideas to the MSRB during the public comment period for Notice 2013-16. The deadline for comment submission is October 7th, 2013.
Folks, the MSRB is finally starting to stand up and take actions that will hopefully bring the muni bond market more into line with the transparency of corporate bond market (I recently spoke with one of their reps and he advised they're also working more closely with the SEC to adopt a more stringent way of recording trading activity, similar to the TRACE system, and by more closely overseeing and enforcing best price execution standards and practices). By submitting your comments on MSRB 2013-16 you will be helping them to help us...the little guy!