First indication that a super-slow August followed a very-slow July in FX.

CME Group, which runs the world's largest derivatives marketplace, announced that FX contract volumes (mainly Eurodollar futures contracts) in its system were down by 9% in August from July to an average of 731,000 contracts daily -- and that was after July was down by 24% from June. Indeed, this was CME's slowest month for FX since 2009 (save for last December's seasonally low number, which was about the same as this August).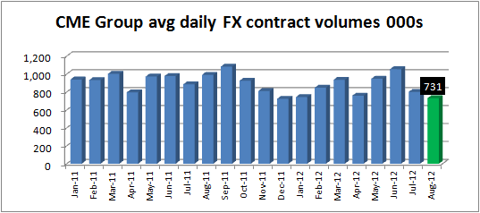 For more details see LeapRate's Forex Industry News at leaprate.com.