Either way, likely that Hotspot FX finds a new home.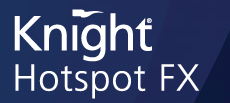 Things sure can move fast on Wall Street. Just several hours after we blogged about (likely) potential bids emerging for the entirety of market-maker Knight Capital -- not just for one of its divisions, which was the topic of a weekend Wall Street Journal article -- a bid indeed emerged. One of Knight's competitors in the equity market making business, privately held Getco, announced a $3.50-per-share bid for Knight.
The actual real value of the bid is unclear, as Getco didn't offer cash, but rather offered to merge the two companies, using some implied valuation for itself to come up with the $3.50-per-share value for Knight.
For more details see LeapRate's Forex Industry News at leaprate.com.