Getco likely to divest Knight's non-core assets, including Hotspot FX.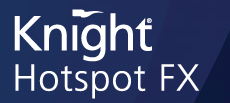 Although it has not yet been formally announced, sources close to the situation reported that Knight Capital's board will select Getco's offer to buy the company, after Getco raised the cash portion of its bid to $3.60 per Knight share.
For more details see LeapRate's Forex Industry News at leaprate.com.
For more on Forex industry M&A and valuations, including a list of M&A transactions dating back to 2006 and a valuation comps table, see the LeapRate-Dow Jones Forex Industry Report.