Those trading equity indices using high leverage were closed out of positions on the way down.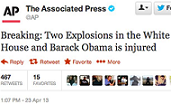 Tuesday's trading produced one of the oddest one-day price charts for the Dow Jones and S&P500 indices ever seen (see below). At about 1:07 EDT (New York time) an AP tweet stated "Breaking: Two Explosions in the White House and Barack Obama is Injured." That tweet, coming from the official @AP Twitter account, sent US equity markets into a rapid tailspin, falling 1% almost instantly.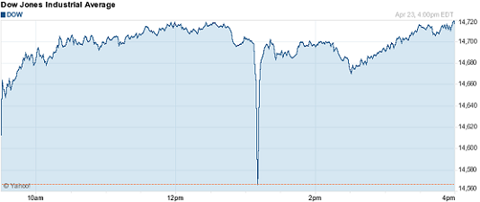 But beyond being an interesting conversation piece, the flash-crash-and-recover did have a very real impact on Forex traders. For more details see LeapRate's Forex Industry News at leaprate.com/forex-industry-news/entry/f....
For more on the global FX market see the LeapRate Dow Jones Forex Industry Report.