Gain Capital (Forex.com) shows Q2 profit, but volumes keep falling.

Gain Capital (Forex.com) announced its Q2 results today, showing a return to profit (albeit a small one) after reporting two condecutive quarters of losses. Gain earned EBITDA of $8.8 million and net income of $4.4 million in Q2.
Continuing to be troubling at Gain, however, is the issue of trading volumes.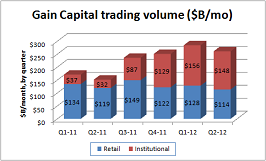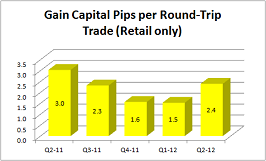 For more details see LeapRate's Forex Industry News at leaprate.com.