Note to readers: The BS Index has been updated and reported in this post:
seekingalpha.com/instablog/818827-brookl...-climb
Commenters have pointed out that on quarterly conference calls, Salesforce (NYSE:CRM) CEO Marc Benioff often uses words like "incredible" and "exciting". To explore this phenomenon I have developed a novel index called the "Benioff Superlatives Index" or simply "BS Index."
Methodology
Here is how the BS Index was constructed:
1. All of Mr. Benioff's prepared remarks and comments during Q&A were compiled from the last thirteen earnings call transcripts (Q1 2011 through Q1 2014 ending 4/30/13). Transcripts were downloaded from SeekingAlpha.com.
2. Basic Unix tools were used to count the occurrences of the following words used by Mr. Benioff, which I'll collectively refer to as the "Superlatives": Awesome, Amazing, Best, Big, Exciting, Fantastic, Great, Huge, Incredible, Large and Tremendous.
3. The total number of words spoken by Mr. Benioff in each call were counted.
4. The index for each call was calculated as follows: number of superlatives in call divided by number of words in call times 1,000 for ease of reading and comparison (equivalent to percentage times 10).
Results
Voilà: here is our Benioff Superlatives Index:
Earnings call

# Superlatives used by CEO

BS
Index
2011-Q1
75
10.6
2011-Q2
60
10.9
2011-Q3
59
11.4
2011-Q4
61
11.1
2012-Q1
39
6.5
2012-Q2
76
11.9
2012-Q3
68
11.1
2012-Q4
91
14.0
2013-Q1
70
11.7
2013-Q2
36
8
2013-Q3
62
11.9
2013-Q4
81
15.1
2014-Q1
71
11.5
A plot of the BS Index reveals an uptrend: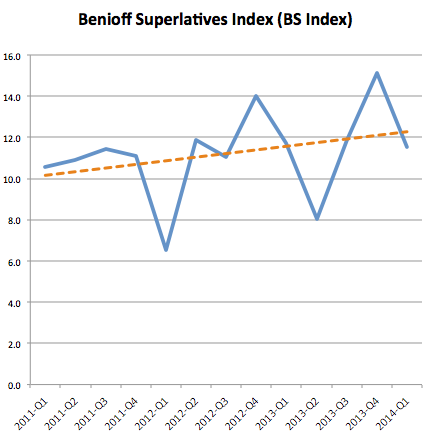 As followers of this stock will know, the stock price has also been rising during this period: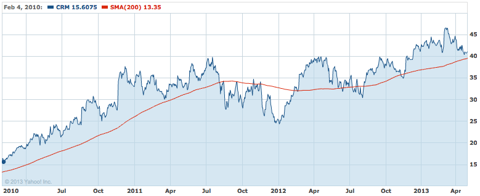 Meanwhile, GAAP EPS is showing a downtrend: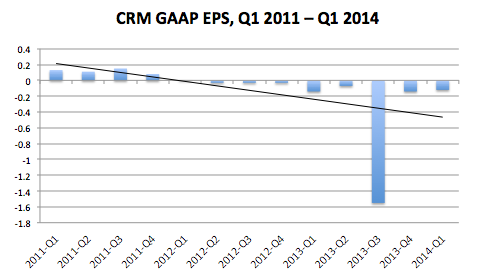 Let's put it all together: the more inflated Mr. Benioff's language is, the higher the stock price goes -- and the lower the GAAP earnings go. Amazing!
Focus on "exciting" and "incredible"
I examined Mr. Benioff's use of the words "exciting" and "incredible" over the last 13 conference calls. This metric fluctuates, but it is helpful to look at the 4-quarter trailing average (note: this is a trailing average of occurrences per call, not the BS Index):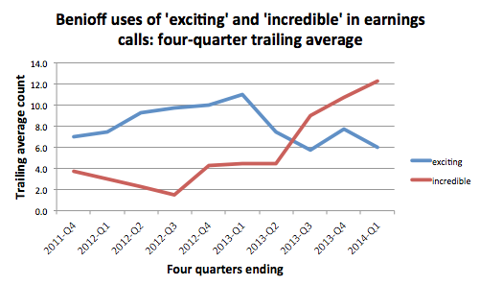 You can see that the trend is less "exciting" than in the past -- perhaps because those pesky GAAP earnings are stuck below zero -- but increasingly "incredible."
How incredible can it get?
Disclosure: I am short CRM.