For the past year ago I have written articles on SA regarding Apple (NASDAQ:AAPL) and following the trends and playing the pullbacks in order to profit from the market swings. I also once made a prediction that Apple would pullback to $500 before ever seeing $600. I was wrong, and ate my crow for it.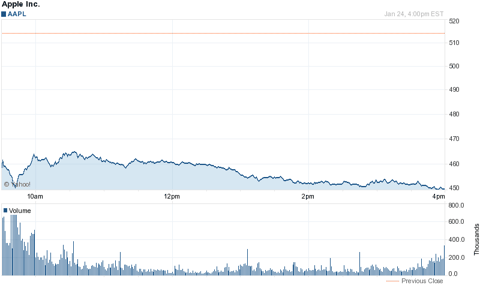 Today (Thursday) marked the biggest pullback both in dollar amount and % wise the stock has ever seen. Although it has seen some double digit pullbacks over time, never has the stock dropped at the rate we saw today based on non-world events: more than a 12% drop, even more after-hours, based on lighter I-Phone sales which ultimately led to lower earnings. The question now is, is this carnage over and is it time to buy?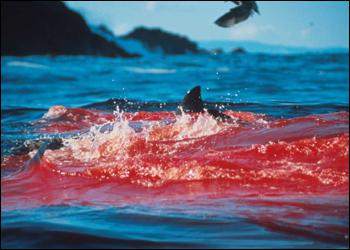 If you read my article over the summer, you would see I expected some type of slow to Apple's rocket launch toward $700, $800 and beyond. The talk of seeing Apple hit $1,000 before the end of 2012 was something (I hope) many of you did not believe would come to fruition. Can I honestly say I expected this type of decent? Of course not, the stock has pulled back nearly 25% since the summer, and over 35% off it's high of $705. There are both pros and cons to the stock that I will discuss below, but my take is it is a solid company that is feeling the panic of the holders whom thought this stock would reach the moon faster than a speeding bullet.
One thing we have noticed especially recently is that the street punishes companies that miss their marks ever so slightly. Apple missed predictions on their I-Phone, I-Pads and the Macs (according to street predictions). Are you surprised? With the market share this company has, the only way their market share could have went was lower! The competition such as Samsung (OTC:SSNLF) has come out with new and improved phones and tablets to steal away some of Apple's thunder. But what was the correction today too much?
I personally do not believe Apple to be a stock to hold in the $400-$500 range for long. There is too many good things happening for it to remain there. This is stock that after today is only trading at 6 times its earnings (huh?). And also let's not forget that in reality (as another SA author mentioned here) there were only 13 weeks in fiscal year QTR 1 2013 as compared to 14 weeks last year. In reality, they averaged higher weekly sales this year than last so perhaps the panic is a bit much. The company still maintains a solid market share, even if it is shrinking. They have tons of FCF, and are in the process (finally/hopefully) of bringing Apple TV to fruition with something added to it we haven't seen yet, instead of dodging the question.
Overall there are pros and cons and as I have always said, you as an investor need to weigh them all and make a decision. It is your money after all and you should know the advantages and disadvantages ahead of time before you make a decision of how to invest it!