Gilead Sciences (NASDAQ: GILD) is the leading biopharmaceutical company with the wide-range quantity of the products. The company's products include HIV-treatment, the treatment of pulmonary arterial hypertension, and the treatment of liver disease. The company was founded in 1987 year, but it reached the great success some years ago. The revenue chart presents this success.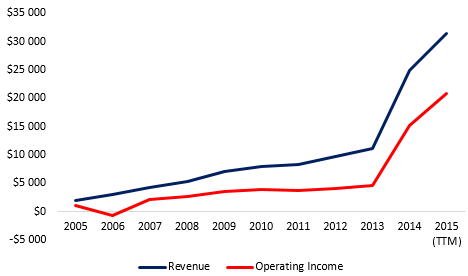 Chart 1. Revenue and Operating income. Source: Company's reports
In my opinion, the market is incorrect to Gilead's shares. The share price has dropped 15% since the beginning of the year. Two main reasons appeared for this decrease.
First is the political pressure on the industry. Hillary Clinton and other politicians have many talks about high prices on the medical products. Of course, these talks are reliable to Gilead Sciences due to the expensive product such as Sovaldi. However, expensive products are not limited to Gilead but are the prominent story of the whole industry. Moreover, Gilead provides a unique product with the best cure rates in genotype 1 hepatitis C patients (99%).
The second reason for the share price decrease was concerns about competition. Many companies want to enter into this market and take market share. As I figured out, Merck (NYSE: MRK) and Bristol-Myers (NYSE: BMY) have some new drugs to treat Hepatitis C. But Gilead looks like unstoppable in Hepatitis C treatment. The company applied to FDA for a new drug that will be able to treat ALL SIX genotypes of Hepatitis C. It is a combination of Sofosbuvir/Velpatasvir. Gilead plans to launch this product in nearest future that might improve Gilead's results.
So, the company's shares has political pressure and invisible competition. The current management action will keep company growth in the future.
So, the company's shares have political pressure and invisible competition. The current management action will keep company growth in the future.
I think that the company will be to reach $32 billion - $33 billion in sales in 2016 year due to strong sales, launch new products, and launches new regions such as Japan. Japan has approximately 1.5-2 million infected people. It is a huge market for Gilead. We can assume that only 2% will be able to buy Sovaldi. It might add more than $2 billion U.S. dollars to sales. I took this numbers in my valuations, but I think that it is a very modest number. Two main products will have strong sales and bring more than 55% of Revenue to the company. Of course, there will be pressure on prices, but it is not a quick process to decrease product prices, specifically for a unique product without visible competition.
Also, I do not think that the company will make huge capital investments or increase Operating expenses. It is not necessary to make new acquisitions due to concentration on the 1-2 direction of business with strong Research and Development department. It means that the company will keep its margins and FCFF for valuations.
 

FCFF

EV/EBITDA (terminal value)

EV/EBITDA (comparable)

WACC

9.53%

9.53%

 

EBITDA multiplier

-

7.25

12.54

Net debt

(678)

(678)

(1071)

Diluted shares

1489

1489

1489

Fair value

$142.54

$110.48

$138.14

Method's share

33.3%

33.3%

33.3%

Average Fair value

$130.37
Source: Morningstar, Author's calculations.
To sum up, we have the great company with the solid product portfolio and financial statements. Gilead has high level of profitability, liquidity, and credit risk (NYSE:TTM):
Profitability ratios

Gross Margin

Operating Margin

Net Margin

ROE

ROA

ROIC/WACC

87.26

66.47

53.78

109.18

42.56

5.83

Liquidity ratios

Current ratio

Quick ratio

Cash ratio

Defensive ratio

Cash cycle

-

2.77

2.33

1.68

628

88

-

Credit risk ratios

Financial Leverage

Debt/Equity

Interest coverage

2.91

1.26

33.30
Source: Author's calculations.
Gilead plans to launch new products nearest future, increase sales of Sovaldi and Harvoni. The company is going to take market share in Japan. Gilead started paying dividends to investor and raised its buyback program. By all accounts, the share price should look toward its fair value that is close to $130 per share.
Disclosure: I/we have no positions in any stocks mentioned, and no plans to initiate any positions within the next 72 hours.
I wrote this article myself, and it expresses my own opinions. I am not receiving compensation for it (other than from Seeking Alpha). I have no business relationship with any company whose stock is mentioned in this article.