This article could possibly be one of the last articles published that recognizes the revolutionary transformations in the Canadian marijuana industry by Creative Edge Nutrition. (Ticker: FITX). The company continues to be scrutinized under the microscope and has been known to be the Wall Street darling of the sector.
The aims of this article are to give 1) brief analysis on Bill Chaaban's presentation in the WeedStock Conference and will be used intermittently throughout the article 2) focus on the relationship between CEN Biotec and RXNB, 3) Determine the value of Hemp Technology Inc towards CEN, 4) briefly explain the Canadian marijuana sector and potential for growth 5) evaluate the price per share of FITX and 6) evaluate the US Market and future prospects of CEN Bio Tech.
Marketfy: 420 Investors
On June 30, 2014, CEO Bill Chaaban presented at WeedStock's First Annual Cannabis Investor Conference in Denver, CO. Hundreds of investors joined this conference to elaborate and share their thoughts and ideas regarding the industry. Marketfy 420 Investors recently released the live presentation. Alan Brochstein, CFA, who has become one of the most prominent visionaries of the industry, partnered with Marketfy in hopes of catering to investors interested in the marijuana sector. His investment research portal called 420 Investors allows a dynamic interaction with expert analysts and company CEOs discuss the political and financial world of the industry in great detail. For further details of the WeedStock live presentation, please visit: Conference
The Perfect Match
Bill Chaaban and CEN Biotech have seemingly become the connoisseurs of the marijuana industry. Through various collaborative studies with Dr. Sam Alaweih, founder of RXNB, CEN has now established innovative novel methodologies to produce marijuana. Their pursuits are a radical departure from traditional grow operations that lack quantifiable approaches in procedures used over the past half-century. RXNB Inc. is a compound pharmacy that manufactures and distributes pharmaceuticals. The company has a manufacturing facility that allows detailed testing of medical pharmaceuticals and serves 50,000 patients per month. The agreement with RXNB gives CEN a unique opportunity to access substantial international distributions in drug formulation, manufacturing, and nutritional markets. RXNB's distribution network supplies approximately 2,700 clinicians that are tailored to functional medicine across the United States. In addition, RXNB also operates its own call center and novel software technologies in the field of custom specialty drugs (designed specifically in compounding pharmacies) and batch record keeping in compliance with USP 797. This patented record keeping software gives CEN an exclusive advantage to utilize for marijuana production.
Of note, extensive patents ranging from agricultural, medical, distribution technologies, THC research and development are one of salient points of interest that RXNB entails. It has been documented by third party valuations that RXNB has a portfolio valuation of $110 million dollars and approximately $27.5 million dollars in annual revenue. Sale revenue of RXNB was over $360 million for the pharmaceutical building alone.
Marijuana Grow Cycles
Currently, marijuana grow cycles range from 10-16 weeks, depending on the type of marijuana plant (i.e.,Indica, or Sativa). RXNB has patented technology that will accelerate plant growth, almost reducing production time by as much as 50-60%. This will allow perpetual growth cycles of about 4-5 weeks and a cohort of plants that will be sustained and protected from contamination, yielding even greater healthier harvests.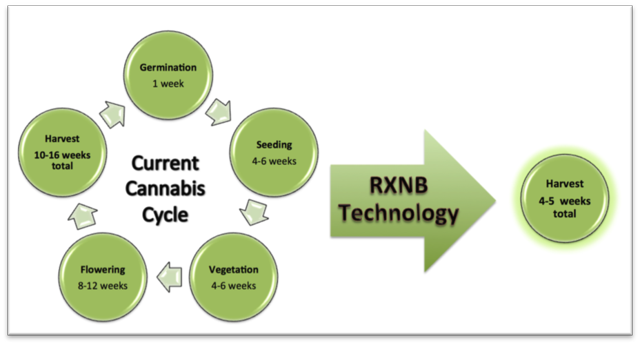 In addition, RXNB and CEN technologies aim to abide strictly to the Current Good Manufacturing Practices (cGMP) manufacturing and growing process of medicinal marijuana.
At the WeedStock Conference, Bill discusses the importance of GMP:
"It is very important you have good production practices. I have been manufacturing under cGMP since 2007. FDA or HEALTH CANDA will grab your SOPs [Standard Operating Procedures] and ensure your following it to every letter. It's not easy to follow and you will be written up if you don't comply. People manufacturing under the old regime have an incredibly difficult time to implement GMP, record keeping and SOPs requirements. In fact, most have been shutdown today, so that being said companies under the MMAR must reapply to be under the MMPR or they will not be able to grow. I can assure you 90-95% will bring their experience with the bad practices under the new regime and most will not survive if at all obtain license."
According to the FDA website, "Good Manufacturing Practice regulations are enforced by the US Food and Drug Administration (FDA). cGMPs provide for systems that assure proper design, monitoring, and control of manufacturing processes and facilities. Adherence to the cGMP regulations assures the identity, strength, quality, and purity of drug products by requiring that manufacturers of medications adequately control manufacturing operations. This includes establishing strong quality management systems, obtaining appropriate quality raw materials, establishing robust operating procedures, detecting and investigating product quality deviations, and maintaining reliable testing laboratories. This formal system of controls at a pharmaceutical company, if adequately put into practice, helps to prevent instances of contamination, mix-ups, deviations, failures, and errors. This assures that drug products meet their quality standards."
These new regulations allow many companies to utilize modern technologies and innovative approaches to achieve higher quality product through continual enhancement. To this end, RNXB and CEN have in tandem equipped their respective companies to succeed in this field.
A merger acquisition of this caliber would be paramount for the success of CEN and quickly distinguish itself from other competitive marijuana companies.
During the WeedStock Conference, Bill Chaaban gave subtle clues regarding the strategic relationship of RXNB and CEN Biotec. He explains:
"In 1998, I started a nutrition business, have three different stores and online nutrition stores. Became one of the top ten nutrition websites in the US. Got into private brands, six private bands, which we sold different supplements online and in store. It became a huge profit center for us. I didn't like the quality of the products that were being produced outside, so we started a contract manufacturing nutritional supplement in a 50,000 sq feet facility where we would make these supplements and ship them around the world for many brands. That's my nutrition [and distribution] side of the story.
I met Dr. Sam Alawieh almost 5 years ago. They had a compound pharmacy and became one of the top compounding and dispensing pharmacies in the country, they are licensed in 21 states, almost 50,000 patients on auto-ship throughout the country. Their model was based on HCG diet, anti-aging, testosterone drugs. They built a model for doctors such as ER physicians who wanted to supplement their income. They were involved in selling, supplying, educating, and training of the medicine and to insure these medications with Ed Kuhn [Wellness Medical Protection Group/Liability Insurance Solutions]
We would be able to sell 1.32 million pounds marijuana, and once licensed we would be able to import and export product to countries that allow it. We have a market development and research team that is scouring the globe looking at laws for marijuana and hemp worldwide."
Acquisition of Hemp Technologies
"CEN Biotec recently acquired the assets of the global holdings of Hemp Technologies Ltd. In particular, its operations in New Zealand, Canada and the United States among other countries. Hemp Technologies Ltd. is a vertically integrated company, which grows, processes and sells its hemp directly to the consumer and for industrial processing. In addition, it is instrumental in hemp home building and building materials, hemp spirits and food, and hemp pharmaceutical and dietary supplements." Hemp Aquisition
Clearly, many nominal benefits are present in the utilization of hemp, much of which will be discussed by CEN Biotech as the company expands operations into the hemp arena.
Anndrea Hermann, president of Hemp Technologies Global and Chief Development Science Officer of the Hemp Division at Creative Edge Nutrition, recently explained via email to the author of this article:
"The average yield per sq foot of hemp grain can yield in a range from 700-1000 lbs/acre, which are conservative estimates of production. HTG works with many different types of products from cold pressed Hemp Oil to Hemp Insulation."
One should note that if MMPR license agreements for marijuana and hemp are approved by Health Canada, CEN Biotech will ultimately be able to grow as much as 1000 lbs (453592 grams) of hemp. This yield can potentially triple the revenue of CEN Biotech.
Health Canada
Today's $180 billion worldwide alcohol market can be contributed to the repeal of the Volstead Act. Current estimates for the U.S. marijuana market range from $40-$45 billion and a staggering $115 billion worldwide. This could potentially be almost 60% of the alcoholic beverage market.
It is to no surprise Canada is becoming progressively determined to lead the way into the industry and set the standard for many other nations to follow.
As the general public becomes more alert of the implications that medical marijuana will have in current and future generations of patients, Health Canada has directed their research and development programs to foster excellence in quality drug control and hone in on educational reform, specifically catered to physicians and patients.
Bill Chaaban explains at the WeedStock Conference regarding Health Canada objectives:
"I spoke with the market development team of Health Canada. We talked about what our plans are, what we anticipate once we become licensed. Health Canada's goal is to develop and establish a stable supply for Canada, domestically. Their biggest interest is research education, and industry building. We are committed to Health Canada that we are going to partner with them to build an industry, domestic and foreign and make Canada a leader in education and supply. We have committed to provide an education to physicians and provide research for disease states that are strain specific. In Canada only dry marijuana can be sold, and we intend to lobby the government to have different delivery mechanism, which is very important for patients. Again, security, access to medicine for patients, and drug safety is critical to Health Canada."
Marijuana market share
Health Canada has seemingly been very conservative in the total market share of patients in need of marijuana. Many of the projections that HC states are implemented for severe cases that have limited scope of treatment modalities. Just recently many US states such as Illinois have approved medical marijuana for all types of patient populations ranging from seizures (focal and generalized) and epilepsy to less complicated ailments such as tension headaches, Many treatments requiring selective GABA inhibitors, first line drugs like valproic acid, carbamazepine, can now be replaced at the physician and patient's discretion by medical marijuana. Of note, first line drugs have more serious side effects than marijuana which include low white blood cell count, liver cirrhosis, kidney failure, and sometimes death of the fetus if taken while pregnant.
The current number of medical marijuana users approved by Health Canada: 37,359, a drastic increase from 477 patients in 2002. However, with the new MMPR license and more substantial uses of marijuana for various ailments, that number can potentially be a staggering 500,000 patients, which according to Bill Chaaban will most likely be reached within two years.
Of note, Americans spend more than $200 billion on pain relief medication annually. Roughly 26% of the population suffers from acute or chronic pain, post-traumatic and post-surgical pain, which yields almost half of patients in this country alone. Even if less than 10% of the population utilized medical marijuana as a treatment modality, there would be a higher demand than Canada or America ever anticipated, somewhere in the range of 2-3 million patients. statistics
License and Zoning: the endless debate
Even after much discussion regarding CEN Biotech obtaining license from Health Canada, some pessimistic investors are reluctantly undaunted by simple facts regarding zoning and continue to press concerns regarding municipal approval.
Bill Chaaban explains at the WeedStock Conference:
Zoning has never been an issue. Both sites 1 and 2 are zoned agricultural. Currently, there is no processing allowed in Canada, it's just dried product.
Our application for the city which costs almost $9,000 was to send it in for zoning change for building 3, 4,5,6, and future processing, not for growing, but processing. If we want to lobby government [in the future] and say we want to make CBD oil, we can't do that right now on the land, that's value added and that's why we are being proactive to get a zoning change [for site 3,4,5,6]. It does not limit us or stop us from getting license.
As discussed earlier, Hemp Technologies in addition to RXNB pharmaceuticals will most likely utilize sites 3-6 to process the value added changes. It is critical to differentiate; processing and growing as two separate entities, and that growing dried marijuana has no influence on the processing department of facility 3-6.
Bill Chaaban continues to explain, " The minute a company gets licensed federally, cities [Lakeshore] lose jurisdiction. Cities or towns will not have the right to access the property because we become a federally licensed and inspected facility. But CEN wants to operate in Lakeshore and we want to be a good neighbor and good corporate citizens-[thus out of mutual respect], we still have their inspectors come in and have everything in compliance with them and approved by them. But this is not necessary."
Cultivation Activity vs License Activity
Over 200 applicants have filed to receive license, but there are an array of different connotations and some confusion that should be addressed.
Bill Chaaban explains at the WeedStock Conference:
"There is no such thing as a pre-build stage, you either have a ready to build stage or you don't. Providing a phase licensing process: If an applicant has completed paper review and has met the regulatory standards for cultivation of marijuana, HC will inspect and license that applicant for the cultivation activity only in order to accelerate production capacity. The applicant could subsequently obtain full licensing upon meeting further requirements of the MMPR.
This means for example the applicants that are ready for cultivation but are not ready for storage security requirements under regulations could begin to grow marijuana while continuing to complete their requirements for physical storage of dried marijuana. So you probably asked yourself well there's guys growing but they don't have a vault, they don't have security-well that's how they were able to grow. They have a ready to build letter and asked to just simply cultivate. Under the new MMPR cultivation before storage and security is allowed, provided you document plans to start the MMPR for full license.
We have everything done, we have a 4000 square foot vault, it would take 10 hours to penetrate if you can make it through our inner and outer security systems. We know we can store hundreds of millions of dollars of marijuana in that vault. Once pre-license inspection comes, we can start growing and we are ready to grow, I can assure you. I thought it was important for all you to know that and it was clarified for you."
Price per share
Almost one month has passed since Bill Chaaban and investors are eagerly anticipating for inspection of the facility to gain approval for full license. This in part is largely the reason FITX pps has plunged to the near lows of almost 6 months ago. However, the question remains open as how marijuana companies react to booming news regarding the sector, and most importantly, how high the price of FITX (which is seemingly at the lowest of all these companies) can extend once license is obtained.
It should be noted that the market capitalization of FITX is at the highest of all these companies. This is largely due to the shares outstanding by the company, almost 3.5 billion shares. Needless to say, the market capitalization can be overbearing, but other companies that are well over $1-2, have market capitalizations in billions (MDBX), a value that is not far too distant from CEN. Discussions on the shares outstanding will be brought to light further as Bill Chaaban and his board of directors executes plans to initially build this new company and obtain license.
pps as of July 27th, 2014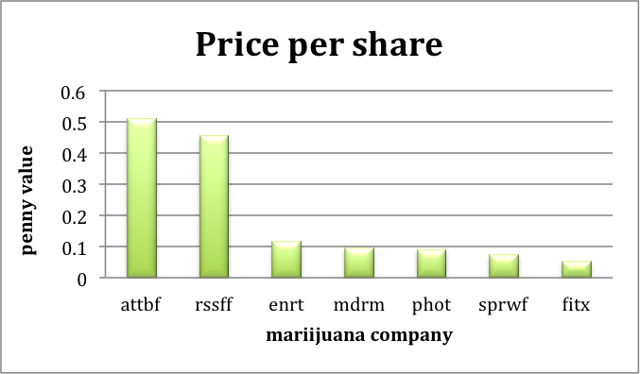 The US Market: Las Vegas
Bill Chaaban has looked into license in Las Vegas, Nevada, which requires a hefty $250,000 application license fee and over $100,000 or more in contract and lawyer fees. Las Vegas License fee. Bill Chaaban has hinted on multiple occasions such as the WeedStock conference that the company is planning on filing for a license in Las Vegas, which was due on July 25th 2014.
Bill Chaaban states:
"I had the pleasure of meeting someone meeting high up in the narcotics department. We found out all the problems that you have in Colorado that people don't realize. One of which is testing, there is no lab testing going on, people getting unstandardized products, edibles which is horrendous, does not comply with food safety. There's no testing, which violates CFR 211, no labs can operate and test marijuana right now. Second thing is, banks are not touching the marijuana business. Most of the money is not reported and safety is a concern. The industry is taxed 37% so some are not reporting. So there are huge issues, and Colorado has a long way to come.
We are eyeing Las Vegas for the future, and Las Vegas is probably the only market we want to enter, Nevada is going to give reciprocity to medical marijuana card holders, so that means you have a Colorado card or a Washington or California card, you can buy. Its not an easy process, you have to pass background checks, so just because u get approved at the county level or state level. Any blemish you will not get licensed because they are afraid of gaming and organized crime infiltration. It is very important to know this."
CEN BOARD MEMEBERS
The company boasts a world-class board of directors, including securities fraud investigator John A. Germinario, formerly with the SEC; Dr. Sam Alawieh, Pharm.D, who carries over 32 patents pending on marijuana-related technologies; Michael K. Clark, an expert in global capital markets; as well as several prominent physicians such as Dr. Davild L Felton, with powerful backgrounds in patient care and NIH funding.

From left to right: Bill Chaaban, President & CEO, JEFF THOMAS - VP CEN, JOHN A. GERMINARIO - Chairman of the Board, DR. SAM ALAWIEH, Pharm.D. - Chief Pharmacology & Acquisitions Officer, DR. DAVID L. FELTEN, M.D., PhD. - Chief Medical Director, MICHAEL K. CLARK-Chief Financial Advisor, DR. M. KERRY O'BANION, M.D., PhD-Chief Medical Director
Bill Chaaban gives some details regarding the board members of CEN. He explains at the WeedStock Conference:
John Germinario, career banker, private regulator, for the IRS, SEC, and the FBI, an IRS criminal investigations. He is the man who found that banks were ripping off the IRS and committing crime to the American people. 2-3 billion dollars. He has the ear of the SEC and FINRA and the head of the SEC. In his open letter that he wrote to FINRA was to tell them to stop attacking legitimate companies in the medical marijuana space. Leave the good ones alone. There will be more halts, and they will be coming. There are paid bashers on our stock and we know whose paying them-and we will come after them. And we will let SEC and FINRA pay for it. Not our shareholders.
Michael K Clark was a senior executive, Vice President of JP Morgan and Chase. He was the second man in charge. He was the President of Fidelity Investments. What's his specialty? He's done 5 billion dollar capital raises.
Dr. Felton, who has two NIH national institute health tenure awards and a MacArthur foundation award. [The John D. and Catherine T. MacArthur Foundation supports creative people and effective institutions committed to building a more just, verdant, and peaceful world. In addition to selecting the MacArthur Fellows, the Foundation works to defend human rights, advance global conservation and security, make cities better places, and understand how technology is affecting children and society. - See more at: MacArthur Grant Dr. Felton is most likely be up for the Nobel Prize as we were told. He ran Beumont Hospitals trial program with over 250,000 patients. We are focusing and going for research.
Dr. M. Kerry O'Banion, received 8 out 8 NIH grants, and owns part of the patent rights for Celebrex and Praxil.
These are some of the people on our board and now you know basically what attracted these gentlemen to our company and our board. They have seen our facilities, and our plans."
The board members each have cultivated the self motivation to contribute meaningfully in this field, many investors and shareholders will find it gratifying to be involved in their pursuits, but even more gratifying would unquestionably be the transformation of patient lives and the entire medical sector for decades to come.
CEN Future
CEN is becoming more attractive to investors, and the prospects of the company's pipeline are promising. Investing in pennies on the dollar can be a risky investment, but with the overwhelming transparency that Bill Chaaban provides to shareholders, the merger acquisitions of HEMP Technologies and soon RXNB, and an extremely reputable board of directors, CEN is clearly paving the path to success and transforming the industry.
Non Profit Donation
Investors such as Addison Bradley Bachman, have spearheaded a non-profit organization to sell high quality FITX t-shirts, which proceeds will be donated to World Vision International. The donation will be presented a the Las Vegas Special Event Meeting held by CEN sometime within late August or early September. Fitx clothing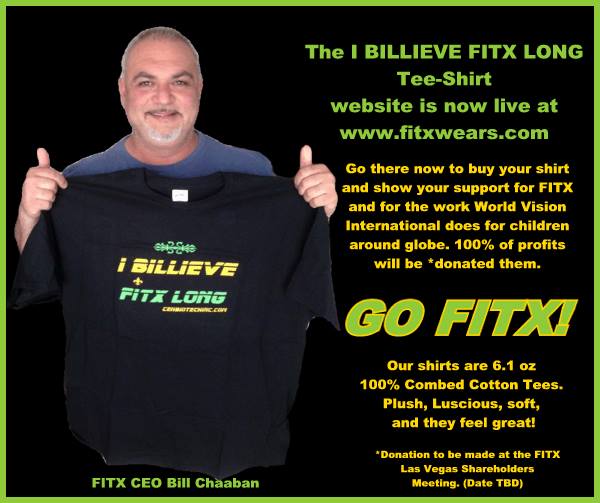 Disclosure: The author is long FITX.
Additional disclosure: Caution should be given to new investors who would like to play conservatively with their investment. This is by no means a guaranteed successful investment, the critical risk currently would appear to be the license approval, all of which will undoubtedly be determined within the very near future.