CEN Biotech Inc. (ticker: FITX) has distinguished itself from the handful of scattered marijuana companies in Canada, and has given investors the confidence needed to emerge stronger than ever before in this sector. The company website provides further investor relation questions and information about the company.
Many investors currently investigating this company realize the state of the company's license is a concern that rises above all others. However, the weight of this uncertainty will not determine the destiny of this company. The answer to licensure is not too far beyond the company's reach. More importantly, investors should not allow short term gains prize over long term prosperity; failing to look beyond next quarter, after license, after merger with RXNB, and after grow operations can be a costly mistake that many investors may regret in the near future. More information can be discussed in greater detail in S. Cary's article.
This article aims to 1) briefly evaluate 11 of the MMPR licensed producers in Canada and 2) give a brief update of CEN's current completed marijuana facility.
Super-grow facility
Many investors in the marijuana industry have recognized CEN Biotech to be a super-grower of marijuana. In other words, CEN Biotech has been regarded as a facility with a larger capacity grow operation than other regular grow operation facilities such as Mettrum LTD, Whistle Medical, Cannimed, etc. Investors may speculate that a large part of delay in license can literally be the aggressive production quantity implicated by CEN, which will require much more scrutiny by Health Canada than other regulated facilities. The regulated sales from government approved facilities compared to the old regime of unregulated grower operations has given many patients the benefit of obtaining safe, high quality grade marijuana for their various ailments. Already, CEN has made historic steps to plan its future path successfully. They have provided the resources necessary to prevent any critical setbacks and have given careful consideration to various arenas of the marijuana sector that many companies have yet to address.
Health Canada Licensed Producers:
Most of the MMPR licensed producers have roughly an average square footage of approximately 41,780 square feet. With the exception of TWEED, which has bought a previous 180,000 square foot Hershey's Chocolate factory to produce approximately 45 million grams of marijuana. To date, the company is still in the process of building the facility, but has purchased a 350,000 square foot facility of which 10% of the activities will be utilized for marijuana production. TWEED area
Mettrum, a privately held company is a Toronto based facility. The company has indicated that their licensed facility is ready for production, and currently has 5 strains of cannabis readily available for purchase on their website.Mettrum also promotes a 30/30 pricing plan on their website offering 30 % off the cost of the first 30 grams patients order every month, however patients must qualify with income lower than $30,000.
Delta 9 a privately held company that has roughly an 80,000 square foot facility. They boast 27 different strains of cannabis and are ready to distribute product to clients. Delta 9 article
This facility has square footage that is currently at par with Cen Biotech Inc. However, it is important to note the square footage of Cen Biotech will be much larger as the company augments their income to grow and build almost 10.5 acres of land for hemp and marijuana production in their first facility alone.
Whistler Medical Marijuana, a privately held company has recently recalled a strain of their marijuana product. Despite this small complication, this 10,800 square foot facility has management with "20 years experience producing cannabis, organic grapes and berry crops, greenhouse production of tomatoes, cucumbers and peppers-[they claim to be the first all-organic facility in Canada]"
Whistler Medical Marijuana company also indicates that their facility has the capacity to service roughly 3,000 patients. Proportionally, if one takes into account this patient capacity as a standard for every 10,000 square feet, Cen Biotech can seemingly service 24,000 clients in one facility alone; an 8 fold increase in clients compared to Whistler. Granted this offers a robustly rough estimate at best, however interesting to tease out nevertheless.
Tilray, a privately held company currently has a 60,000 square foot facility in Nanaimo, British Colombia and proclaims the facility to be the largest federally growing operation in the world. The company explains, "We invested $20 million in a 70,000 square foot facility in Nanaimo, BC, which we built to grow and ship medical cannabis. We received our federal license from Health Canada in April, and since then we have been harvesting, hand-trimming, packing and shipping medical cannabis to Canadian patients every day. Tilray profile In addition, the company has "already created 65 local jobs and is still looking to fill positions for marketing managers, bilingual customer service representatives, horticulturists, trimmers and shipping specialists. Tilray will hire an additional 40 employees in the coming months."
Lakeshore should follow suit of Nanaimo, BC
Interestingly, the town of Lakeshore can readily emulate the city of Nanaimo's successful employment opportunities. Lakeshore should realize the potential gains in job employment, tax revenue, and further focus on increasing the value and infrastructure of their community. Tilray has reported over 400 applicants last month alone to obtain employment at their facility. With a dwindling Lakeshore economy and a 7% unemployment rate in the Lakeshore region, the residents of the town are eager to transition to a new fresh industry that would benefit their lives immensely. Though most residents support the notion of the facility running in the agricultural zone of Lakeshore, some residents have shown stark opposition. The importance of this facility cannot be stressed for the town of Lakeshore as indicative of Nanaoimo; reaping the rewards of the Tilray facility with open arms. Tilray employment
MedReleaf Corp. a privately held company has seemingly also been under the radar as a licensed producer of marijuana in Canada. The company has "a 55,000 square foot production facility in Markham, Ontario and a "highly skilled team" of "experienced professionals with backgrounds and post-graduate degrees in business, molecular plant genetics, biotechnology, horticulture, clinical laboratory management and operations, and hospital administration." MedReleaf article
An interesting element of this company, is their product catalog. The company has categorized their products by either 1) severe pain, 2) mild pain, or 3) various premium strains. Of note, the THC and CBD percentage is accurately depicted on each strain, which is a unique feature many other facilities should emulate.
OrganiGram Inc, a company that is soon to be traded publicly, has a facility in New Brunswick, Canada. It is interesting to note that they currently compromise over 16 different strains. The company has a 20,000 square foot facility and allegedly a capacity to produce 100,000 grams of marijuana in a month.
CanniMed Ltd., a subsidiary of Prairie Plant Systems Inc. (which was originally the sole provider of marijuana production contracted by Health Canada last year with recall complications) has a facility located in Saskatoon, Canada. The facility is roughly 35,000 square feet and worth $3 million.
Three facilities avoiding the spotlight
Three other companies that have obtained MMPR licensure, Canna Farms Ltd, ThunderBird Biomedical Inc, and In the Zone Produce Ltd, have not been analyzed with square footage due to the limited scope of information provided publicly.
It appears that In the Zone Produce is a family owned farm located in British Colombia, catering to a small niche of clients. The company offers boutique strains of marijuana and various premium quality brands. It is also important to note that PharmaCan, has bought In the Zone Produce.
Interestingly, Canna farm Ltd, was established this year (2014) and has avoided much spotlight in the marijuana sector. They are located in British Columbia and are a family owned and operated facility. http://cannafarms.ca/
Lastly, ThunderBird Biomedical is a facility in Vancouver Island with a private location that has not been disclosed. What is more surprising is their company website provides very little information regarding their facility and or production design.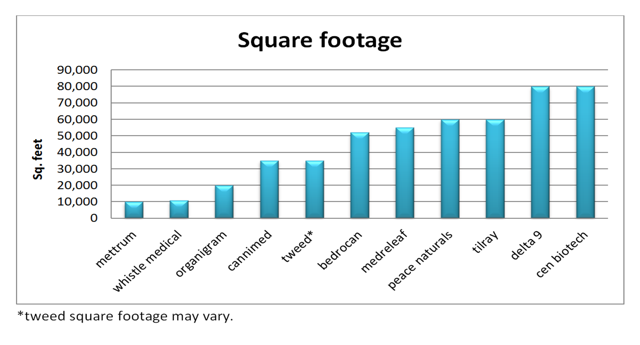 License announcement sparking interest
It is important to note that CEN Biotech has not obtained licensed. In a recent article (August 16th 2014), Bill Chaaban explains that he is very optimistic to obtain license of the facility by the end August. The article explains:
"The company's CEO, Bill Chaaban, said he expects the license by the end of this month. 'The application calls for 600,000 kilograms a year of marijuana production, which would put CEN ahead of the field in Canada. We would be larger than all of them combined'. "
Cen Biotech Conservative square footage
To this end, Cen Biotech not only has the most square footage to grow immediately after license, but also the capacity to increase square footage by their construction of building 3, 4, 5, 6 in their 10.5 acre site, approximately 460,000 square feet of space, much higher than the alleged facility of TWEED (ticker: TWD). Of note, investors should realize the company will need time to grow, but with current projections, CEN Biotech will truly be the most advanced and largest marijuana facility in Canada.
To limit bias, the projected square footage in this article did not incorporate the 10.5 acre land space of CEN as it is further in the company's projected building sites.
In addition, CEN Biotech is utilizing a novel multi-level vertically integrated growing platform. In other words, much of the design of the facility is catered in providing 2-3 level flooring to increase square footage. Many other companies have one main ground platform, not taking into account various levels in their facility design. However, again to limit bias and complexities in design space, only one level of space was utilized for calculation of square footage space.
Potential Revenue of Health Canada MMPR Companies:
In order to accurately standardize the reporting of production revenue of the licensed MMPR companies and account for various discrepancies in flow operation design, distribution, facility structure, and production strategy, a systematic approach must be utilized to allow for a fair comparison. To this end, potential revenue is computed primarily by square footage space which minimizes bias towards other factors contributing to production. The proposed production revenue assumes the following parameters:
Assuming 1 marijuana plant requires 4 square feet of space
Assuming 1 marijuana plant yields 1 lb (453 grams) of product
Assuming production of square footage that is currently able to be used for production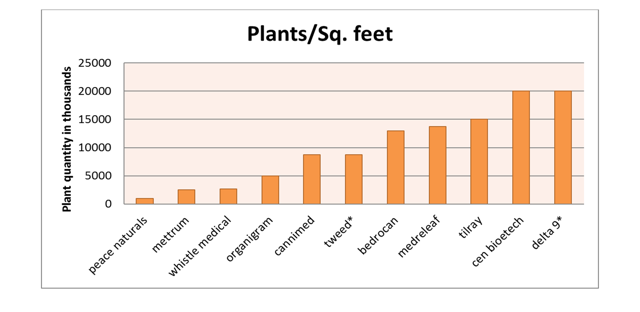 The plant quantity assumes 4 square feet of space for one marijuana plant. Plant quantity calculations were based on building square footage.
Based on the plant quantity, the production revenue was calculated assuming roughly 453 grams of product per marijuana plant. No other considerations were factored such as life cycle of plant, product design, agricultural or industrial tax, overhead of facility, etc. These factors would significantly hinder quantitative comparative analysis and increase unnecessary variables.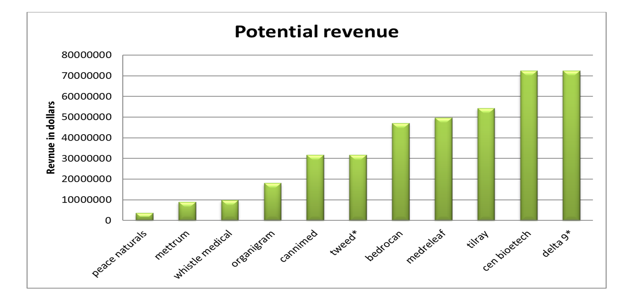 Revenue indicates that once Cen Biotech becomes licensed, revenue projections surpass even the most ambitious facilities such as Tweed. Revenue projections of Tweed are based on square footage aforementioned. Delta 9 is currently a privately held company and not open for public trading. Investors who truly wish to capitalize on the MMPR licensed producers should take Cen Biotech seriously in the coming weeks ahead.
Recalls of a few MMPR facilities
Health Canada has strict guidelines that must be exercised by all facilities to provide high quality grade marijuana to patients. Unfortunately, some companies have already been forced to recall some product due to product deficiency (i.e., bacterial contaminants, toxic minerals, etc) Patients should be keen to the fact that these recalls are one of many that will allow for safe medication to be delivered to them, and a necessity if mass production of a medical drug is to be manufactured at these levels.
Peace naturals, a MMPR licensed facility in Canada, had a recent voluntarily recall due to high levels of bacterial contamination outside of acceptable limits. The company had sold product to about 55 patients and advised them to stop using the product immediately. Peace CEO Marc Gobuty explains, "Scale cannabis at the commercial level is way more difficult to produce than most people think." Peace article. Hence, these types of recalls are becoming more common and can very well be due to the limited exposure most companies have in such high levels of mass production.
More recently, Whistler Medical Marijuana Corp voluntarily recalled a batch of product after mold was detected by third party inspection.Whistler artilce
Harsher realities followed GreenLeaf Medicinals, in which Health Canada made an executive decision to revoke the company's MMPR license due to a product recall and inspection issues. Greenleaf article This company was one of the first companies to obtain MMPR license and thus had the unfortunate result of suffering much more stringent consequences than others.
Recalls attest to the belief that Health Canada and the Ministry of Health are actively testing marijuana products by MMPR approved licensed facilities to ensure strict quality control and a safe product to patients.
Cen Biotech Facility: Construction completed
In wake of recent news that Cen Biotech's Lakeshore facility is still under construction, investors can see a plethora of images taken by investors to document the company's construction progress. Most of these images have been uploaded to a dedicated website created by investors called Fitxlong.com. Of note, an investor by the name of J. Smith provides many updated photos of the facility in his own time. His contribution to update investors and document construction is paramount to investors.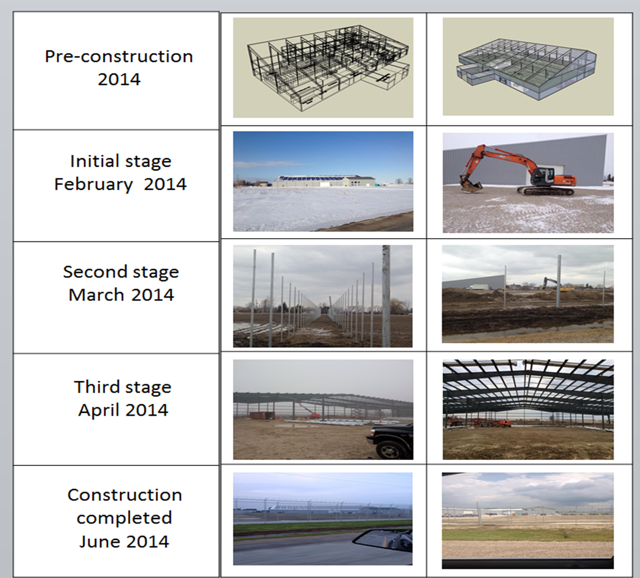 This $20 million dollar facility has state of the art equipment unmatched in today's standard of medical marijuana production. The novel patented technology by RXNB will be utilized in grow operations by Cen Biotech that uniquely gives the company an unprecedented advantage in grow design and production. Many of the licensed MMPR facilities to date do not have world renowned board of directors, a pharmaceutical distribution center (if merger completed by RXNB), a Hemp technology division, and a nutritional supplement sector like Cen Biotech.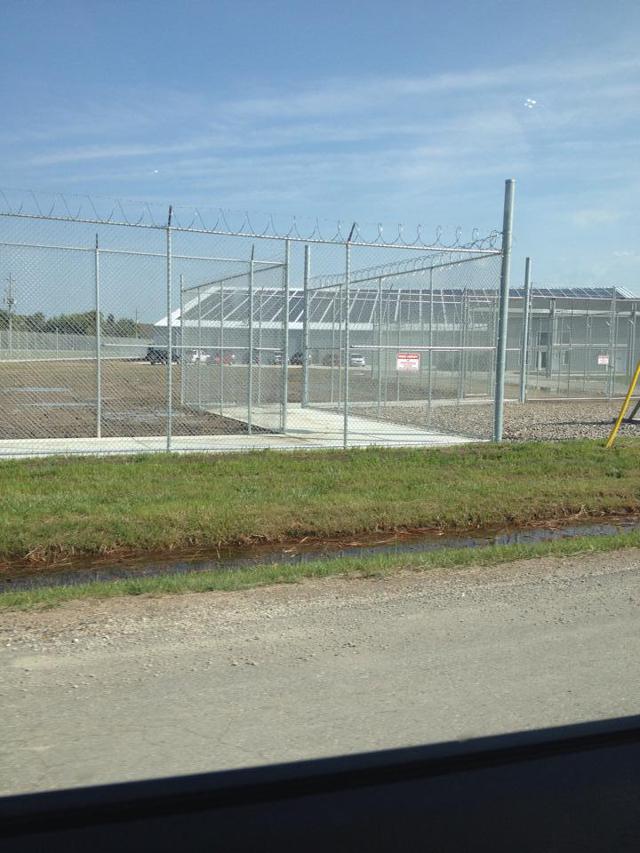 Photo taken July 31st, 2014 which has given investors speculation that Health Canada had readily inspected the facility. However, it should be stressed that this is merely a conjecture and investors should wait for an official press release by the company for verification.
Survival of the fittest
Many of the companies analyzed in this article are a far cry from what Cen Biotech will deliver when license is obtained. Bill Chaaban has unequivocally become the leading voice in the marijuana sector and one that has delivered a compelling company the world has yet to see. Truly, the companies that last and progress will partake in a Darwinian approach of survival of the fittest.
Disclosure: The author is long FITX.