Rarely do we find a world-class company on the brink of accomplishing one of the most important events in history-and even more so as a publicly traded company. Investors should realize the unique position at hand; CEN Biotech is truly the only marijuana company that has been transparent with every milestone of its progress. What is even more astonishing is CEN Biotech (ticker: FITX) offers shareholders a price per share that does not reflect obtaining license approval yet. Many other marijuana companies such as TWEED (OTC:TWMJF), OrganiGram Inc (OTC: OGI), Bedrocan (OTC: BED) obtained license and then became public to investors. Though it is hard to determine the price per share of these companies before their license announcement, it does raise speculation that their pps was similar to FITX's pps today. Relatively speaking, most licensed companies are trading within the range of $0.70 to $1.20 and none are even remotely close to trading at .03 cent range of FITX, a license premium that is not incorporated into the price today. In other words, if investors feel confident in license approval, why would they pay a hefty premium for other companies that already have license? FITX gives an opportunity to essentially pay little to no premium costs, which in my opinion is the best "bang for your buck" .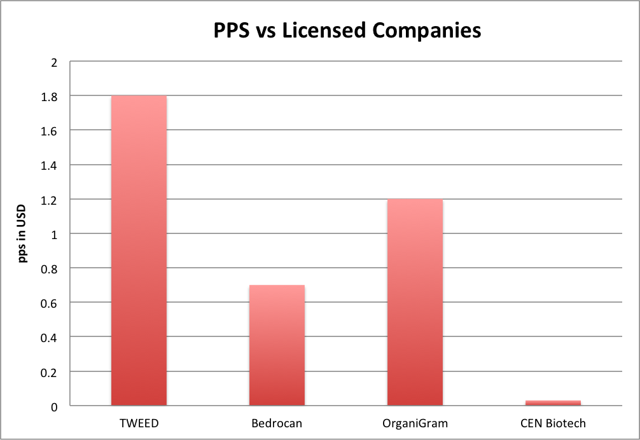 Despite the relatively oversold range of the company's stock price, I believe the market has readily taken into consideration the inherent risks of not obtaining license approval in the near term, thus consolidating the price per share at these bargain levels we see today. However, the market has reported a number of significant design flaws in their price projections, which seemingly have no reflection in the intrinsic value of the company. Likewise, the market capitalization of the company's stock is not indicative of the true intrinsic value of the company and thus is punished as if it were ridiculously "overvalued".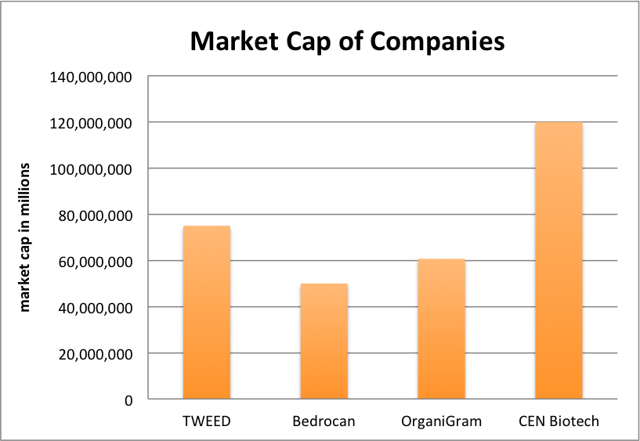 Even the social perception of the company plays an important role in the pps and can have a significant influence on the market's reaction towards the stock price. These measures, though elusive to quantify are what make smart investors realize the "bigger picture" and to capitalize on these bargain opportunities. The market has remained largely ignorant to the true intrinsic value of the company and one that can transform the pps into conservative projections of prices in the range of $2-3 within 1-2 years.
Ralph Engstrom, a fundamental analyst/ trend trader investing in the emerging markets explains:
"What is the Intrinsic Value of Cen Biotech? There are several variables that need to be understood to determine what an honest valuation could be, including: How does the business function? Who's running it? And who is the projected client base?
First, by using a vertically integrated business model, each component of the company will target a certain segment of the industry. This will be far more than just a company that grows medical cannabis. This will be a major player in many aspects, from seed to sale, of this rapidly growing industry. Research, testing, quality control, sales, product tracking, insurance, all will be within the spectrum of its activities. As the company grows, and becomes more profitable, each element, while sharing in the growth, aids in reducing outsourcing costs, and increases profitability.
Second, the management teams adds a tremendous amount of expertise in everything from highly recognized researchers in several medical fields, to world class experts in economics, finance, and International law. None of these members would be on board, if this company wasn't headed for success. Third, the market is clamoring for access to medicines that are affordable, effective, natural, and without the dangerous side affects of so many products currently on the market. Governments are finally hearing these demands, and are finally engaging in the debate towards reform of laws that have been proven to be harmful to the common good.
So what we see here is a company [CEN Biotech] that has the structure and management well positioned to provide massive quantities of high quality product to a client base that desperately wants it.
In a perusal of the most recent financials, we see a growing company that is already profitable, and is using those profits to forward continued growth. The new markets that the company is positioned to enter, will create a higher level of visibility for a rapidly expanding consumer base. In the short term, we can expect the Share Price to rise up to a the level of a fair and reasonable valuation of the companies existing operations, and then continue a strong climb into the stratospheric range of it's foreseeable ability."
Intrinsic Value Events
Many bullish and bearish investors agree with Mr. Engstrom. The market has inadequate analysis of CEN Biotech-largely due to a lack of sufficient detail to fundamentally evaluate and interpret the company's intrinsic value. Moneymakers are causing somewhat of a "lobster trap" in the market, causing investors millions in price per share. Below are important highlights that can significantly affect the price per share in correlation with the intrinsic value of FITX. Though it is difficult in quantifying a fair valuation in pps, I think many can agree that CEN Biotech will be worth at the minimum .30-40 with a license approval. Many other intrinsic prospects can only add value to the pps, particularly Hemp Technologies and global market distribution plans of the company. See prior article for license valuation.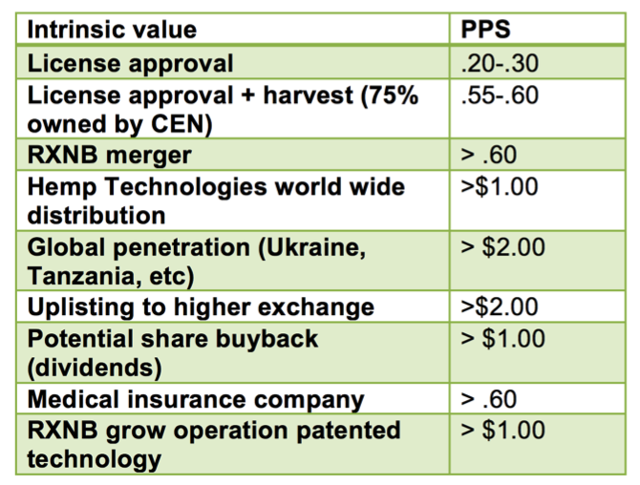 Author's Notes
With the different shades of greens and reds, and technical and fundamental indicators that allow us to map out the bigger picture in our heads, investing is truly an art we must master. It is a conformal mapping of many elements into one, and very uniquely creates the "perfect storm" that investors have been patiently awaiting. Companies such as CEN are considered to be start-up companies with a future that would make even Tim Cook envious. What's even more attractive to investors is the mere fact that CEN Biotech is incredibly transparent, even with their latest pre-inspection report found in a yahoo press release. CEN will very quickly be turning the next chapter of many in the near future. Let the journey continue!
Disclosure: The author is long FITX.