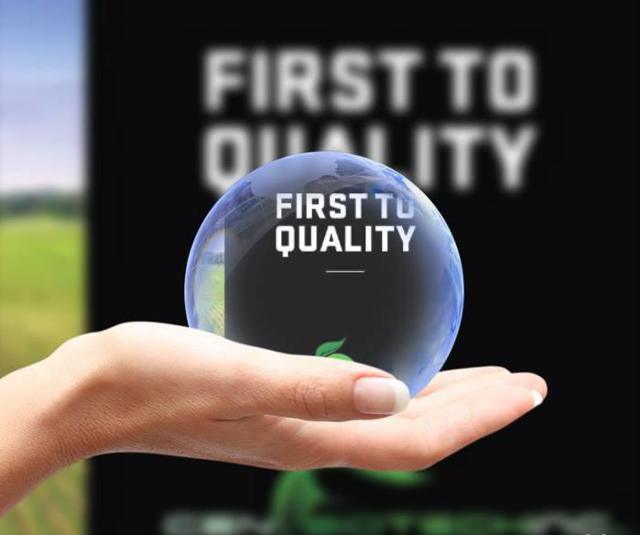 courtesy Jerry Al-Mufleh
CEN Biotech has crossed a monumental and historic event that has investors spinning in excitement (no pun intended). In a recent press release, CEN Biotech declared the company will rightfully become its own entity. In other words, CEN Biotech will be a wholly owned independent company, spinning off from their parent company, Creative Edge Nutrition, Inc. A Kiplinger article stated that "a McKinsey study of 300 companies spun off between 1988 and 1998 found that during the two-year period following the separation, stocks of the new firms outpaced the market by an average of ten percentage points. Other studies found that both the parents and the new spin-offs outperformed market averages, although the percentages varied dramatically from study to study." Ironically, the spin off news of CEN Biotech, whether it was fueled by bashers immediately publishing maliciously misleading articles (surprisingly Seek Alpha allows bearish articles to be published but not bullish), caused a short lived panic sell that created an advantageous buying opportunity for long investors.
This article aims to brief investors in CEN Biotech's spin off strategy by extrapolation of relevant due diligence by investors to understand the potential of this undertaking.
Spin off 101
There are many different type of spin off agreements, ranging from a carved out IPO spin off, third party spin off, a partial spin off, or in CEN Biotech's case, a 100% complete spin off, which investors believe to offer the most optimal type of spin-off in the transition process. "This results in a full separation of the two entities in a single transaction. Examples of 100% spin-offs include Expedia's spin-off of TripAdvisor", which last time I checked has had a healthy uptrend since the Spin-off in late Dec 2011. More recently, Ebay is spinning off its much successful Paypal as its own entity.
Investors who wish to continue their education in spin off strategies are recommended to download this guide for their reference.
CEN Biotech Spin off
Long term investors realize the immense value and paramount importance of this unique unfolding chapter in CEN Biotech's storyline. Months ago investors were given a plethora of clues regarding completion of audited financials by Deloitte audit firm, RXNB merger talks, and most importantly, up-listing to a higher exchange such as the NASDAQ. The recent spin off press release has reaffirmed these convictions and given investors the reassuring confidence to support, yet again, the most valuable marijuana company in history.
CEN Biotech explains:

The distribution of shares based on a pro rata matrix entails each shareholder to get an equal proportion of shares for each share they owned in the parent company. Moreover, the spinoff is designed to also allow one's current FITX shares to be retained at no cost to the shareholder. The downside of this might possibly be that the original FITX shares retained would no longer be as valuable, and potentially worth far less in price then the new shares distributed as CEN Biotech. However, they are an added addition to your investment, compliments of CEN Biotech. In any regard, all proportions of shares (old and new) will be exactly the same as one's initial investment. The benefit is drastic, as the potential to up-list to a higher exchange such as the NASDAQ should not be ignored. In addition, having two separate entities and allowing the spin off company to thrive as an independent company is where the true intrinsic value of CEN Biotech materializes.
Sam Cary, a respected investor of FITX, illustrates the restructuring of the company in a simple and elegant diagram. He states:
This is a hypothetical situation for a likely scenario. The numbers used in this diagram are strictly to demonstrate the mechanics of the split: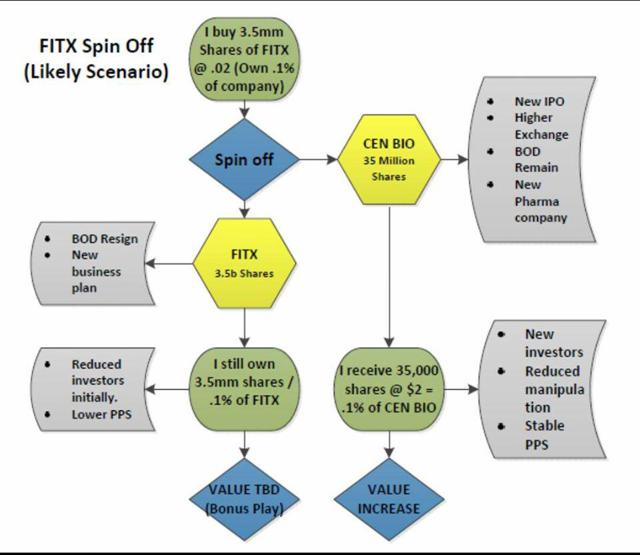 NASDAQ Up-List
One of the initial goals of CEN Biotech was to transition the company to up-list to a higher exchange. Bill Chaaban and his board of directors have uniquely initiated this process with the announcement of the spin off. The spinoff strategy in lieu of a reverse stock split allows for a share restructuring that yields a much smaller market capitalization, an increase in the value of CEN Biotech shares, and most importantly, the transition of CEN Biotech to a major exchange, leaving the "penny stock stigma" finally behind them. This will also attract new investors that have ignored the OTC market, and also attract institutional investors, who were not generally allowed to trade penny stocks due to the manipulative uncertainties of that exchange. Furthermore, the exorbitant fees required to enlist in higher exchanges such as the NASDAQ can be an ambitious undertaking, and an accomplishment very few, if any marijuana companies have yet to obtain.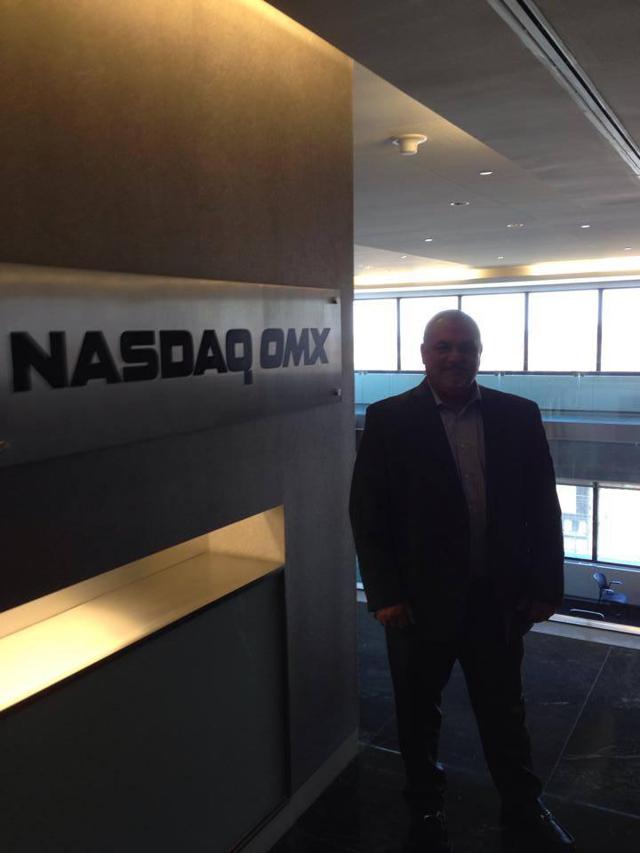 Form 10 filing, the mother of documents
Just to illustrate the complexity of spin off undertakings and the cost and preparation of such a feat, the book "Spin Off Guide", by Wachtell, Lipton, Rosen & Katz, explains:
"Form 10 filed by the spin-off company becomes a public document upon its initial filing. The initial Form 10 also must include audited financial statements of the spin-off company, including two years of balance sheets, three years of income statements, three years of cash flows and three years of statements of shareholder equity, as well as unaudited stub period financials for interim quarters, if applicable, and five years of selected financial data. Therefore, if the spin-off company does not already have audited financial statements, audit work should commence on preparing carve-out financials in sufficient time to be completed for the initial Form 10 filing. […]The Form 10 is typically given a full review by the SEC, which may take several months to complete.
Before disclosing an intended spin-off, companies should complete enough preliminary work to be confident that, once the anticipated spin-off has been announced, it could be completed; therefore, the company should have a general understanding of the expected costs of implementing the transaction and the likely time frame and confirm that there are no "show-stoppers" that would prevent completion of the transaction. In the case of a spin-off of a subsidiary that has been operated as a standalone business, this may be a relatively simple process because the business to be spun off will have already been reasonably well defined. Even in that context, however, it may be necessary to add or remove operations from the subsidiary before the separation occurs. In addition, as discussed below, there may be important ongoing business relationships to be formalized between the parent and the company to be spun off and common support functions that will have to be divided, replicated or provided on an interim or transition basis before the company becomes independently functioning.
The approach to be taken in any particular spin-off on matters such as these should be considered with appropriate thoughtfulness and sensitivity, balancing respect for the role of the future directors and officers of the company being spun off."
Foreshadow
Careful speculation of the complexity of the spin off process can infer that CEN Biotech indeed requires the aforementioned Form 10 filing documents for spin off contingencies. It is fairly reasonable to assume that a merger acquisition with RXNB (Creams n Caps) would subsequently satisfy these stringent requirements and also allow CEN Biotech to concurrently focus on their global pharmacy distribution as well as their medical marijuana endeavors. Of note, ongoing business relationships such as the Lakeshore fiasco, Health Canada licensure, and delicate share restructuring will be properly surfaced most likely before the spin off is completed. More on this later.
Immediate resignation of board members from FITX
There are many respectable investors in the marijuana industry that have unfortunately been swayed by their own personal convictions that FITX has and forever will be a "penny stock scam". With this demagoguery foresight, these analysts will make any vital and significant milestone of CEN Biotech in a negative spin, instilling unnecessary fear in novice investors. Some opponents were rebuking the spin off as "very unusual" and out of context remarks such as "board of directors resigning", or "leaving FITX with nothing more than a dwindling nutrition company with a CEO that no one has ever heard of."
In fact, it is comical that almost instantly, opponents jumped to a convenient conclusion that the CEN board is quitting. Their efforts would have been better spent calling investor relations of CEN Biotech, Bill Swalm to obtain more information.
Rob Stephens, a respected long investor with a degree in business administration in finance took the liberty to speak with Bill Swalm himself. He states:
"I just got off of the phone with Bill Swalm, he did not give a time line but said there should be a PR to clarify […] The board of Directors plans to go over to CEN Biotech intact, there is a vetting process that each board member has to go through before being put on the board which is required by the Canadian Government, (back ground checks and such). They have only resigned from Creative Edge Nutrition, not CEN Biotech."
Case closed. No one is unanimously "jumping off the ship", and if worst case scenario, the spin-off (in a one of a million chance) does not occur, CEN Biotech board members will be back on the board of FITX. But I think the odds of me (or a basher) being struck by lightning will be far greater than that ever happening.
Truth Hurts
Let us step outside our little "FITX Cult World" (FCW) and with no underlying bias, analyze the situation with fact based evidence. Opponents believe that the "spin off company" may not even materialize, due simply to the disclosure of liability statements in the press release, which every successful spin-off company must legally post. Of note, opponents criticize that CEN Biotech may not even obtain license from Health Canada and that Lakeshore bylaws and the corruption of the council may just make the facility an oversized backwater of doom. These are indeed serious allegations, and should not be taken lightly by any bullish or bearish investor. I find this hard to fathom, and even more so, a remote possibility. FITX long investors are well aware of the potential risks of this company, and have taken enormous strides to perform proper due diligence. It simply does not warrant such a drastic drop in pps, and most certainly does not warrant the ridicule of opponents leaving destructive ideas that are tailored to destroy a company.
Distribution Ratio
The distribution ratio relies relatively on the value of a company. "The distribution ratio is the number of shares of the spin-off company to be distributed in respect of each share of parent common stock in the spin-off. The distribution ratio is determined by the parent's board of directors, consultation with management and its financial advisor, and is typically based on the target share price for the spin-off company."
**UPDATE**
The following table is a hypothetical scenario. Investors are being conservative with this share structure. Traditionally, pharma industries are valued at best 25:1 share structure. Also, investors do not know if CEN be listed on the NASDAQ, however it is the best speculation based on up-listing requirements.
In the table below CEN Biotech will soon announce their distribution ratio. Please note, the quantity of outstanding shares that are currently in the market will more than likely be drastically reduced in the new share structure after uplisting. It behooves many investors to buy a larger percent of shares at cheaper penny levels to optimize profit margins. The distribution ratio converts a shareholder's quantity of shares to a new quantity, based on the percent ownership of the company.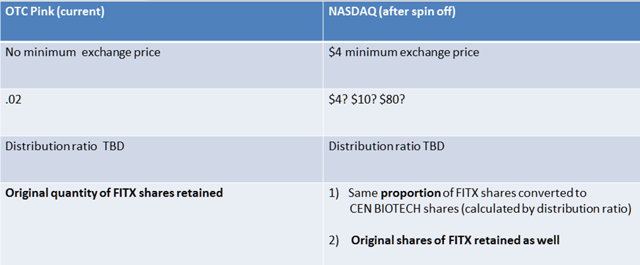 This scenario in the NASDAQ would most likely be contingent on an RXNB merger agreement. A 200-700 million dollar market cap can be a reasonable range for CEN Biotech. It truly is an elusive quantity to quantify at this point. Health Canada license, world-wide global distributions, and also other compounding factors such as marijuana insurance programs and Hemp Technologies are still unknown variables in the market capitalization analysis.
Lakeshore Update
CEN Biotech has made enormous strides towards obtaining MMPR license within these past months. The ominously rising corruption and manipulation by some potentially corrupt council members has proven to be atrocious for CEN Biotech and Lakeshore. However, the fundamentals of the company are even stronger than before. Setting up one of the most advanced marijuana facilities in Lakeshore is almost like maneuvering through an obstacle course, and even more so with some potentially corrupt council members and residents aimed for one reason or another, crippling Lakeshore's economy. Nevertheless, a radical simplification of the bylaws of Lakeshore will be held November 25th, and hopefully will be able to drain the pool of corruption and make a contentious and portentous change that Lakeshore desperately needs. More on this will hopefully be revealed soon. The below document shows clearly that CEN Biotech indeed has the correct zoning, but more on this will be revealed later on this week.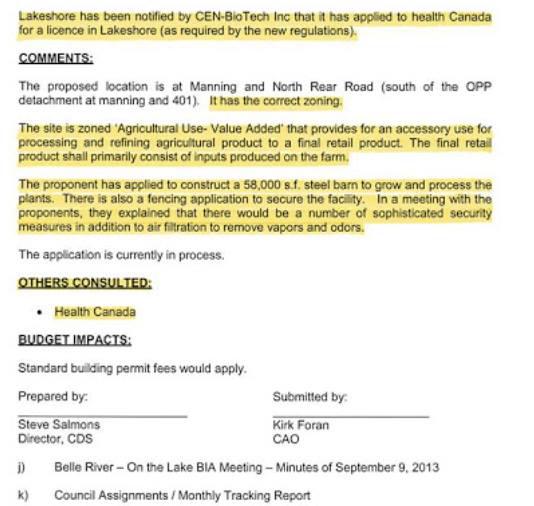 Author's Notes
CEN Biotech's main strategy has always been planned accordingly. Every probability of success, press release, news conference, and calculated risks have been rigorously scrutinized by the elite board of CEN Biotech. Bill Chaaban has worked relentlessly to execute and deliver the company's prospects successfully. Will there be speed bumps along this journey? Absolutely. Circumstances always change, but the ultimate vision is the same. CEN Biotech is a giant genius fighting a myriad of elements ranging from corruption by opponents to multimillion dollar business strategies for the future pipeline of the company. The outdated idea that CEN Biotech is a "penny stock scam" has fallen short of the true reality that exists today. The rest of the industry is watching closely, while CEN Biotech paves the way towards success. My advice to you all is to not watch, but act, but ultimately it is your own choice and investment decision. The energy is changing, and the scales have indeed tipped in CEN Biotech's favor. Bill Chaaban has once again fulfilled his vocation as our CEO and left his opponents spinning off in fear. Ha ha? Too soon? Enjoy!
Disclaimer: I am in no way being compensated by any means writing these articles from CEN Biotech or Bill Chaaban. I am a regular investor that rely on the time and energy of a colloborative research pool of other investors to obtain invaluable due diligence regarding this company. Always conduct your own due diligence when analyzing stocks, and never invest more than what you can afford.
Disclosure: The author is long FITX.