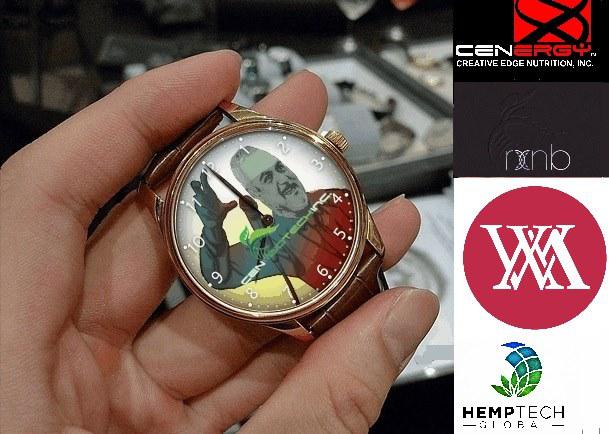 courtesy Jerry Al-Mufleh
"Hope springs eternal in the human breast"; and investors of CEN Biotech have alas attested to this belief in great stride. There's no way around it, so we might as well be frank, CEN Biotech has clearly distinguished itself from other medical marijuana companies, and is at the forefront of transforming itself into a powerhouse. What other marijuana company can investors recall that will up-list to a higher exchange, ripping apart from the ever-elusive OTC pink sheet market? By now, players who have invested in the marijuana industry have become moderately familiar with CEN Biotech, and the immense potential waiting to be unleashed. There has been a daily pitch battle between bullish and bearish investors with endless rhetorical discussion and speculation regarding the ultimate fate of this "celebrity company". Subsequent to the recent CEN Biotech spin off press release, bullish investors have been eagerly anticipating more critical information that would incinerate even the peskiest arguments of opponents. Investor's first-ever foray into this effort was seen in the company's press release on Facebook on December 5th 2014:

Amidst bashers hovering over this invaluable company like a death star silloute, CEN Biotech has given yet another extraordinarily well-timed announcement, just weeks after Health Canada issued warning letters to MMPR licensed producers regarding varying degrees of violations in advertisement practices. Health Canada explains: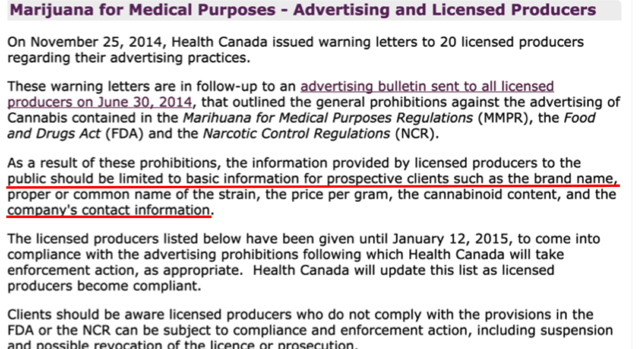 To this end, at the request of Health Canada, CEN Biotech hasvoluntarily expunged the company's official CEN Facebook page ranging from photos to posts to ensure no violation regarding MMPR licensure and advertising practices. Why would Health Canada make such a request of CEN Biotech? More importantly, if CEN Biotech were speculatively did not obtain MMPR license, what relevance would the company's Facebook page have to Health Canada? These questions excite investors and tease out speculation that some type of license announcement update will be imminent.
Of note, expunging material from Facebook strategically allows CEN Biotech to complete its own intrinsic "Facebook spin off" from the company's parent company, Creative Edge Nutrition, in preparation of a new company page CEN Biotech, which hasnot been created as of date. (Please advise other pages cloning CEN Biotech should be ignored and reported for copyright violations)
Merger Clues
Another piece of informative material that investors discovered is the conspicuously similar resemblance of the RXNB and CEN Biotech website pages both depicting "developments in progress. "
Mr. M Saddedin, an investor who has spearheaded an unofficial Facebook page where thousands of active investors can analyze and gain insight in various due diligence, technical analysis, and honest open discussion regarding CEN Biotech explains:
"The websites below are striking. It's not rocket science to see that they are obviously the same layout"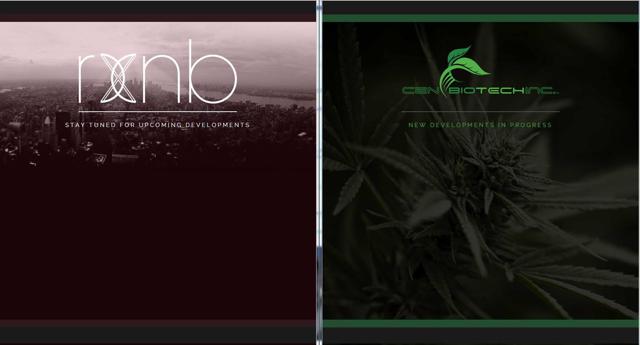 courtesy Mr. M. Saddedin
The above image truly does speak a thousand words. The interpretation and analysis of the company's prospects are enticing investors from all across the global marketplace. The merger of RXNB with CEN Biotech is paramount to the uniformity and direction of the company. Though this is mere speculation at this juncture, investors should capitalize on these subtle clues in their investment strategies.
Technical Analysis revisited
I have always been a fundamental trader, investing in solid companies that will generate exponential returns in my initial investment. The perpetual relationship between fundamental and technical analysis can be a topic of debate for many investors, often elusive to quantify. Exploring the underlying components of exhaustive selling models [ESM] is a premise that investors can capitalize when determining the best conditions in buying.
Rob Stephens, a technical analyst who has vast knowledge in chart analysis explains the criteria of the exhaustive selling model:
The rules using the ESM are as follows:
1. The price must first rapidly decline on high volume (Label 1)
2. A volume spike will occur, creating a new low and appear to revere the trend. (Label 2) [312 million shares bought on 11/07, strong support]
3. A higher low wave must occur (Label 3) [at .0288]
4. The 40/50 day moving averages must be broken
5. The 40/50 day moving averages must then be retested and hold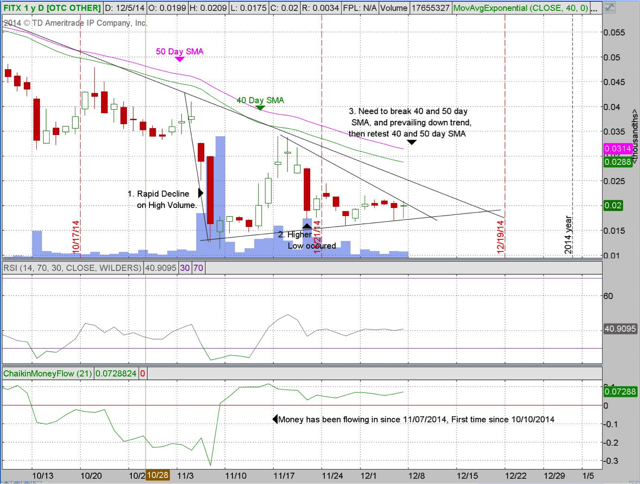 courtesy Rob Stephens
Per the ESM model, CEN Biotech will undoubtedly retest the .0288 pps, and significantly propel higher. Though the theory states that a retest of the .0288 pps will eventually occur after propelling upwards, it could potentially be a great opportunity for investors to accumulate more shares. It should be noted, not all technical analysis trades are accurate, and circumstances change that can propel CEN Biotech into the stratosphere, (license, merger, up-list), or vis versa. However, this model clearly indicates an exhaustive selling pressure, which has been stringently tested and extrapolated by various trend line and market analysis. Investors who wish to capitalize on technical analysis trading should take efforts in understanding this model. More on this can be foundhere.
Author's notes:
What is concerning is how some journalists can, more often than not, become clueless in how they have an entire company just blatantly wrong. But this is not something new. Companies such as Apple have also fallen victim to similar journalists vehemently opposing the company's success, predicting Apple's demise for well over a decade. In fact, Apple's all time low closing share price was $12.97 on December 23, 1997. Apple is currently trading at $805 (before 7:1 stock split) Yes, this pales in comparison to the pennies of CEN Biotech, but if history does indeed repeat itself, these journalists will be left with an indelible regret that will spin them into a vortex of doom.
Will CEN Biotech be the next Apple of its industry? I believe so. Will it happen overnight? No. But the potential for this company to build upon its foundation can generate attractive returns within 2-3 years time.
Other exciting events that investors should anticipate are the upcoming quarterly reports (10-Q), perhaps finally reported by an independent auditor (Deloitte Firm) (in accordance with the SEC) discussing supplementary information such as up-list and merger agreements. It is important to note that CEN Biotech will more than likely show spectacular long term solvency, expansions, growth, and global prospects that can augment income substantially.
I would hate to be sitting on the sidelines on this one; it is an exciting venture that is powering up for a truly spectacular show. Investors should decide sooner than later, if this opportunity is well worth their investment strategies. Let the games begin!
Disclosure: The author is long FITX.