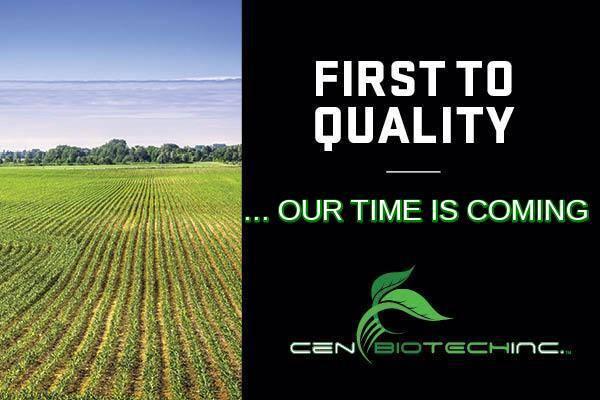 courtesy Jerry Al Mufleh
Federal laws and judicial doctrines have allowed a comprehensive approach in legal arbitration. Courts must be able to award judgment based on the merits of the law, and not by underlying opinions and dynamic political environments.
CEN Biotech's fully constructed marijuana facility has been fully compliant with security measures mandated by Health Canada as well as Lakeshore's own municipal regulations. Yet Tom Bain, the Mayor of Lakeshore radically changed his tone after the completion of the facility. During this time, many Lakeshore legal arbitrators had closed door meetings regarding CEN Biotech's marijuana facility. These discussions have seemingly perpetuated corruption and various violations of municipality laws and regulations. Lakeshore suddenly asked Health Canada to delay license approval for CEN Biotech, in hopes of amending their marijuana municipal zoning regulations from agricultural to industrial, causing CEN Biotech's facility to be in violation of zoning bylaws. Many established lawyers have determined this illegal change in zoning regulations strictly violates acquired doctrine rights of the land and that CEN Biotech had clearly established legal precedent in constructing the facility long before zoning was a concern. In other words, one cannot retrospectively change bylaws to suit new underlying agendas. This is illegal and will not hold much credence in the court of law.
Common law doctrines provide non-statutory avenues to prevent Health Canada and Lakeshore's underlying agenda from becoming legally binding. A type of doctrine that CEN Biotech may indeed utilize against Health Canada is the "manifest-disregard doctrine," which is similar to the judicial review that CEN Biotech has initiated.
An arbitrator acts with manifest disregard if (1) the applicable legal principle is clearly defined and not subject to reasonable debate; and (2) the arbitrators refused to heed that legal principle. It is a non-statutory ground for vacatur.
Though this is under United States court law, Canada's judicial review follows the "manifest disregard" terms and regulations. To this end, CEN Biotech has publicly revealed many violations of Health Canada's own rules and regulations regarding MMPR applicants, and the implications are striking.
On May 3, 2015, CEN Biotech released important email correspondence with Health Canada that document in detail the time sensitive propogation of CEN Biotech's MMPR application.
Bill Chaaban explains:
"April 9, 2014 Health Canada surprises CEN and tells them they have to pass security clearance stage before the inspection is scheduled. They also advise it could take months. This was the first CEN heard of this requirement."
On April 29th, 2014, Health Canada explains to Bill Chaaban: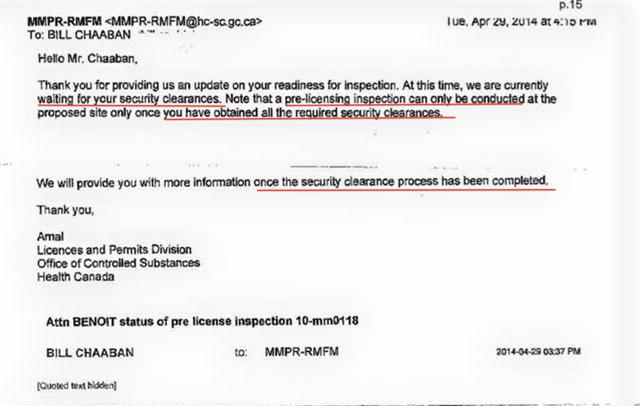 Consequently, once security clearance has been successfully granted, a pre-license inspection would be obtained. It is also important to note that Health Canada asked CEN Biotech to accelerate their build out of the marijuana facility almost 8 months before their pre-license inspection, and yet deliberately took months to process their application.
On May 12th 2014, Bill Chaaban explains to Todd Cain, Executive Director of Market Development for HC: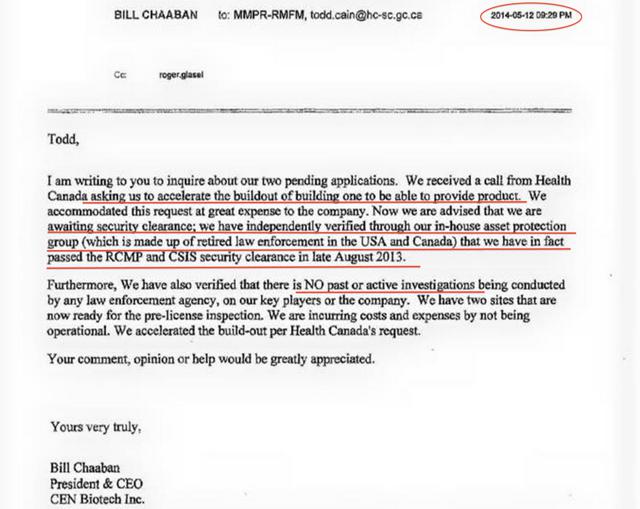 Bill Chaaban and Health Canada's executive director of market development conversed extensively to implement a systematic approach to successfully obtain MMPR licensure. Both parties have seemingly agreed to adhere to the rules and regulations established by Health Canada's own council. It is perplexing for investors to notice that almost a month after Todd Cain's letter, and Health Canada's request for CEN Biotech to accelerate their build out, that they finally received approval from Health Canada's security council to obtain pre-license inspection.
On June 5th 2014, Health Canada explains to Bill Chaaban: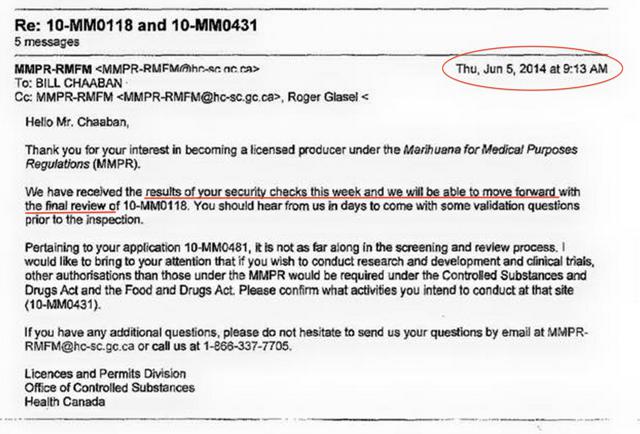 Almost two months later, CEN Biotech alas obtained their pre-license inspection on July 30th 2014. In this regard, it is feasible to conclude that all security clearance and inspections were successfully completed and, accordingly a license would be imminent within 2-weeks after successful inspection of the facility.
In an affidavit filed by the government in Allard et al. v. Her Majesty, Health Canada employee Todd Cain explained:
"Other significant elements of Health Canada's strategy for providing for reasonable access to a quality supply of dried marijuana for medical purposes included providing applicants with "Ready to Build" letters upon the completion of the paper review process, upon request. These letters advise applicants that if they complete their site build as described in their application, if the site is verified by a pre-license inspection, and if security clearances are granted, the applicant's license may be issued."
Below are the common fundamental steps MMPR applicants undergo to obtain ready to build letters. Please note that security clearances are issued in step 3, subsequently a ready to build letter would be issued in Step 5. Hence, it is indeed peculiar for Health Canada to ask CEN Biotech for another security clearance on April 2014, long after they were issued a ready to build letter on November 2013.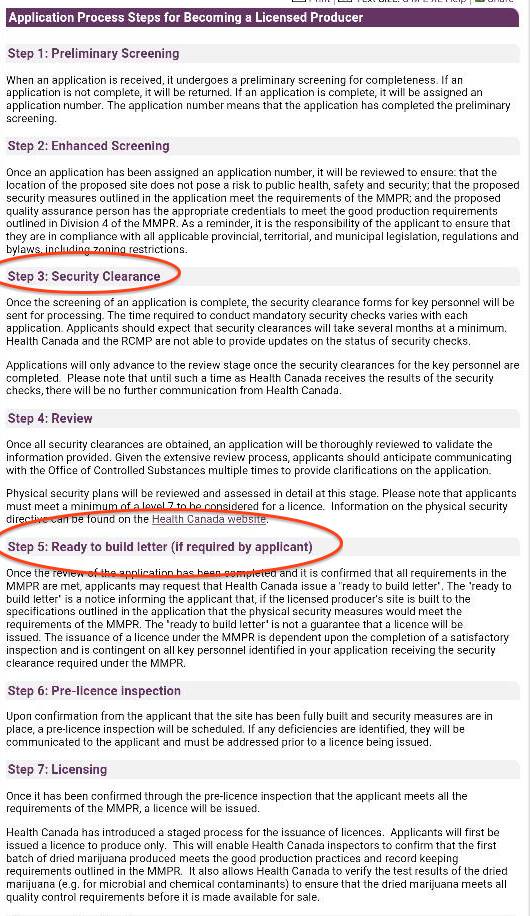 It is interesting to note that Health Canada swiftly ended their "Ready to Build Letters" process weeks ago, attesting to yet another example of how elusive and corrupt their MMPR program has become. More on this can be found here: No more ready to build letters.
Yet months of orchestrated attack from various media outlets, particularly Grant Robertson's bizarre publications to tarnish CEN Biotech's reputation caused a political debacle unprecedented in the marijuana investment industry. Opponents and proponents of CEN Biotech were fueled to prove their own theories and ideas. Health Canada began speculating under false pretenses that the very company they asked to accelerate their marijuana build out, would be ironically rejected with no valid basis of action. This is illegal and an injustice to not only CEN Biotech, but many MMPR applicants today.
CEN Biotech explains:
"The Minister failed to observe procedural fairness and the principles of natural justice in making her decision by failing to consider that her delegates represented to the Applicant, and the Applicant acted on the representations, that a license would be granted upon completion of the expedited build out and the completion of the pre-license inspection."
Health Canada must be held accountable for their careless and gross negligence in this program, and are seemingly under heavy scrutiny by the judicial system of Canada. More on this can be found on mmj.today.
Light at the end of the tunnel
Yet investors of CEN Biotech have remained hopeful in the chaos from within. Investors have been keen to notice a similar case of corruption by Medical Marijuana of Massachusetts, [MMM] a MJ company that was improperly denied license in 2014. MMM is now a licensed producer, more on this interesting case can be found here.
Important highlights of the MMM case in relation to CEN Biotech's case can be found on the table below:
MMM "Manifest Disregard" (Judicial Review)

CEN Biotech Judicial Review

MMM appears to argue that an agency's failure [government] to abide by it's own regulatory processes in itself requires that the agency's decision be vacated.

CEN Biotech has indeed been a victim of a similar pattern of corruption, in which Health Canada has failed to abide by its own rules and regulatory processes and thus should not be rejected for MMPR licensure

if the agency [government] has acted for reasons that are extraneous to the prescriptions of the regulatory scheme, BUT are related, rather to an adhoc agenda, then that agency has acted arbitrarily because the basis for action is not uniform, in follow, is not predictable

Health Canada has acted it's decision on the merits of nothing more than corrupt media outlets, orchestrating an agenda to ruin CEN Biotech's reputation.

the court agreed that the Board [Government] has 'failed' to follow it's own rules"...."there must be some prejudice before an agency's disregard of it's own rules may constitute reversible error". In announcing the rule that a failure to follow regulations will support reversal of agency action when the failure causes PREJUDICE to the plaintiff, the SJC relied on it's prior decision

Health Canada approved CEN Biotech to construct their facility in a ready to build letter. Furthermore, HC

because the department failed to follow its own regulation and the failure caused MMM prejudice, the court vacates the Department's notice of 'non-selection'

Judicial Review of Health Canada's actions merits the court to vacate the rejection decision immediately.

On page 8 and 9 of the 22 page memorandum of facts of the judge's decision, he detailed the, "..Recurring theme in the negative press coverage", and "there were stories attracted political attention, .... expressing concern". Subsequently leading to the denial of this company's license.

CEN Biotech has been in constant scrutiny with the Globe and Mail, Grant Robertson, CTV News, Mayor Tom Bain, and others that have destroyed the company's prospects and goodwill. Subsequently, Health Canada denied CEN Biotech's license.

This is prejudice and a serious gross negligent act of unlawful misconduct.
An investor of CEN Biotech explains:
Why is this important? In Canada, a decision of a tribunal, board, commission or other government decision-maker can be reviewed on two standards depending on the circumstances. The two standards applied are: 1) correctness and 2) reasonableness.
In each case, a court must undertake a "standard of review analysis" to determine what appropriate standard to apply. This approach was described in detail by the Supreme Court of Canada in Dunsmuir v. New Brunswick.
Therefore, if the standard of review of 'reasonableness' is applied to CEN Biotech, Health Canada engaged and created an expectation for a build-out of the facility, a Ready to Build Letter was issued, and after the Town of Lakeshore acknowledged correct zoning of the facility, the million dollar facility was constructed. Conventional understanding in this case shows strong reasonableness for CEN Biotech to build their facility, further supported by Lakeshore municipality affirming Health Canada's acknowledgment that CEN Biotech was constructing a marijuana facility.
Investors should note that an inspection would NOT have taken place if other requirements were NOT satisfied, such as screening, enhanced screening, security clearance, zoning, etc. But this case also shows an example of 'moving goalposts', or in other words in the eye of the LAW, prejudice!
Many investors not limited to CEN Biotech have determined that Health Canada cannot follow their own regulations that would otherwise be predictable for all MMPR applicants. This lack of proclivity has cost CEN Biotech and other MMPR applicants millions in revenue and expenses.
This seemingly appears the case law is in such that any decision of Health Canada in an adhoc manner would be vacated.
Under Section 7 of the MMPR Provision, all applicants denied of license or a restriction, must be provided a written report to the merits of the refusal.
Investors to date have not been able to determine any indication of a Health Canada report, and are seemingly perplexed by the issue. Many believe that CEN Biotech will pave the way for other MMPR applicants to proceed with judicial challenges before Federal Courts against Health Canada.
Delahunt, CEO of MMM explains:
"How many lives could have been saved if they administered it in a way [. . .] that wasn't adversarial but involved scrutiny, and people had the option to choose a well-regulated marijuana product, rather than oxytocins that are killing people?"
CEN Biotech and other MMPR applicants have pondered similar concerns; just how much more out of sync will Health Canada be, before they eventually are blamed for the demise of the entire MMPR program and patients worldwide?
It is important for the Judicial Review of Canada to rule with full authority and unbiased prejudice in CEN Biotech's license dilemma. Ultimately, the court may find itself attacked if they ignore the injustice against CEN Biotech and lose some modicum of political authority, rendering the entire court system vulnerable to further scrutiny and attacks by various political organizations.
Disclosure: The author is long FITX.