Cen Biotech MMPR facility in Lakeshore, Canada
Investors of CEN Biotech have shown no signs of heeding to the looming corruption and inevitable judicial delays of the court systems of Canada. After what appears to be more than a year of constant debate regarding the MMPR rejection letter Health Canada unfairly imposed on CEN Biotech, considerable attention was focused in appealing the decision through different county and federal avenues. On September 18th, 2015, investors were updated regarding CEN Biotech's pivotal court standing as well as their progress in the judicial court system of Canada.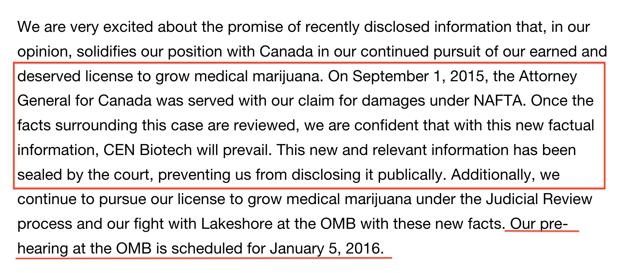 Three main highlights from the press release revealed that 1) NAFTA agreement for all investor damages and 2) new and factual evidence of corruption and 3) OMB hearing, (Ontario Municipal Board) regarding the corruption of zoning that Mayor Bain ostensibly ignored in Lakeshore, Canada.
1: NAFTA Agreement

Exclusive evidence against Lakeshore and Mayor Bain have suggested corruption at levels unprecedented in Canada's opportunity for free trade and just practice acts. In this regard, CEN Biotech has rightfully filed a complaint against Lakeshore as well as Health Canada under a series of NAFTA trade agreement violations.
The policies and goals of NAFTA, which were adopted in 1992 by the Clinton administration are "to eliminate barriers to the trade of capital, goods and services among the United States, Canada, and Mexico. The treaty is designed to promote fair competition and to increase and secure cross-border investment activities" (Scholarship Law-Berkeley Ecology Law)
NAFTA allows private investors to challenge host countries in arbitration and dispute resolution. In other words, countries will relinquish immunity by unique l laws inherent to their own country and be liable to scrutiny and damages in NAFTA's agreement. This ensures clear and just regulatory policies that allow investors to gain confidence and protection to invest in various countries.
Chapter 11 of NAFTA explains:
Chapter 11 is divided into two sections. Section A discusses the obligations of party governments and the rights of investors against those governments. Section B describes the arbitration process for resolving disputes between investors and states. It "establishes a mechanism for settlement of investment disputes that assures both equal treatment among investors of the Parties in accordance with the principle of international reciprocity and due process before an impartial tribunal".
Interestingly, opponents of CEN Biotech quickly used the notorious "Chapter 11 filing" as a shocking bankruptcy claim, again giving further evidence of the corruption and gross misrepresentation looming over this openly honest company.
2) New evidence obtained by CEN Biotech
Though investors were not able to establish new evidence explored by CEN Biotech, the alleged factual evidence has been added to preceding evidence of corruption and misrepresentation. Investors believe that CEN Biotech would not make such bold claims if indeed they did not have such strong evidence to point otherwise. Investors are excited to receive this information as it materializes in further press releases by the company.
3) OMB hearing less than 5 months away (January 2016)
After much debate, CEN Biotech has alas obtained a date for the Lakeshore OMB hearing. This hearing will explore the corruption that Lakeshore council horrendously made and negligently ignored despite the piling evidence against Lakeshore's decision to change bylaws from agricultural to industrial for marijuana grow operations. This perceived corruption dampens local economic growth for Lakeshore and erodes the public respect Lakeshore had as a stable economic provider for its citizens. In hindsight, rather than utilize the marijuana facility constructed near Manning Road for economical growth and high paying job stability, Lakeshore neighbors opposing the constructed facility are now left to look at chain-link fences that have no benefit or signficance to their property and economy. Again, this topic was addressed months before its full construction and is dissappointing to see the end result.
Stay tuned
Strategic investors have undoubtedly paid a hefty price to the risk-return trade-off when assessing their marijuana stock pick strategies and have used numerous measures of risk and return to evaluate that trade-off.
Recognition of the shortcomings by Health Canada has led the market to undervalue CEN Biotech significantly, punishing the stock price dramatically. The market capitalization of CEN Biotech has been drastically decreased from 120 million to a laughable 12 million, ranking it as one of the lowest and most undervalued companies in the marijuana sector.
What greatly concerns investors is the sheer fact that Health Canada extended its irrational decisions beyond the obvious prejudice inherent in the vast media by simply ignoring facts and court ordered documents. In other words, the entire lengthy MMPR application (over 900 pages from CEN Biotech costing roughly $20,000 to process), was taken as mere dictum, and seemingly ignored completely by Lakeshore Town Council and Health Canada. Investors are again encouraged to see this video created by a shareholder, explaining the corruption intertwined in this case.
The most serious concern to such unqualified obeisance is the maneuvering of Health Canada, taking almost one year to respond to CEN Biotech's successful inspection of the facility. The undesirable jockeying by Health Canada for a more favorable law benefiting media and competitors, merits a comprehensive examination of the program, and extensive federal judicial housekeeping. Investors would like to reduce corruption and improve investor relations with government and private investments.
Many are looking forward to the judicial review date and have remained loyal to the company and their shareholders of more than 4000 growing investors. Though CEN Biotech is trading at sub-penny levels, many investors are keen to notice that Lakeshore is one of dozens of projects in the company's pipeline, and one that will require patience and proper due diligence. The spin-off date will soon be revealed and has given investors a renewed excitement towards the prospects of the company.
Take no notice in the lies and corruption of the media and allow CEN Biotech to vindicate itself with the most important and relevant platform of all, the law of the Canadian Judicial Court System; and most importantly, the new evidence that has compelled CEN Biotech to serve the Attorney General of Canada with violations of the NAFTA agreement. Stay tuned.
Disclosure: I am/we are long FITX.