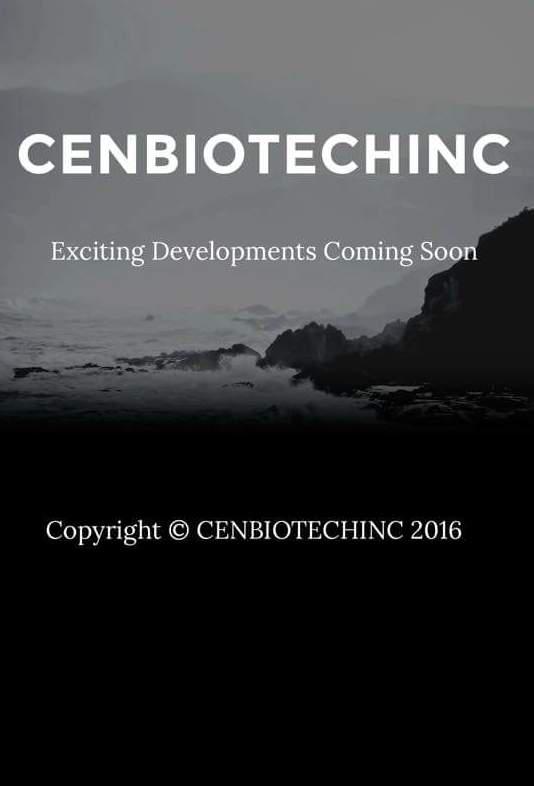 Investors have been presented with many sharp challenges in the past two years regarding CEN Biotech's struggles in the medical marijuana pharmaceutical industry. Many short-term investors speculated the performance of the company would be relatively unsuccessful, largely due to various subordinate politically driven oppositions and media bloggers focusing on the demise of the company. Long-term investors loyal to the fundamentals of the company have optimistically ignored the noise and will soon be rewarded on February 29th 2016 with tax-free dividend shares of CEN Biotech in a 700:1 ratio of FITX: to CEN Biotech shares. (Distribution of CEN shares is tax free for US Federal income tax) The share distribution will be awarded to all shareholders of FITX (Parent company) on record prior to November 30th 2015 payout date.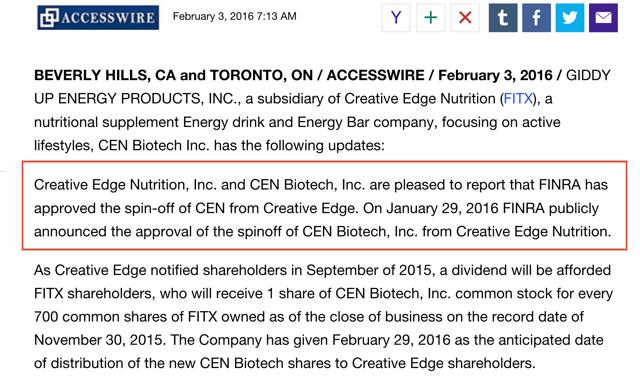 This is an important and critical milestone for any independent company. Investors may not fully comprehend the general idea of the spin off and the caliber of its importance. This has led to a somewhat unspoken notion by bashers that CEN Biotech is yet again deceiving investors and shareholders. Yet the truth has unequivocally prevailed in all aspects of basher's frivolous attempts to destroy this company. In fact, the judicial courts of United States have dismissed similar accusations and lawsuits brought against proponents of CEN Biotech by opponents and bashers of the company. More on this can be found on mmj.today.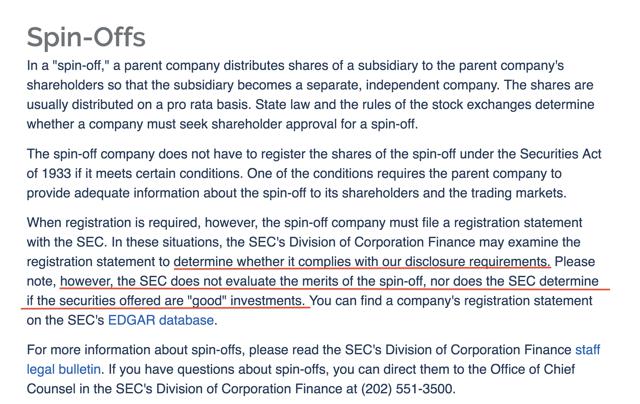 For the record, there have been no illegal misrepresentation of CEN Biotech, and the SEC has vetted the company on numerous occasions, and with the approval from FINRA (Financial Industry Regulatory Authority, SEC Regulatory branch) CEN Biotech is well underway to accomplish the spin off successfully.
MMPR unconstitutional
As many cannabis investors and patients alike awaited the long court battle decision between Allard vs Canada, CEN Biotech investors saw many MMPR publicly traded companies plummet well over 20% as the verdict was read against Health Canada's MMPR program on Feb. 26th, 2016.
CEN Biotech explains:
The MMPR has been declared to be of no force and effect, but that declaration is put on hold for 6 months to allow the government to deal with new legislation.
In the interim, both the MMPR and MMAR stay in effect pursuant to the terms of the Injunction of Manson J of March 21, 2014.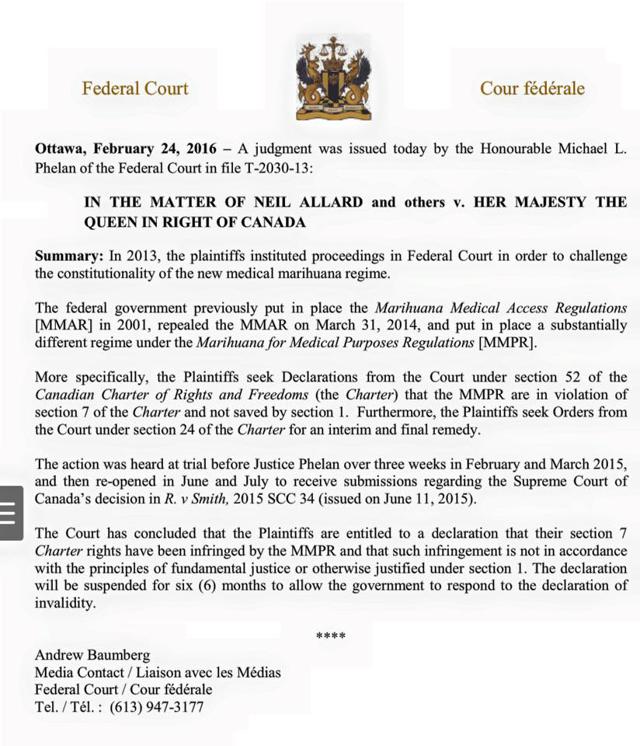 The general public should note that CEN Biotech was not only promoting the decriminalization of cannabis globally, but were also the first marijuana company to support new legislation for the MMPR program, as it has significantly delayed the growth and advancement of medical marijuana for patients.
Lawyer Kirk Tousaw, the co-counsel for Neil Allard, who launched the court challenge, was clearly pleased with the decision:
"Basically we won, and it was a complete victory," said Tousaw, shortly after reading the decision. " The MMPR was declared to be unconstitutional and violate the charter rights of medical cannabis patients," he stated.
Furthermore, there has been a recent petition to eliminate MMPR due to its intrusive and corrupt implementation in controlling medical marijuana from patients. This petition can be signed here: Petition e-18
Lakeshore in trouble
Prior to the government-imposed MMPR regulation in 2013, many farmers, local communities, and individuals grew medical marijuana within the confines of their designated agricultural land, operating within the laws of Canada. Medical marijuana is a crop and belongs in agricultural zoning as indicated by the Ministry of Agriculture of Canada on March 2, 2015.
"The province has considered medical marihuana as farm-use and should not be prohibited by local governments in the Agricultural Land Reserve (NYSE:ALR). This discussion paper was prepared by the BC Ministry of Agriculture (AGRI) to seek input on the establishment of a Minister's Bylaw Standard to guide local government bylaw development regarding medical marihuana production facilities (MMPFs) in the ALR." (2015)
The Ontario Federation of Agriculture has also deemed marijuana as a crop and encouraging municipalities to treat medical marijuana as a crop. (2015)
The recent developments regarind MMPR legislation has given CEN Biotech much more leverage to offer Lakeshore, Ontario, an opportunity to amend and renegotiate the illegal change in zoning imposed by Mayor Bain and his council a year ago. (Lakeshore council abruptly ratified zoning regulation from agricultural to industrial after completion and mutual agreement of the town and CEN Biotech in hopes of hindering CEN Biotech's facility to grow medical grade marijuana.) This has largely been speculated to be due to disgruntled neighbors who illegally attempted to coerce CEN Biotech to buy their agricultural property at 3-4 times more the market value of the property.
CEN Biotech explains:
Our site was chosen in conjunction with meetings with the Economic Development Officer for the Town of Lakeshore. We chose this location because of assurances from Town officials stating that the property had the proper zoning to undertake our stated business plan. We also provided a written notice was given to the Town of Lakeshore of our intent to use our agricultural zoned land for growing medical marihuana. We then applied for and received building permits from the Town of Lakeshore. We underwent numerous building inspections from the Town's building department and successfully closed out the permits. We contend that our site is grandfathered for its agricultural use since we relied on the statements and actions from the Town. The Town is now retroactively attempting to enact a bylaw to change the zoning required. We have filed a claim against the Town before the Ontario Municipal Board but cannot predict the timing or outcome of this action.
Lakeshore should be advised that the time-line of the Canadian government ratifying their large-scale medical marijuana program has been forecasted to take effect within 6 months to date, roughly by June 2016. Investors note that the scheduled OMB appeal hearing against Lakeshore is in October 2016, two to three months later then Canada's final ruling against MMPR.
This time sensitive nature of the OMB meeting is of considerable interest to both CEN Biotech and Lakeshore. It is a pressing issue for Mayor Bain of Lakeshore to cooperate with CEN Biotech and the government of Canada before being exposed for the illegal manipulation of zoning bylaws by his Lakeshore council.
Merger Rumors with RXNB
Consensus regarding the merger of RXNB, a reputable pharmaceutical company and CEN Biotech, has been verified much through due diligence of investors and various SEC filing outlets linking both companies together.
A fellow investor explains with his best judgment:
"On the Form 99.1 We are drawn to three interesting pieces of information. The first describes the entirety of work done by RXNB on the CEN Biotech Inc. project.
Form 99.1: The planning and construction of CEN's facility was overseen by R.X.N.B., Inc. which is an entity that is 45% owned by Mr. Chaaban. Through September 30, 2014, R.X.N.B. had billed and collected $2,439,900 (of which $1,542,000 is part of the cost of building and equipment and $897,900 is included in operating expenses) for its work on the project.
Bill, at present time is likely splitting his time maybe about 50/50 between RXNB and CEN (as vice president of RXNB and President and CEO of CEN), BUT.....in the Form 99.1 Statement it states that after spinoff Bill will be devoting 100% of time to CEN Biotech Inc.
Form 99.1: Bill Chaaban, will be the only Director and Officer and will be spending 100% of his time to CEN. Since 1998 Mr. Chaaban has owned and operated a variety of nutrition companies including CGIA, Inc., Edge Nutrition, Inc., Fitness One, Inc., Supplement Group, Inc., F1 Fulfillment, Inc., Chaaban Law Firm and Flash Fitness, Inc. and R.X.N.B., Inc. He has been Chief Executive Officer of Creative. A public company, since April, 2012. Mr. Chaaban holds a Bachelor of Commerce degree from the University of Alberta, a Bachelor of Laws from the University of Windsor, a JD from the University of Detroit, and a Master of Laws from Wayne State University.
In order for a company to up-list to a prestigious exchange such as the NASDAQ and NYSE they must meet minimum requirements and this is where it gets interesting. Companies must possess 2-years of audited financials in order to uplist, but companies also need to show minimum standards of ongoing revenue. CEN on it's own does not yet possess these standards, but in the proceeding months to come the 2-year audit requirements will be met and with the accompaniment of RXNB's revenues (which likely exceed $35M-$40M per year (due to mergers of entities such as Jade, Edge Nutrition, FitnessOne and the growth of businesses such as CNC, Implant Tech, etc.)
Form 99.1: There is no current trading market for CEN common stock. A market maker has agreed to file an application with FINRA on CEN's behalf so as to be able to quote the shares of CEN's common stock on the OTCQB maintained by the OTC Markets Group. If CEN becomes able to have its shares of common stock quoted on the OTCQB, CEN will then try, through a broker-dealer and its clearing firm, to become eligible with the Depository Trust Company ("DTC") to permit its shares to trade electronically. CEN plans on applying for listing on the NYSE MKT upon obtaining DTC eligibility."
To this end, many investors believe CEN Biotech and RXNB will likely merge no less than 6-8 months after spin off completion. This would likely propel the company to uncharted valuations, and give market analysts the ability to engage in various price targets ranging well over $50-80.
It is important to note that the actual distribution of shares is likely to occur within a month of February 29, 2016. However, the formal separation and distribution will occur simultaneously. In other words, investors should take note the separation will take place Feb 29th, 2016, but may take at least 1-2 months for trading in the OTCQB. This is a normal time span for all spin-off companies.
Investors are excited with the recent developments are eagerly waiting for possibly the most important news for CEN Biotech in 2016.
Disclosure: I am/we are long CEN BIOTECH, FITX.