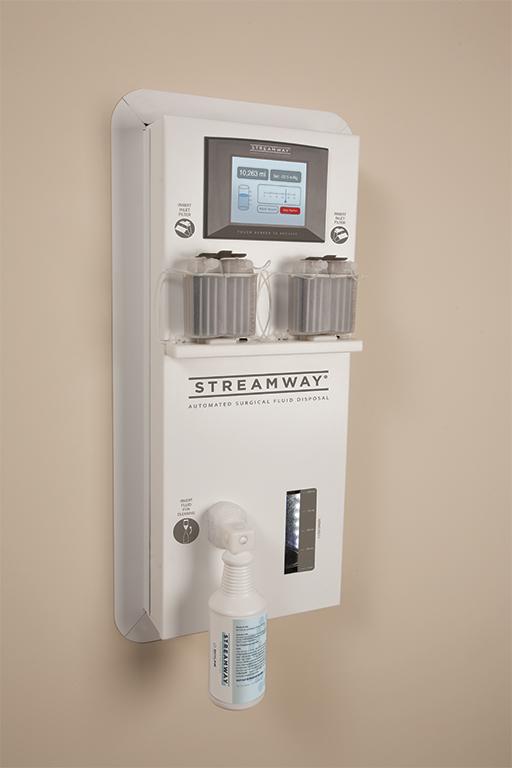 Skyline Medical (TICKER: SKLN) has distinguished itself from other medical startup companies, and is at the forefront of transforming itself into a powerhouse. Players who have invested in the medical field have become moderately familiar with the Streamway product, and the immense potential of this unique device.
"Skyline Medical Inc. produces a fully automated, patented, FDA cleared, surgical fluid disposal system that virtually eliminates operating room workers' exposure to blood, irrigation fluid and other potentially infectious fluids found in the surgical environment." There are no FDA cleared devices of this type on the market today.
Today's archaic and robust elimination of surgical fluid handling methods has left much to be desired, particularly with the extensive range of medical procedures of today. From facial plastic reconstructive surgery, liposuction, hip joint replacement, oral and maxillofacial surgery, and hundreds of other procedures requiring the need for fluid elimination, Skyline has capitalized and optimized the future of surgical waste elimination successfully.
Traditional elimination of surgical fluid requires hand-carrying filled surgical fluid canisters and emptying these canisters into a surgical drain or at times larger canisters. This has a high risk to expose millions of pathogens to not only nurses and faculty, but to the patient themselves. A sterile hospital surgery room must not have the additional risk of airborne pathogens from simple waste elimination, particularly ones that require negative pressure room monitoring (i.e., tuberculosis patients). It has been reported MRSA, airborne pathogens and viruses have been a leading cause of infection in hospital surgery setting. Exposing these pathogens by elimination of canisters in a hospital setting must be removed with the highest degree of control and automation-eliminating human error and exposure collectively.
Skyline Medical's STREAMWAY System fully automates the collection, measurement and disposal of surgical fluids and is designed to result in: 1) reducing overhead costs to hospitals and surgical centers, 2) improving Occupational State and Health Association (OSHA) and other regulatory compliance agencies' safety concerns, (which will become more stringent and standard in the future) and 3) streamlining the efficiency of the operating room and improving infection control concerns in a surgical setting.
There has been a daily pitch battle between bullish and bearish investors with endless rhetorical discussion and speculation regarding the ultimate fate of this company, particularly within the month of September 2016. Subsequent to the recent press release, bullish investors have been eagerly anticipating more critical information that would incinerate even the peskiest arguments of opponents. Investor's first-ever foray into this effort was seen in the company's updated conference call on September 8 th, 2016 regarding the joint venture with Electronic On-Ramp Inc. The stock surged almost 130% after the announcement, indicating the bullish sentiment of the company.
Skyline explains "Skyline medical is creating momentum and a viable company. We look forward to building value for stock holders. This provides EOR special tenders in government standing. NIH, Department of Defense of $550 million dollars.
EOR and Skyline will be in operation by the end of the year and 51% owned by EOR. We are very excited to be in this collaboration, providing access to local funds 18 months ahead of Skyline's government plans. We are engaged in contracts that are worth 15.8 billion dollars, specifically targeting medical devices that awarded 6 billion last year. This venture is considerable."
Institutional shareholder services recommended to vote for all proxy proposals. Another service, Glass Lewis issued to vote for all three proposals as well. Nations top two proxy firms to vote for three main proposals.
1) Increase authorized shares from 100 million to 200 million
The company currently has 100.0 million shares available for issuance. Given the relatively limited amount of shares available to the Company, we believe that it may be prudent for the Company to have additional common shares available for issuance.
2) Reduce shares outstanding after reverse split to increase stock price
We agree with the board that it is in the best interest of the Company to reduce the number of shares of common stock outstanding and thereby attempt to proportionally raise the per share prices of the Company's common stock… A higher stock price may help to increase investor interest, attract and retain employees and improve the Company's ability to raise additional capital through equity offerings. The reverse stock split will be limited to a ratio range of 1:2 and 1:25. It is prudent to maintain a $1 stock price to maintain listing on Nasdaq. The only practical and effective way to readily maintain SKLN's position on NASDAQ is a need for a reverse split. Investors should keep in mind that being listed on the NASDAQ will allow for strict and stringent audits, eliminating the penny-stock stigma that many companies face today. It is prudent to maintain listing for not only protection of share price, but to allow institutional investors to gain to SKLN in their own funding as well. (Many institutions do not allow for any investment in lower grade exchanges)
3) Revised proposal eliminates 400 million share increase as requested previously at annual meeting.
The revised proposal alleviates our concerns regarding the previously requested increase at the annual meeting [to 600 million shares]. Specifically, the requested increase to 200 million authorized shares is comparatively modest and the revised proposal does not seek to increase the number of authorized shares of blank check preferred stock. Further, we note that on August 18, 2016 the Company received a notice from the Nasdaq stating that it no longer applies with the requirement to maintain a minimum shareholders' equity of $2,500,000. We believe the requested increase will enable the Company to attempt to regain compliance with this listing requirement
"This is yet another vote of confidence for the position of the board of directors of Skyline Medical as Glass, Lewis can be added to the voice of ISS in recommending stockholders vote FOR all three proposals," said Dr. Carl Schwartz, chairman and interim chief executive officer of Skyline Medical.
"Given that Skyline no longer meets the minimum equity requirements for continued Nasdaq listing, it is even more imperative that stockholders vote FOR our proposals, so that we may endeavor to improve our financial position quickly," said Dr. Carl Schwartz. "With a number of potential value-creating activities we have identified in the coming months, we believe an increase in authorized common shares and a reverse stock split will allow us the opportunity to move forward to achieve the milestones we anticipate."
Amidst bashers hovering over SKLN like a death star silloute, Dr. Carl Schwartz, will have a historic conference call on September 15 th to discuss the timing and application of the approved proxy votes.
STREAMWAY DUE FOR UPGRADE
Of note, under the direction of Dr. Sweetnam, a new member of the medical advisory board, speculation has teased out a complete overhaul of the streamline software and sensor monitoring. Skyline products can begin to become upgraded with "sample collection [of bloodwork] and viable identification of diseases in the operating room." This type of upgrade is invaluable to STREAMWAY and can revolutionize the way patients can ultimately be diagnosed. Imagine having the STREAMWAY system analyze bloodwork (i.e., cholesterol levels, screen for various blood infections, albumin levels, etc) eliminating the need for third party lab analysis. Sensors within the STREAMWAY system and software have been positioned for this type of upgrade, which can revolutionize the industry completely.
Oversold territory
Despite the extremely oversold range of the company's stock price, I believe the market has readily taken into consideration the inherent risks of not obtaining proxy vote approval in the near term, thus consolidating the price per share at these bargain levels we see today. However, the market has reported a number of significant design flaws in their price projections, which seemingly have no reflection in the intrinsic value of the company. Likewise, the market capitalization of the company's stock is not indicative of the true intrinsic value of the company and thus is punished as if it were ridiculously "overvalued".
See graph below created by "AngryBull" , an investor of SKLN, indicating resistance and support at 0.28 and .10 respectively: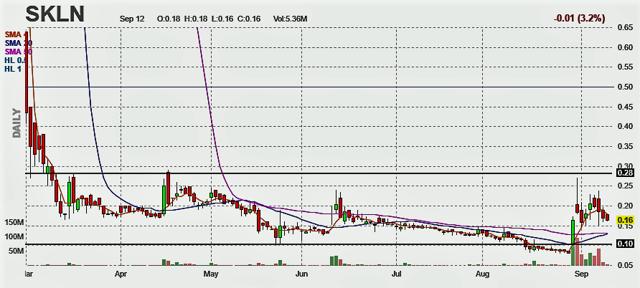 SKLN market capitalization
One way to determine the value or worth of company is by the market capitalization, (shares outstanding multiplied by price of equity). Notably, this valuation can have small changes almost daily, but more prominently during earnings, breaking news, or other relevant factors affecting a company. Many analysts use the market capitalization to evaluate whether or not a stock price is overvalued or undervalued, depending on market conditions and the fundamental operations of the company.
The market capitalization of SKLN has ranged from roughly an average of 480 million to now 34 million dollars with the past year. The volatility of uncertainty, coupled with the delay in STREAMWAY improving their models and customer basis has caused a wide range in share prices. This market capitalization does not reflect the joint venture with EOR, acquisitions, prospects of growth with the STREAMWAY model, and other developing news from the company. It is easy to entertain the thought that companies that produce revenue and hold strong profit margins can increase their stock price and thus their market capitalization tremendously. SKLN has the potential surpass the market capitalization of many penny stocks within a short 12-16 month time frame and also increase the value of the company into billions. The EOR venture alone is valued at roughly $5 billion dollars. This would make SKLN the ideal candidate for a buy-out company or to expand and acquire new customer basis with these unique opportunities.
Final Thoughts
Even the social perception of the company plays an important role in the pps and can have a significant influence on the market's reaction towards the stock price. These measures, though elusive to quantify are what make smart investors realize the "bigger picture" and to capitalize on these bargain opportunities. The market has remained largely ignorant to the true intrinsic value of the company and one that can transform the pps into conservative projections of prices in the range of $2-3 within 1-2 years.
I would hate to be sitting on the sidelines on this one; it is an exciting venture that is powering up for a truly spectacular show. Investors should decide sooner than later, if this opportunity is well worth their investment strategies. Let the games begin!
Disclosure: I am/we are long SKLN.