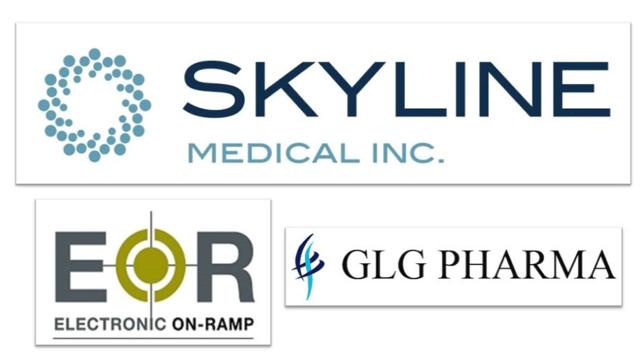 Often we find companies with opportunities that would make investors dream of endless possibilities. Yet many of times, these dreams are tarnished with the harsher difficulties of reality and investors are left to pick up the pieces. The penny stock lottery has been prone to such traits, but many investors continue to pour billions of dollars each day in hopes of fulfilling this never-ending prophecy.
It is rare to find companies on the NASDAQ in penny range territory. In fact, the minimum price to be listed on NASDAQ is $1.00. Skyline medical has shown investors plenty of concerns-particularly with their poor balance sheet, and dwindling cash. Yet loyal investors who have been current on the recent news are investing heavily. Rarely do we find a publicly traded company on the brink of accomplishing one of the most important events in the company's history-and even more so with a joint venture cooperation of two other powerful companies, EOR and GLG. Investors should realize the unique position at hand; SKLN offers shareholders a price per share that does not reflect any sales or joint venture progress. This does raise speculation that their pps has not reflected the recent news, and day traders are creating volatility for quick profit taking. Relatively speaking, companies with such astonishing growth prospects are trading well above pennys and none are even remotely close to trading at .16-17 cent range of SKLN, a joint venture premium not incorporated into the price today.
In a recent interview on 9/27/2016, Money Info from Princeton Research interviewed the three gurus of Skyline Medical's partnership addressed a wide range of information to investors.
Richard Gabriel, GLG Pharma, Chief Operating Officer
Carl Schwartz: CEO of Skyline Medical
Bob Beringer: CEO of Electronic-On Ramp
Carl: My name is Dr. Carl Schwartz and I am the interim CEO of Skyline Medical. I'm very happy to be here with our new partners Bob Beringer CEO of EOP, and Richard Gabriel, co-founder and COF of GLG Pharma. In the case of EOP will have access to substantial local and federal contracts budged for health and life safety systems humanist assistance disaster preparedness, especially in mobile operating rooms. The STREAMWAY system is a perfect fit for this. In the case of GLG pharma, they will provide access exciting new technology, which will allow us to utilize in operating rooms and radiology , rapid diagnostic tests, utilizing GLG's point of care testing devices to gather and evaluate material in the STREAMWAY's already existing patient [blood excretion] trap. I believe the combination of GLG and EOR and Skyline make a powerful team.
Bob: I am excited to be here, excited with the new team coming together. We are involved in 63 billion dollar contracts, and the opportunity to supply any government agency around the world. There are contracts already in place, definitely a demand, the new rapid diagnostic capability offers the opportunity to revolutionize healthcare in the way it is. We have a great company with Skyline, now we have great contract vehicle. We have great access with people with funding, contractors, and it will be very exciting for shareholders.
Richard: We were very excited about this opportunity, and its pleasure working with both Carl and Bob and the Skyline medical team. We originally approached this with oncology, we identified scientific advisory board for skyline medical, identified that the trap capture and divert excretions, ability to create new diagnostic tests is present in oncology patients, focusing in with the diagnostic patients, the existing space where the product worked really well, is an opportunity that will create a lot of value for Skyline and GLG and Electronic on Ramp.
Mike (host): The trap, when you get a sample out of that trap, that's in between the actual patient and the unit, is there any risk at all in between there, relative to the fact that you're really talking about an untreated sample, or it would probably not do any good. Is there any risk taking that out of there before the actual fluids have been removed, to the unit itself?
Carl: The tissue trap is in the unit. No canisters no transportation. We have added a vacuum unit, where we can make up for all the vacuum needed. We have been looking to clean and purify the material before it goes into the drain to make our machine along with GLG to go a long way.
Bob: We would not be taking any untreated samples out of the unit. IT goes from the patient and the unit, its tested in real time, results are digitally provided in real time. We have an opportunity to test a person that is going into surgery, and then being able to tell in real time if we got all the cancer cells out, this is the first system in the world that can give them peace of mind, without the fear that maybe they didn't get all the cancer cells out, but now we can give them peace of mind, with a better surgery, less risk for the doctors, and you can go to a place where you know for sure they got it all, and can put this behind me. We are in a really cool space right now where the three organizations are coming together to change the world and it's a beautiful thing.
Carl: They are very mobile, and it can run under regular power.
Bob: We have been supporting FEMA region 3,5, 7 for over a decade, and when we work in triage, special operations command, forward deployed members dialing in, and they couldn't wait to utilize the existing technology and the next version in a better way. Imagine if you will, actually in Africa and having a soldier injured exposed with open wounds, and if we can have a device in real time to detect Ebola or some other kind of disease that you may not know, this is the first system that you can actually work on the patient right away to treat, and if necessary immediately quarantine. That's a capability we never had before, Skyline is really leading the way into making this happen. We have a DC and AC version of the device, in the works all over the world.
Bob: In surgery we are putting fluids in open containers and moving them around, in the past we have had nurses, doctors exposed to HIV with splashes, this is the system that actually makes sure no one gets splashes with HIV. The sanitization capability is something that everyone wants to be part of, its one of the few systems in the world that can help prevent getting blood born pathogens into the water supply. In fact, the two most common things in Houston drainage is Tylenol and Birth Control, so there are a lot of wastes that can be stopped at its source. We are very excited about the testing, the way each of the different companies are coming together.
Host: Different FIMA regions, negotiate with them separately?
Bob: Every single contracting officer you have to negotiate individually. One of the things we can do to streamline this process is- where EOR creates a force multiplier. Basically bringing Skyline into the market 18 months faster than what they already would be. So if you have a contracting officer with signatory authority and a budget from congress stating they can spend money and help people. If you were to go on your own, it would take 374 days where the government says that's how long it takes to make a sale. That's a long time. What's cool about a GSA schedule [what EOR has], a pre-negotiated contract schedule you can make a large sales within minutes. We have these GSA contracts in place that are pre-negotiated to make it easier for contracting officers to distribute funds to us and able to share that with Skyline and shareholders, so something that takes over a year, within minutes, so EOR has done all that work, we have been in the space for over a decade. EOR has multiple agency contracts, government wide contracts, so with that said, I am excited to say-here is the customer need, here is the contract, and here is the system that can help people immediately.
EOR has all the vehicles to provide government with the confidence that they need in order to share tax payer money with an organization, the clout if you will is pre-negotiated contracts, tests have been developed and proven that it works. The demand that's being driven from the OR room itself, and we can literally fit a skyline system in a backpack right now, and it's a complete game changer.
Skyline at around $17/share
Despite the relatively oversold range of the company's stock price, investors believe the market has readily taken into consideration the inherent risks of low sales of Streamway systems in the near term, thus consolidating the price per share at these bargain levels we see today. However, the market has excluded a successful joint venture operation, and particularly eliminated any growth of the company.
Mike King, the director and chief economist of Princeton research explains:
Mike: all of these things that we are talking about Skyline, and the size of the joint venture that this is, really make a monumental change to this company from the investment side. I'm speaking in theory now, because we don't have any real numbers that we are or able to discuss. But we are still talking about a company that has a market cap in the neighborhood of about $ 15 million dollars. The opportunity here for investors to see growth in a company like this, just based on what the real numbers would look like if we start selling these through these resellers, and I don't mean to downplay the value of these relationships in these JV, but it's pretty monumental the effect, we are not talking about MERK or on the pharma side or on the EOLR side, we are talking about big companies being involved with smaller companies, and the growth here can be monumental on a 15 million dollar market cap company. Even if there is some dilution thru the change in authorized shares that we just went through and that was finally settled in the proxy ten days ago. The return to the shareholders in this type of deal can really be significant, I mean there are certainly days over a period of week or ten days, where almost the entire market cap of the company has been traded, I don't mind people coming in and out with 17.4 cents and sell it at 17.8 cents, also on smaller stuff like this you very often see a wider spread. So there is liquidity in the stock, you know-this is a company that can be easily positioned as a $17 stock, should these sales materialize, and that can move substantially higher, so investors should have a long view here as the company has a long view. A lot of times that gets lost in translation when you have some of the people on CNBC or FOX news or Bloomberg, talking in terms of people having small windows of opportunity. There just dealing with such small windows that you kind of lose the forest looking at the trees. I think once you have a little longer view, you really see the opportunity in the joint venture and the company.
Host: Richard can you tell us about GLG pharma, tell us about your company.
Richard: GLG was founded in 2009, just at the beginning of financial crisis. We had identified as a team to look at STAT3 inhibitors. We realized many people had not seriously looked at STAT3. We have been funded by NCI to fund us for about 80 million in cancer-particularly in breast cancer. We have a grant for $3.6 million dollars in triple negative breast cancer research. Our path with Skyline said a lot of patients can come in for diabetes, heart attack, embolisms, and number of things, we can quickly diagnosis these patients both from oncology and excretion of blood fluids. The other thing Bob and I talked about is identifying what we would call infectious diseases, which is extremely important in low resource environments like a hurricane, or war. And being able to identify these patients that may be infected quickly in an OR and protecting the staff and hospital. We developed methods to harvest cells, clone them up, we are looking all aspects of both fluid and cell capture. I haven't seen a system like this, I was actually invited by David Weinstein to take a look at Skyline, and I thought about it, and really thought it over and how much of a benefit this could be for patients.
BOB: I'm very excited with the people that we get to work with are the best of the best. Skyline and GLG can help protect people in this world and I'm very happy about that. I'm also happy that we can get a GLG system and put it in real time with Skyline. We can immediately help people. The technology and systems there do that, there is no long modification we need to do to upgrade, we can see this technology in every single ambulance in the world, and so , there are some really neat things that are happening, ultimately, so that we have a lot of capabilities and teaching people how to be more human, and how to love people, and help people, and these systems from Skyline and GLG into the hands of good people around the world, we can do good and help people at the same time. It's the perfect opportunity for all of us to help people.
Investors should decide
Skyline is becoming more attractive to investors, particularly still being listed in the NASDAQ exchange, and the prospects of the company's pipeline are promising. Investing in pennies on the dollar can be a risky investment, but with the overwhelming transparency that NASDAQ forces companies to provide, the joint venture of EOR and GLG Pharma, and an extremely reputable board of directors, Skyline is clearly paving the path to success and transforming the medical industry, one Streamway at a time.
Disclosure: I am/we are long SKLN.