S&P CaseShiller HPI
 The November results from the S&P CasesShiller Home Price Index continues to show the double-dip in housing is occurring, and with the coming supply of distressed properties that will hit the market over the next couple of quarters most cities in this index may in fact post news lows – for November eight of the 20 cities tracked hit new lows.
The index measured that home prices dropped 0.54% on a seasonally-adjusted basis, which was actually better than the -0.80% expected, and marks the fifth-month of decline.  Sixteen of the 20 cities tracked posted price declines on a seasonally-adjusted basis.  San Diego, Washington DC, Charlotte and Las Vegas (which saw prices unchanged) were the four that escaped a price decline.
On a non-adjusted basis, which is the traditional manner in which this report has been reported, prices fell for a fourth-straight month with 19 cities posting a monthly decline and 16 metro areas posting year-over-year declines – eight of which recorded y/o/y declines of 3.48% or worse.  This is an important number to keep an eye on as roughly 30% of mortgage are either underwater or have less than 5% equity.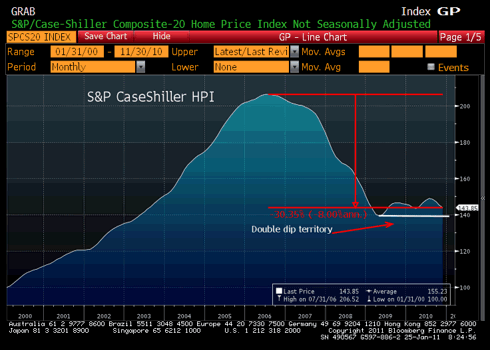 Consumer Confidence
 The Confidence Board's measure on consumer confidence exploded to the upside in January…just kidding, that's how the financial press will surely portray it.   The measure did jump in January, up 7.3 points to 60.6 for the month.  While a nice improvement, the reading remains depressed and still fails to eclipse even the 2010 high of 62.7 hit in the spring when the tax credit-led home buying was in full force.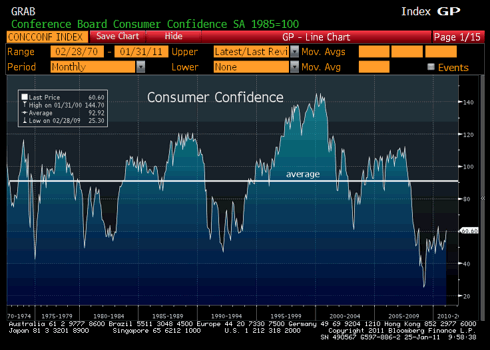 Both the present situation and expectations indexes improved nicely:
 
The present situations index remains all but floored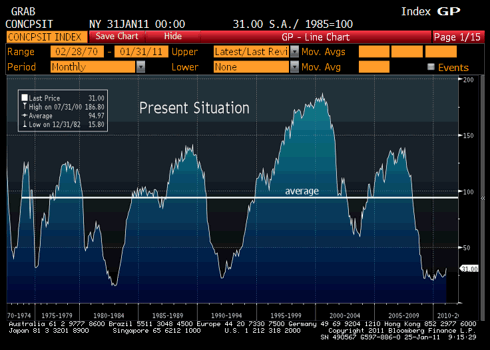 Expectations look better.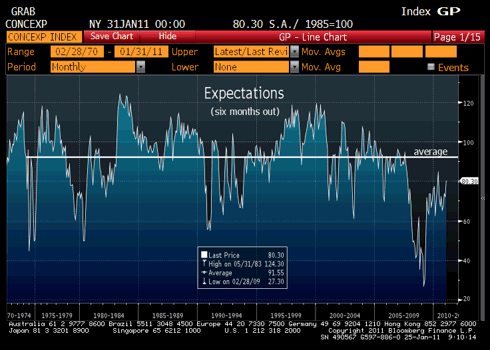 The jobs "plentiful" less jobs 'hard to get" reading improved by 3.6 points to a reading of -38.2 – the number of respondents stating jobs are "plentiful" rose 1 point to 5.2% and those stating jobs are "hard to get" fell 2.6 points to 43.4%.  I view this as the best indicator within the confidence readings regarding durable levels of consumer activity.  In this period of de-leveraging, in which households either cannot or will not depend on credit as they have in past recoveries, this reading has to make much more improvement.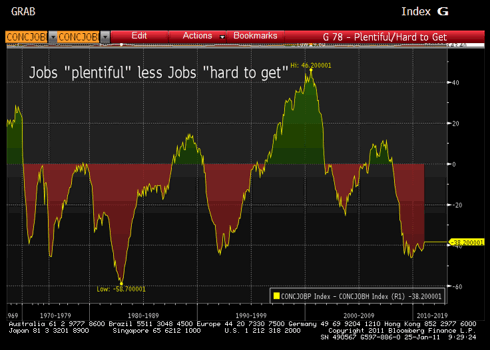 Richmond Fed
 The Federal Reserve Banks of Richmond's gauge of factory activity within the fifth Fed district during January missed expectations, falling to a reading of 18 after the 25 hit in December.  Notwithstanding the miss, the chart below shows the measure remains elevated.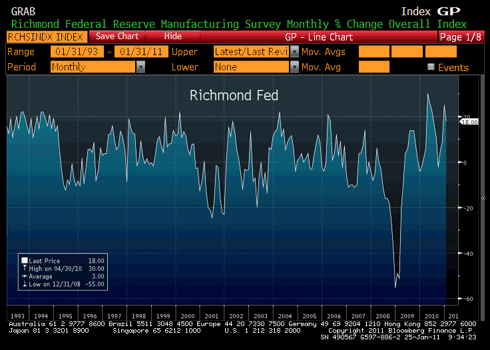 In terms of the sub-indices, new orders fell 11 points to 17; capacity utilization fell 3 points to 18; and wages fell 3 points to 13.  While all declined, they remain at pretty hot levels. 
 The concerns reside in the order backlog and price indices (which are the concerns for nearly all of these regional manufacturing reports).  Order backlog slid 9 points to a reading of 4 (so not much cushion before it falls to contraction mode again) and the prices paid/prices received differential widened.