One of the on-going issues at Tesla Inc. (TSLA) has been the considerable time lag between the delivery of its Model 3 cars and the timing of the registration of the VIN (Vehicle Identification Number). Some delay is normal for a company to process paperwork, holidays etc., but this should be in the range of a day or two. If we look at a recent summary from Twitter user @TeslaCharts, the magnitude of this discrepancy has been very large; it is currently at almost two months of sales (albeit slow sales months):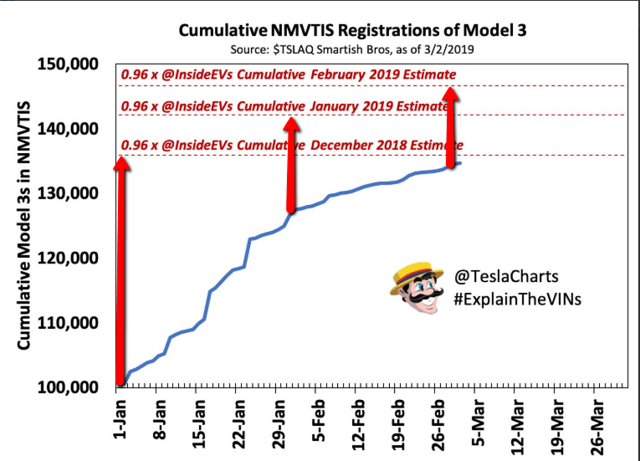 Source: @TeslaCharts, NMVTIS data, Tesla disclosures, Inside EV sales estimates
Some of this variance was due to the proliferation of temporary tags (rather than permanent registrations) that were given out to new purchasers early in the Model 3 sales ramp. These temporary tags don't show up in the NMVTIS data. I'm not sure why Tesla used so many temporary tags; there was some speculation it allowed sales tax to be deferred for remittance but maybe it is just part of their process. Either way, the gap began to close through January and to a lesser degree in February. However, there remains a gap of roughly 12,000 cars that have been delivered to a customer but not registered. It should also be noted that this is not the same as applying for a VIN number, which car companies do related to production. This application process is one of the metrics that Bloomberg utilizes in their Model 3 production tracker.
I have struggled with how this gap could be occur. Retail customers will need access to their car likely immediately which would ensure they are registered. Fleet sales, such as to rental car companies or corporate purchases, would also need registration to be done quickly. The only type of purchase that could acquire a bunch of cars but not have a registrations would be someone who doesn't need the cars right away. This could be the case in a dealer model, but since Tesla does not employ that business model, I ruled this out. I have started to question whether these cars may have been purchased by a private entity for long-term storage which led me to look at SpaceX (SPACE).
SpaceX is an Elon Musk-controlled private company which has been developing commercial solutions for space exploration, space travel & related activities. Near the end of 2018, the company was going through a series of cash raises. In late October 2018, Goldman Sachs was looking to raise $500m in debt financing for the company at 99.5, with an interest rate of 400 bps over LIBOR. These plans were abandoned several weeks later as SpaceX shifted to Bank of America to help them raise up to $750m on a "best efforts" basis, meaning no commitment by BofA to support the deal. Goldman Sachs has been a long-time under-writer for both Tesla and SpaceX so this switch was a surprising move for SpaceX; in the linked article, Musk is said to have wanted to have greater latitude in what the funds could be spent on. SpaceX eventually raised $250m in late November 2018 at 99, with interest at 425 points over LIBOR. This was just 1/3 of their initial ask and at worse terms than they had originally sought.
This was clearly a disappointing outcome for the company. However, SpaceX was back in the capital markets again in December 2018, looking to raise $500m with Tesla investor Baillie Gifford as one of the investors. This round ended up attracting $273m in funding, closing in January 2019.
This fund-raising become more convoluted when it was revealed on December 18, 2018, that SpaceX had been funding another Musk entity, the Boring Company, without shareholder approval. Although Musk assured the public that there was no problem with this, it illustrated that he wasn't afraid to work around standard governance procedures in order to advance his company's goals. On this same day, Musk took out $61m in mortgages personally against five homes he owns, though it is unclear what these funds were for.
All in all, there was a lot of fundraising going on by SpaceX and Elon Musk at year end 2018. The terms of the financings seemed to worsen as time went on while failing to meet their original financing objectives.
So how does this tie into the missing gap between deliveries and actually registered cars? With all these funds, I believe it is likely that SpaceX purchased a number of these cars from Tesla at the end of the year. Tesla was under severe pressure to be profitable and cash flow positive in Q3 and Q4. Tesla had already accomplished Q3, but it had taken an intense level of effort to get there to the point that Tesla customers were volunteering to help deliver cars so they could meet their Q3 goal. However, the end of Q4 didn't see any such push to accomplish these goals. In fact, Tesla announced in January 2019 layoffs of up to 7% of its work force. SpaceX is a private company and is under no obligation to disclose this information, though it would certainly be a related party transaction for Tesla with the common ownership with Tesla's CEO. Elon Musk and his companies have a long history of cross investment going back to SpaceX ownership of SolarCity Solar Bonds, and Tesla's eventual purchase of SolarCity itself.
Twitter user @latrilife has done some on-the-ground digging, locating a large number of cars in a lot in Hawthorne, near SpaceX's California headquarters. :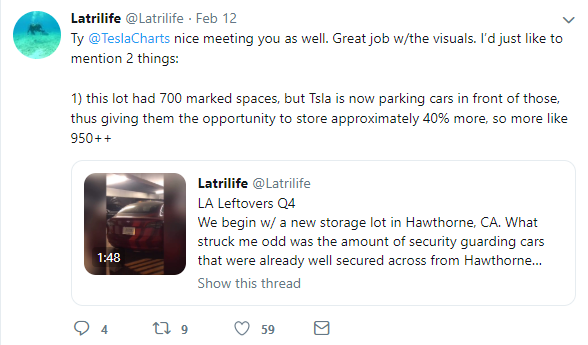 Source: Twitter @Latrilife
This is certainly just circumstantial in nature, but it is odd that so many cars are located so close to SpaceX without a clear means to dispose of them. Tesla has a very haphazard storage system, with lots of cars located in many different places around the country, though not necessarily attached to service or sales centers.
These 12,000 missing cars that have yet to be registered, costed at an average sales price of $60,000, would mean $720m in cash would be needed to fund this. Even half of this would still mean $360m in cash needed to come from somewhere; SpaceX and Musk seemed to be very urgent to raise funds in last couple of months of 2018, coinciding with Tesla's Q4, with SpaceX raising over $500m as detailed above and Musk $61m in mortgages alone. The timing of these raises and the continued missing registrations is very concerning to me. This would also support the very low interest earned on its cash balances that I explored recently as most of this money was only raised in December; any purchase from Tesla would likely have occurred late in December, leading to the very high cash balance but little interest to be earned.
The Takeaway
I cannot prove this theory. SpaceX doesn't release its financial statements and Tesla did not disclose a related party purchase in its most recent 10-K. The Tslaq.org website has an incomplete, but illustrative list of the numerous car locations that Tesla stores cars around the country; it is not inconceivable that there are more. I do not see another alternative for so many cars to be delivered and purchased but not yet registered for use by anyone. I would welcome your feedback on this as if this is indeed the case, it should be very concerning for Tesla and SpaceX shareholders and debtholders. A special thanks to Twitter users @TeslaCharts, @Latrilife and @EVDefender whose work I have utilized in this article.
Disclosure: I am/we are short TSLA.
I wrote this article myself, and it expresses my own opinions. I am not receiving compensation for it (other than from Seeking Alpha). I have no business relationship with any company whose stock is mentioned in this article.
Additional disclosure: I am short TSLA through a range of put options and strike prices out until 2020.