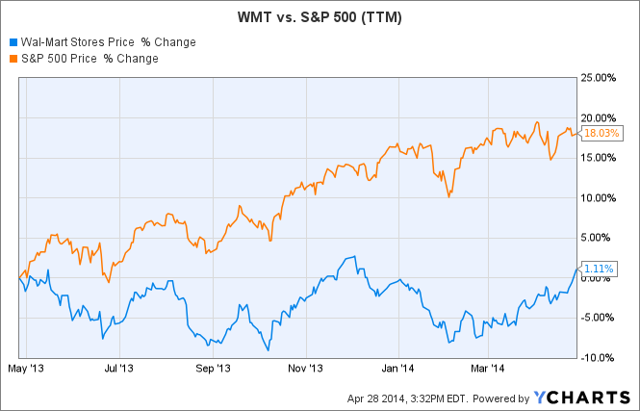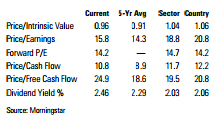 Wal-Mart has numerous growth initiatives underway which do not seem to be reflected in the current valuation of the stock. Initiatives such as a focus on multi-format stores and a renewed e-commerce strategy should prove to be key catalysts for growth. Wal-Mart's recent acquisitive nature in the ecommerce space also should prove interesting moving forward. They have also reinforced their commitment to future forms of commerce through the introduction of Wal-Mart Labs which has sought to combat Amazon and other nimble e-commerce companies.
Valuation
On the valuation side it is fairly valued with a P/E ratio of 15.8 which compares to the sector P/E ratio of 18.8. Furthermore the dividend yield is 2.46% which compares favourably to the sector average of 2.03%. Analyst estimates also tend to fall within a narrow band which bodes well for the predictability of earnings. On a TTM basis, earnings were roughly in line with analyst estimates in each of the past 4 quarters.
Cyclical Shifts
Since the beginning of 2014 there has been a shift from momentum and growth equities into value oriented companies with predictable earnings. Moving forward this should represent a catalyst for share-price appreciation as funds are allocated towards value investing strategies. This is favourable for Wal-Mart in particular, due to relative underperformance versus the S&P 500. This new shift has represented an equity reallocation from outperforming stocks in the year of 2013 into those that have underperformed on a TTM basis. This shift has been evidenced through equity inflows into value oriented funds and outflows from growth funds ($14,230MM 1-yr inflows into Large Cap Value Funds and $28,101MM 1-yr outflows from Large Cap Growth Funds).
Improving Global Growth
Improving global growth should be a positive factor for Wal-Mart on a revenue and profitability basis, as individuals have been choosing to "trade up" from dollar stores.
Conclusion
Wal-Mart has a wide economic moat stemming from its considerable buying power and well developed distribution network
New developments in Wal-Mart's e-commerce strategy bode well for future growth
WMT's outperformance in the month of April relative to the S&P 500 could indicate a shifting tide in investor sentiment
Disclosure: I have no positions in any stocks mentioned, and no plans to initiate any positions within the next 72 hours.