Buy it Right now - We will do a full write up in the next few days - Price $17.12
Highlights from todays Conference Call
Ends Orca breeding program immediately
New Educational Habitat
Partners with Humane Society - Former Rival & Foe
This Eliminates the bear case overnight as this could help attendance, reduce reputation spend program which leads to $15m in expenses.
"SeaWorld's commitment to end breeding of orcas is a long-held goal of many animal advocacy organizations, and we commend the company for making this game-changing commitment," said Wayne Pacelle, President and CEO of HSUS. "Today we turn a corner, working together to achieve solutions on a wide set of animal issues including sunsetting the use of orcas at existing facilities; maximizing SeaWorld's focus on rescue, rehabilitation and advocacy for marine mammals in the wild; and sourcing food for animals and customers from humane and sustainable sources, including cage-free eggs and crate-free pork."
"We are pleased to join with HSUS on the significant issues facing marine mammals and their ocean homes," said Manby. "The work done by zoological facilities like SeaWorld is critical for the protection of animals in the wild, especially marine mammals. To that end, SeaWorld has committed $50 million over the next five years to be the world's leading marine animal rescue organization, to advocate for an end to the commercial killing of whales and seals and an end to shark finning.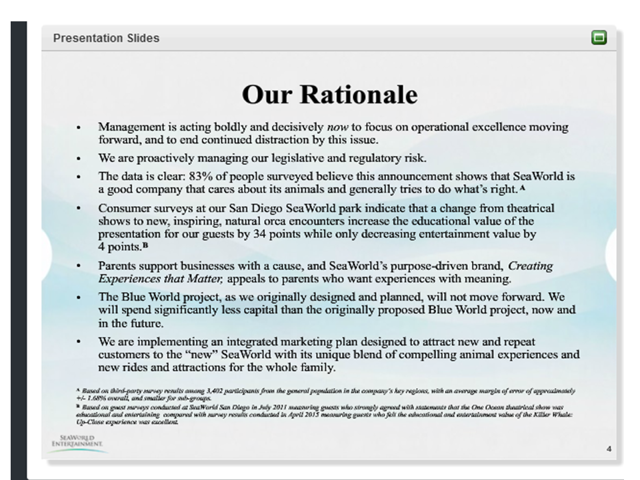 Disclosure: I am/we are long SEAS.