Ambarella, Inc. (NASDAQ:AMBA), the California based semiconductor business, develops low power, HD and Ultra-HD video compression and image processing solutions.
AMBA is an image-processing leader, which focuses on the delivery of its System on a Chip (Soc) technology to Original Design Manufacturers (ODM) and Original Equipment Manufacturers (OEM). AMBA's products are used in a variety of components including IP-Cameras, sports cameras, and wearable cameras and flying cameras.
In July of 2015 AMBA acquired VisLab, a European based provider of computer vision and intelligent control systems based on video processing technology. The VisLab acquisition gives AMBA a complete and immediate presence in the vehicle assistance technology, a space dominated mostly by Israel based Mobileye N.V. (NYSE:MBLY).
CEO Fermi Wang leads AMBA. Wang holds a PhD in Electrical Engineering from Columbia and has pioneered image compression technology. In 1990 Wang filed a patent for encoding core digital MPEG-2 video, technology whose standards are still in use today.
Dr. Wang's prior experiences include Vice President and General Manager of C-Cube Microsystems where he launched the company's MPEG codec business, which created the world's first MPEG codec chip.
Dr. Wang co-founded Afara Websystems in 2000. Afara, which pioneered server throughput was later purchased by Sun Microsystems who still utilizes Wang's technology.
Product Pipeline
AMBA has a strong product pipeline utilizing their pioneered SoC technology.
In 2015 the company released the S3L product line that delivers H.265 benefits for home monitoring and mainstream IP cameras.
The A12S and A9SE product lines utilize the company's SoC technology to provide 1080p video, targeting action-flying cameras. The A12S uses the ARM A1-GhZ Cortex A9 CPU by ARM Holdings PLC (NASDAQ:ARMH).
Wearables were also targeted by the introduction of the A12W - a 28nm wearable camera SoC.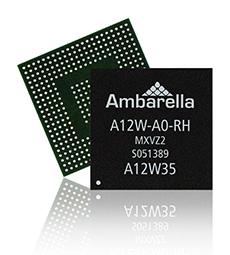 Financials
AMBA is a solid growth company that has beat earnings expectations the last 12 quarters.

For Q2 2016, the company posted revenue of $84 million, which was a 79% year over year increase. The business controls $353 million in total assets while posting a balance sheet of $200 million. Gross margins remain high at 65% and unchanged year over year. EPS came in at $.88 that exceeded analysts estimates of $.80.
On December 3rd AMBA will be reporting Q3 earnings for which analysts have an estimate range of $.70 - $.92.

Compelling Buy
AMBA is currently trading 55% below its 52 week high of $129.19 and 34% below the close on September 1st, which is the day the company reported the highlighted solid Q2 earnings. The decline in stock price was due in large to the revenue guidance stated by management. AMBA expects Q3 revenues to be in the range of $90-$93 million. Although the range is within analysts' expectations of $92.3 million, the median between the high and low is $91.5 million which is below analysts expectations.

AMBA has been trading in lockstep with GoPro Inc. (NASDAQ:GPRO) since mid summer. The obvious correlation is due to the high dependencies that exist between the two businesses. AMBA being GPRO's biggest supplier while GPRO being AMBA's biggest customer creates a cyclical dependency that can lead to two companies trading as a single stock.

However, a more detailed look into the future of AMBA shows signs of detachment. The VisLab acquisition proves that management recognizes that AMBA will need to exist beyond GPRO and has positions itself in yet another rapidly expanding market of vehicle assistance and autonomous navigation.
The expansion of the IP Camera business will provide revenue and earnings in a third consumer centric growing market. AMBA currently has chips installed in the product of several large name smart home providers such as Nest, AT&T, Comcast, and DJI
Conclusion
On September 2nd, short selling firm Citron Research announced they were closing their short position that was initiated earlier in the year. This is not coincidental to the fact that AMBA announced strong earnings the day before. Since then AMBA has not rebounded and in fact, trades 28% lower.
On November 2nd, FBN Securities initiated coverage on the stock with an outperform rating and a $70 price target. The stock has since bounced from its base that was formed at the $50 price range. This foundation was first formed in January and since tested in October and then again November.
I am not sure what valuation measurement FBN used as a basis for their target but regardless I agree fully with their assessment. I feel that there are many catalysts that will drive AMBA higher both short term and long term.
I expect AMBA to surpass expectations in the Q3 report and will have revenues in line with the high end of guidance. This should put investor's minds at ease forcing the stock higher toward the September 1st close of $89.
I feel AMBA is a strong company with an extremely smart CEO. The domain knowledge that Wang possesses in both image processing and data throughput will raise the products developed by AMBA above current and future competitors. However, investors should realize that AMBA is a company that will require growth across several speculative industries and should be owned as such.
Disclosure: I/we have no positions in any stocks mentioned, but may initiate a long position in AMBA over the next 72 hours.
I wrote this article myself, and it expresses my own opinions. I am not receiving compensation for it (other than from Seeking Alpha). I have no business relationship with any company whose stock is mentioned in this article.