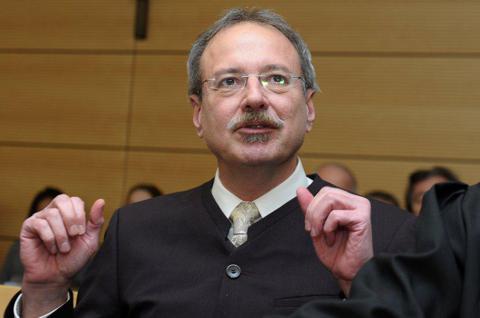 Source: Spiegel
Abstract:
A Ponzi scheme in Germany orchestrated by a former psychologist was the largest fund of hedge fund fraud in the history. Helmut Kiener is now called mini-Madoff for successfully running the $500 mm fraud over the 12 years in which several large financial institutions were trapped. What are the lessons learned for diligent investors from this tragedy?
Original article can be found here.
Case Profile: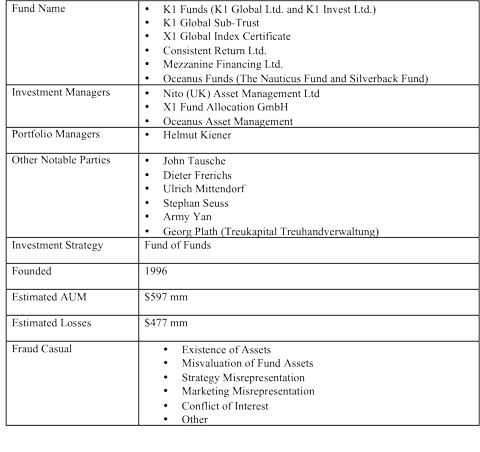 Everybody was curious how and when Helmut Kiener ("Kiener"), a German psychologist by training who turned to be a telephone book salesman for Frankfurt-based Trias Werbeagentur, found secret sauce of identifying best-of-breed hedge fund managers. Kiener's K1 Fund Allocation System is like Space Odyssey's HAL 9000. This semi-automated system tells you which hedge fund you should own and which one you shouldn't (See Exhibit 1).
Exhibit 1: K1 Fund Allocation System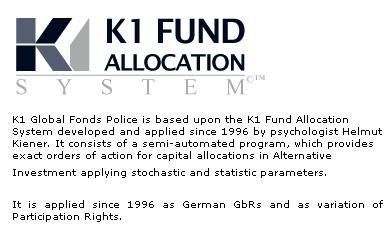 Source: FT Alphavista
Background
Kiener, together with his friend Dieter Frerichs ("Frerichs"), established Kiener Company (later, K1 Group) in 1988 and persuaded more than 10,000 small investors and large financial institutional investors to invest in their fund of hedge fund vehicle. Not surprisingly, their track record was in a class of its own. Since 1996 through July 2009, the program generated 855% annualized return with very low volatility and limited downside even after 3% management and 30% performance fees (Exhibit 2 and 3).
Exhibit 2: Track Record of K1 Fund Allocation System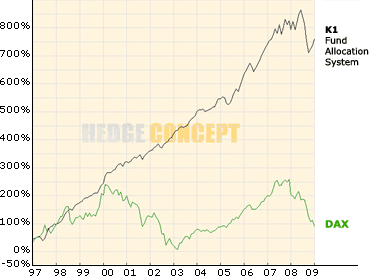 Source: www.hedgeconcept.de, performance is based in EUR
Exhibit 3: Track Record of K1 Global Limited Since Dec 2002 (Net of Fees)

Source: Bloomberg, the author
According to Mr. Army Yan, head of research and managing director of K1 Group in Hong Kong, the K1 Fund Allocation System, Semi-automated programme that provides exact orders of action for capital allocations applying stochastic and statistic parameters, selects manages based on the following criteria:
Each potential target fund must comply with at least 80 per cent of various quantitative criteria and is judged according to a rating system in which the first two criteria, at least two years' real time performance record and at least 80 per cent positive months, count double.
The maximum drawdown should not be higher than two and a half times average monthly gain.
The Shape ratio should be at least 1.5
The correlation with other components should not be higher than 0.2.
At least 20 and not more than 100 target fund
Should invest not more than 10% of total assets in any one single fund
No more than 25% is particular investment strategy
Currently investing in more than 75 funds
After the tech bubble and accounting scandals in the United States, the interest rate was kept very low and banks were struggling to find safe borrowers who wish to pay extra basis points of interests. Allured by the long-established stable track record and appeal to investors, large financial institutions including Bear Stearns, Barclays Bank and BNP Paribas, offered K1 Group 3-to-1 leverage while they also commit principals. The total exposures of those three financial institutions were over $250 mm (Exhibit 4). The music was still playing, so the investors got to get up and dance. They were still dancing.
Exhibit 4: Known Exposure of the Financial Institutions to K1 Funds

Source: United States of America v. Helmut Kiener, 2013
Problems
It was October 28, 2009 and police and prosecutors gathered at Yorckstrasse 32A in Aschaffenburg, suburb or Frankfurt to arrest the 50-year-old Kiener. German police and courts found out that K1 Group was running a massive ponzi scheme, with nearly $900 mm at the peak in 2008, and the vast majority of assets in the funds was almost gone.
After the first arrest in April 2010, Freichs was conditionally released, but remained at his beach house in Mallorca, Spain. On July 3, 2010, when local police visited his premise in order to detain him after a Madrid court ordered his extradition to Germany, Friechs shot himself and took his own life.
According to JPMorgan, who purchased Bear Stearns, Bear Sterns' loan was initially placed in an investment pool, for which HSBC Holdings Plc serves as custodian. Under direction of a K1-appointed investment adviser, HSBC bought stakes in more than 70 hedge funds. JPMorgan verified dozens of the investments, and narrowed the list to about seven relatively unknown firms that had apparently received almost a third of the money. Among them were: Nauticus I, Nauticus J and Silverback Fund Ltd. ("Oceanus Funds"). (See Exhibit 5)
Exhibit 5: K1 Funds' Ponzi Scheme (simplified)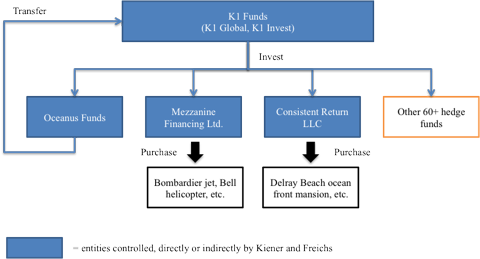 Source: United States of America v. Helmut Kiener (2013), Bloomberg, author
The Oceanus Funds, controlled by John Tausche ("Tausche") transferred nearly all of the capital back to K1 Funds as directed by Kiener. By creating this circularity, Kiener knowingly and intentionally fostered the false appearance that the K1 Funds were diversified, high-performing funds infused with new investment money. Tausche received sales agent fees to be a part of this fraudulent scheme.
Kiener also directed K1 Funds to invest in Mezzanine Financing Ltd. (Mezzanine) and Consistent Return LLC (Consistent) among other funds. Both Mezzanine and Consistent were established by Stephan Seuss and Kiener used money in the two funds to acquire a Bombardier jet, a Bell helicopter and a 14,000 square-food ocean front mansion in Delray Beach, Florida.
The system broke down in the second half of 2008 when Barclays and BNP started asking questions about money they had invested and asked for the return of their money, including investments in the Oceanus Funds. The K1 Funds were subsequently forced to write down their Oceanus stakes and stopped repayments, which eventually led German investigators to step in the case.
K1's Hong Kong representative Yan said in the interview, "We see some managers aggressively taking market risk to increase their performance, which is not in line with our style. When we don't see good and safe investment opportunities, we will just lower our exposure. When we don't see good and safe investment opportunities, we will just lower our exposure." Clearly, their definition of safety was different from diligent investors.
Recommendations:
Check Past Regulatory Records
According to BaFin, German's regulatory body, several investigation cases against K1 Group were conducted as early as in 2001 when BaFin ordered Kiener to close K1 Fund GbR. Two years later, two funds managed by Kiener were ordered by the same regulator to return the capital to investors.
The 2003 liquidation order by BaFin was reported broadly by media and was clearly a sign of potential misconduct although BaFin had no jurisdiction over countries outside of Germany. With the limited disclosure of BaFin on this issue, we do not know how the German regulators let Kiener run the business over six years after the first order.
Investors should have reviewed BaFin's investigations carefully and understood the nature of extremely high risk of K1 Group's businesses.
"As early on as in 2001, BaFin prohibited Helmut Kiener, in his capacity as the managing director of K1 Fonds GbR, Aschaffenburg, from conducting portfolio management activities within the meaning of section 1 (1a) sentence 2 no. 3 KWG and, in 2002, appointed a liquidator for the business that had been conducted without authorisation. BaFin had also issued prohibitory injunctions against Helmut Kiener's other schemes in Germany - in particular K1 Invest GbR and K2 Invest GbR, both based in Mörfelden- Walldorf - and the brokers involved in brokering the investment models launched by Mr Kiener, and had imposed numerous coercive penalties to enforce the prohibition. Helmut Kiener, as well as the affected companies and brokers, had initiated around 100 objections, temporary relief and main proceedings against BaFin's action, some of which are still pending before courts of law."

"During the investigations, Helmut Kiener proceeded to shift his business to K1 Global Ltd. and K1 Invest Ltd. based on the British Virgin Islands, to ensure that BaFin had no supervisory authority. He also revamped his offer and advertised the investment products on the Internet as allegedly offering value growth in excess of 800% since 1996. The idea was to transfer the alleged profit from company to company."

"In 2002 and 2003, BaFin also banned K1 Invest Ltd. and K1 Global Ltd. from conducting business in the Federal Republic of Germany. BaFin was of the opinion that K1 Invest Ltd. and K1 Global Ltd. were providing principal broking services which are subject to authorisation, because investors who purchase profit-participation certificates or fund units were partaking in a collective investment scheme. In conducting this activity, the companies were thus purchasing and selling financial products in their own name but for the account of others."

Source: BaFin Annual Report 2009
Conduct thorough Due Diligence on Service Providers
According to K1 Global Ltd's tradition of performance, it has appointed Treukapital Treuhandverwaltung AG (Trust Capital Trust Management Inc. in English) as its administrator and ING Bank Netherlands (NYSE:NL) as Account-Keeping Bank. However, in the 2009 interview, Yan told the reporter that K1 Global Limited PNC as administrator, PwC as auditor and HSBC as custodian bank. Inconsistency of service providers commonly appeared in the past hedge fund fraud cases (see Case N. 1Bayou) and investors should be alerted.
K1 Group also forged statements before sending them on to an administrator who calculated the value of his funds, according to German prosecutors. Kiener continued to forge monthly statements from U.S. brokerage Refco Inc. even after that company went bankrupt in 2005. He also used his computer to forge statements from European units of HSBC Holdings Plc. Georg Ploth, CEO of Treukapital Treuhandverwaltung AG, was also arrested as a part of K1 Group investigation and accused of helping Kiener to forge the statement. Using a small, less-known service provider is another symptom of past fraud cases (See Case N.1 Bayou, Case N. 5 AIJ).
Compare Gross vs. Net Returns
Kiener's quantitative fund selection model generated a very strong return after the management and performance fees for a fund of funds strategy. But, it was not extraordinarily good like many other past hedge fund fraud cases (e.g., AIJ, Bayou, Madoff, PAAMCO, Petters, Weavering). It was probably Keiner's strategy that the forged track record should be "very good, but not unreasonably good" in order to avoid unnecessary attention.
However, potential investors should have noticed that Kiener achieved his returns after expensive fee structure (3% management fee and 20-30% incentive fees). K1 Group stated that its program generated over 800% total returns (18% annualized) since 1996 after fees. Assuming the fee structure hadn't changed since 1996, its program generated over 2,500% returns (or 28% annualized returns). (See Exhibit 6) It is almost impossible to generate this type of gross returns through a diversified portfolio with more than 75 funds.
Exhibit 6: Net vs. Gross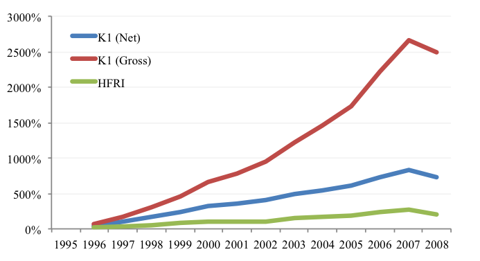 Source: K1 Global Ltd. - tradition of performance, GIGA Invest GmbH, HFR, author's calculation
Source:
Annual Report 2009, BaFin, April 2010, http://www.bafin.de/SharedDocs/Downloads/EN/Jahresbericht/dl_annualreport_2009.pdf?__blob=publicationFile
Athanassiou, Phoebus, Research Handbook on Hedge Funds, Private Equity and Alternative Investments, Edward Elgar Pub, 2012
"JPMorgan Said to Detect Kiener Scam That Stung Banks", Bloomberg, November 6, 2009, http://www.bloomberg.com/apps/news?pid=newsarchive&sid=aXqdDpZkM0WU
"K1 Fund Founder Kiener is Jailed for 10 Years in Ponzi-Scheme Fraud", Bloomberg, July 22, 2011, http://www.bloomberg.com/news/2011-07-22/k1-hedge-fund-founder-kiener-is-jailed-for-10-years-in-ponzi-scheme-fraud.html
K1 Global Ltd. - tradition of performance, GIGA Invest GmbH, http://www.gigainvest.com/wFranzoesisch/download/produkte/K1_english/065_FOLDER_K1_Global_2009-07-eng_.pdf
"Barclays among losers amid fraud inquiry at German fund", Daily Telegraph, July 7, 2010, http://www.telegraph.co.uk/finance/newsbysector/banksandfinance/6455774/Barclays-among-losers-amid-fraud-inquiry-at-German-fund.html
"Charges Allege $311 Million Global Hedge Fund Fraud Scheme," The Federal Bureau of Investigation, Philadelphia Division, February 7, 2013, http://www.fbi.gov/philadelphia/press-releases/2013/charges-allege-311-million-global-hedge-fund-fraud-scheme
"K1 fund's probe centres on fraud allegations", Financial Times, October 30, 2009, http://www.ft.com/intl/cms/s/0/84cc21be-c588-11de-9b3b-00144feab49a.html#axzz2KZ9m9PSg
"K1 Fonds - Kiener weist Vorwürfe zurück", Graumarktinfo.de, March 2, 2011, http://www.graumarktinfo.de/gm/aktuell/vorgericht/:K1-Fonds--Kiener-weist-Vorwuerfe-zurueck/622555.html
"The Interview: Army Yan, K1 Group: "When we don't see safe investment opportunities, we just lower our exposure"", www.hedgeweek.com, www.hedgeweek.com/2009/02/25/interview-a...-
"K1 und K2 Invest GbR: Vorsicht bei K-Firmen", Stiftung Warentest, October 21, 2003, http://www.test.de/K1-und-K2-Invest-GbR-Vorsicht-bei-K-Firmen-1133280-0/
United States of America v. Helmut Kiener, The United States District Court For the Eastern District of Pennsylvania, February 7, 2013, http://www.justice.gov/usao/pae/News/2013/Feb/kiener_indictment.pdf