The political chaos in North Africa and Middle East caused Brent oil price to hit $110 a barrel for the first time since 2008. Libya is at the edge of a civil war; foreigners are trying to save their lives by running away from the country. It is not just Libya. Another large oil supplier, Iran witnessed thousands of protesters marching in Tehran demanding a change. Even in Saudi Arabia, the ministry of interior confirmed about protesters and threatened to crash them. The dictatorship regimes of the region are falling one-by-one. Tunus first, Egypt second. Who knows which one will be next? Obviously, there is a lot of uncertainty in that region which raised the oil prices above $100.
The crude oil prices are up by $4.63 from a week earlier, and $21.04 higher than the last year. The future contracts imply that oil prices are expected to stay at least at the current level: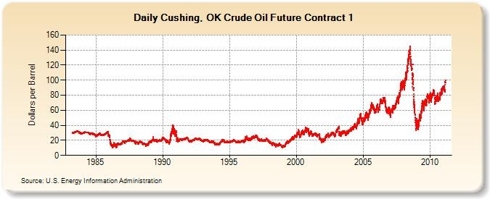 Naturally, changes in crude oil price is quickly reflected in the retail gasoline prices: Gasoline is now at a national average of $3.392 a gallon. Two years ago the national average retail price was $1.90
Average National Retail Oil Prices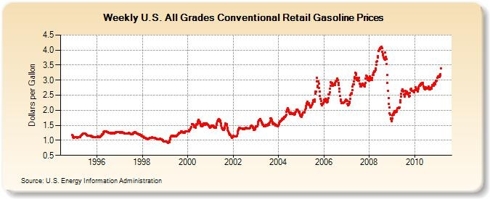 What can we do about rising gasoline prices? Automotive Experts suggest the following:
Check your air and oil filter.

Straighten up and align your tires properly.

Tune up the engine.

Pump up the tires.

Check the gas cap.

Drive slowly and smoothly (optimal speed is 55mph).

Lighten up your load.

Turnoff the engine when you are idle.
Besides listening the automative experts, you can also follow T.Boone Pickens, and invest in energy stocks. While the increasing gasoline costs are not good for consumers, it benefits those who invest in energy stocks. The best hedge against retail oil prices is the energy stocks that have the highest correlation with them. Therefore, we decided to compute the Pearson Correlation coefficient between major oil related stocks and retail oil prices. This coefficient shows how two variables are related. A value close to 1 implies perfect positive correlation and a correlation coefficient close to 0 implies no relation at all. Since it is also of interest to see how correlation changes between intrasector classifications, therefore largest 3 companies are selected from each oil and gas category. When available up to last 19 years of data were used. 

Here are the results:
The 1st table shows the correlation coefficient for Independent Oil & Gas Companies  (Occidental (OXY), Apache (APA), Anadarko (APC)) and Major Integrated Companies (Exxon (XOM), Chevron (CVX), ConocoPhillips (COP)). Data on Chevron starts from October 2001.
As we can see, the correlation between large oil and gas companies that have integrated operations are very high. Companies in these sectors provide almost perfect hedge against rising oil prices.
OIL and GAS

 
 
 
 
 

 

Retail Gas

OXY

APA

APC

XOM

CVX

COP

Retail Gas

1.000

0.919

0.955

0.925

0.894

0.870

0.941

OXY

 

1.000

0.975

0.938

0.871

0.926

0.865

APA

 

 

1.000

0.967

0.918

0.942

0.923

APC

 

 

 

1.000

0.922

0.906

0.913

XOM

 

 

 

 

1.000

0.957

0.942

CVX

 

 

 

 

 

1.000

0.884

COP

 

 

 

 

 

 

1.000
The 2nd table shows the correlation coefficient for Drilling Companies (Continental (CLR), Concho (CXO), Diamond (DO)) and Equipment Companies (Schlumberger Limited (SLB), Halliburton (HAL), National Oilwell Varco (NOV)). The results show that stock prices of oil related equipment companies are very much related to oil prices. The weak correlation of Continental and Concho may be attributed to the limited data: Data on Continental and Concho is available from 2007; Diamond Offshore data is available from 1995, and National Oilwell data is available from 1996.   
DRILLING and EQUIPMENT

 
 
 
 
 

 

Retail Gas

CLR

CXO

DO

SLB

HAL

NOV

Retail Gas

1.000

0.510

0.105

0.864

0.899

0.835

0.905

CLR

 

1.000

0.728

0.038

0.258

0.533

0.417

CXO

 

 

1.000

-0.448

-0.003

0.261

0.116

DO

 

 

 

1.000

0.949

0.872

0.916

SLB

 

 

 

 

1.000

0.930

0.964

HAL

 

 

 

 

 

1.000

0.856

NOV

 

 

 

 

 

 

1.000
The 3rd table shows the correlation coefficient for Pipeline Companies (Kinder Morgan (KMP), Williams (WMB), Spectra Energy (SE)) and Refining Companies (Marathon (MRO), Valero Energy (VLO), Hess (HES)). 
There is almost a perfect correlation between refining company stocks and retail oil prices as we expected. What is interesting is the high correlation between retail gasoline prices and Kinder Morgan stocks. While Kinder Morgan is a large pipeline transportation and energy storage company that claims to "...operate like a giant toll road and receive a fee for our services, generally avoiding commodity price risk." pearson coefficient shows the opposite. The fundamental reason for this high correlation is about their customer base: Their customers include major oil companies, energy producers and shippers, local distribution companies and businesses across many industries. They are also the second largest oil producer in Texas. Therefore, it is quite natural to see such a high level of correlation.
PIPELINE and REFINING

 
 
 
 
 

 

Retail Gas

KMP

WMB

SE

MRO

HES

VLO

 

Retail Gas

1.000

0.856

0.229

0.683

0.897

0.926

0.784

 

KMP

 

1.000

0.175

0.338

0.773

0.770

0.655

 

WMB

 

 

1.000

0.855

0.358

0.296

0.257

 

SE

 

 

 

1.000

0.790

0.519

0.641

 

MRO

 

 

 

 

1.000

0.887

0.907

 

HES

 

 

 

 

 

1.000

0.705

 

VLO

 

 

 

 

 

 

1.000

 
Another interesting result about KMP is the low level of correlation between other pipeline companies. The correlation coefficient with Spectra and Williams co. are 0.338 and 0.175 respectively. We also checked KMP with other companies. KMP stock price is almost perfectly correlated with major oil & gas stocks such as Apache (0.907), Anadarko (0.903) and Exxon (0.894). Correlation with Concho was also high (0.888).
Disclosure:
I have no positions in any stocks mentioned, and no plans to initiate any positions within the next 72 hours.