The US dollar maintained an easier tone with narrow ranges across the majority of the majors, as market participants waited for the FOMC decision due at 1915 GMT. The euro continued to extend its recent gains, and tested resistance at 1.3720. Cable, on the other hand, is recovered most of yesterday's losses after the BoE MPC minutes revealed a 7-2 vote for a steady hand.

Global bonds are mostly lower as stock market's rally, with gilts underperforming after the BoE's minutes. In Europe, the successful EFSF bond auction yesterday had little carry over today as peripheral spreads continued to widen amid surveys predicting a euro zone break up, while the pressure is building on the short-end of the curve as well. bunds sold off (although at a slower pace than the periphery)
after German December import price inflation accelerated to 12% y/y, highest in 29 years. As such, the German 2-year yield reached a one-year high.

For the second trading day in a row, the UK has surprised the market. The impact of yesterday's 0.5% Q4 contraction has been reversed by the unexpected BOE vote 7-2 in favor of steady interest rate policy, as the newest member (Weale) joined Sentance's dissent for a 25 basis point rate hike. The MPC would not have known that the economy contracted, suggested that the minutes might be too historical to be of much interest to the markets. The news precipitated higher interest rates, which pushed the Pound higher.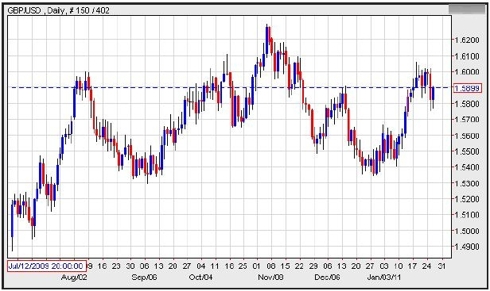 In the US, Sales of New Homes increased by 17.5% in December, compared with the previous month, rising an annual pace of 329,000 new homes, according to the Commerce Department. For all of 2010,

the government estimated that about 321,000 homes were sold, which is the lowest total on records dating back to 1963. The median sales price for a new home sold in December was $241,500, up 8.5% from the same month a year ago. Additionally, the FOMC met today to make their interest rate decision.
As expected, the Fed left rates unchanged and kept their statement the same as well. Tomorrow US players will be watching the Jobless Claims figure. Expectations are for an increase of 5K.




Disclosure: I have no positions in any stocks mentioned, and no plans to initiate any positions within the next 72 hours.