The Standard & Poor's 500 Index is forming a rising wedge chart pattern. A rising wedge is generally considered bearish and it is usually found in downtrends. A rising wedge forms over a 3-6 months period. The current up trend is totally contained within the rising wedge. From low 666.75 on March 6th, S&P 500 surpassed 1000 in less than 6 months.
The Elliott Wave count of the S&P 500 index is shown below. The wage has formed an A-B-C-D wave structure with the wave D currently in progress. Rising A and C waves have similar five sub wave structures with bearish divergence between sub wave 3 and 5. Wave B is a three-wave Zig-Zag correction. For the count to be correct, wave D must be forming a three-wave Zig-Zag correction at present. The support line is now near 970.
The first
leg up (wave A) was a sharp advance from 666.75 on March 6th to 956.23 on June 11th. The second leg up (wave C) advanced from 869.35 in July to 1039.47 in August (41% shorter than wave A). If support holds, the next up leg could reach the resistance level around 1075 in the beginning of October.
A rising wedge chart pattern technical targets are usually derived by subtracting the height of the pattern from the eventual breakout level. If wave D breaks the support line, the technical target is around 770.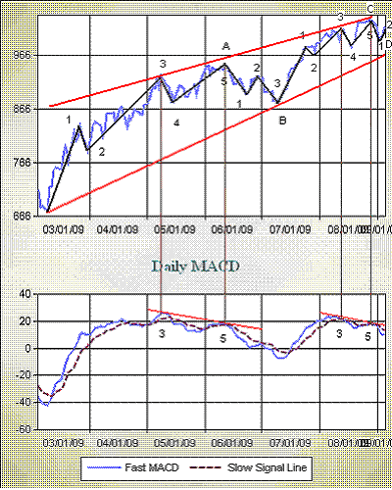 Disclosure: no positions