Microsoft's (NASDAQ:MSFT) dip in performance throughout FY2013 has not gone unnoticed. Q2 FY2013 showed a 24% increase in company revenue from last year, but it is overshadowed by equally large declines. Revenues for the business division were down 10%. The entertainment and devices division was hit equally hard by an 11% revenue drop. Compounded with an overall decrease in earnings and EPS by 4%, it is no surprise that investors are skeptical about Microsoft's potential growth for the remainder of this fiscal year.
As an investor you have to realize that what's done is done. Dwelling on the past won't bring back the days when Microsoft traded at 32.95. I expect Windows 8, Surface and the new Xbox to all be catalysts for its comeback. Having fluctuated around its 52-week low for the last 4 months, perhaps it is time to long Microsoft and buckle down for growth.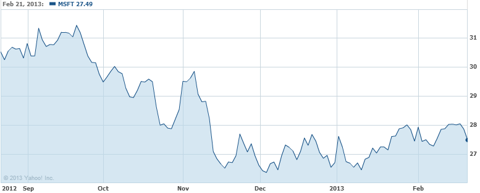 Window's Mobile OS
The reception to Window's latest operating system has been shaky. Windows 8 received a measly market share of 2.26%. Plenty of PC users are still sticking to Windows 7 (including me), but I see largest developments to come from the mobile market. Nokia's (NYSE:NOK) Lumia has fared relatively well against competitors such as the iPhone or Galaxy S3. The Lumia 620 has been received with highly rated reviews, highlighting the potential for Window's new OS for mobile platforms.
The Mobile World Congress will also be a launching pad for increased recognition for Windows 8 OS. Nokia is rumored to be announcing arelatively cheap windows phone that will appeal to a larger audience than the previous Windows 8 smartphones. Domestic sales will be slightly bolstered by the release of this cheaper phone, but more importantly, it will take advantage of growing disposable income in emerging markets. In these markets, a mere $50 can be the deciding factor in the purchase. If Nokia can cut the price of their new Lumia without sacrificing too many features, Microsoft's market shares will drastically increase by the end of 2013.
Windows 8 has average performance in the PC landscape but smartphones and the Surface will be the main reasons that this operating system gains market share.
A New Surface
Average sales for the Surface have left Microsoft in a dangerous place. Large investment and time consuming R&D has made the success of the Surface an integral part of Microsoft's growth. In the midst of the MWS, I expect the mobile industry to be inundated with new tablets from all the big tech companies. How will Microsoft rise above the competition?
As the saying goes, if you can't beat them, join them. Microsoft has the potential of creating an entire suite of Surfaces that range from 4 inches to 27 inches. If they create a Surface that will cater to a breadth of consumers, Apple's (NASDAQ:AAPL) iPad Mini and Google's (NASDAQ:GOOG) Nexus 7 may be facing tough competition. A Surface designed for media consumption could even be manufactured. From the way it sounds, the tablet will be able to stream content and potentially add to the gaming experience for the new Xbox.
On February 9th, Microsoft released the Microsoft Surface Pro. This 128GB model of the Surface spawned lines outside of stores and sold out immediately online. It was in such high demand that Microsoft is trying its best to restock in order to meet customer demand. Currently, there will be no more shipments of this Surface model until March 1st.
The great consumer reception to the expanded hard drive space of the Surface Pro proves that there is indeed a strong market for the product. The aforementioned tablet developments are definitive examples of the potential I see in Microsoft. The immediate sales of Surface tablets did not meet their estimate, so they adapted. If Microsoft produces many variations of the product, they may once again create the next big thing.
Console Wars
The Wii U and the Playstation 4 have a head start. However, I don't expect these two consoles to draw attention away from Microsoft's new Xbox. Nintendo's (OTCPK:NTDOY) Wii U has failed to meet its expectations. With well under 100,000 units sold, it is evident that the demand for this console has dropped off considerably since sales in December.
Sony's (NYSE:SNE) press conference for the Playstation 4 drew in a large amount of attention around the world, but I don't believe that the PS4 will be as strong as people believe. A fantastic show of graphics was juxtaposed by a lack of innovation. The fact that Sony is still trying to popularize its struggling Move motion controller showed me that they are trying too hard to save something that didn't work well. Microsoft's Kinect offers the same experience without burdening the player with a controller. If we take a step back and look at Sony as a company, we see that sales for the PS3, PSP and PS2 are all down. This overall $5.74 billion loss in FY2012 is a sign that the PS4 is Sony's last ditch attempt at regaining some of its momentum. They needed a game changer and I don't think that the PS4 will be enough.
Both the PS4 and new Xbox have strong hardware specs, so they are on level footing in terms of graphical performance. What will separate the two consoles will be how they take advantage of the available resources. The new Xbox has gained a lot of hype from a plethora of rumors, such as: Blu-ray playback, an updated Kinect, TV output/input, directional audio, support for augmented-reality glasses and an innovative controller. One feature that caught my eye was the ability to pause and switch between multiple apps and games, which will offer a smoother gaming experience for users. With the countdown winding down for E3, I expect great things to come from Microsoft's next-generation console.
Final Thoughts
Many investors will say that Microsoft has been an under-performing stock. This is true, but that is the past. A new operating system, tablet and console will all help Microsoft regain its strong position in the market. The growth may be spread throughout this fiscal year but I recommend a buy position on the stock in order to take full advantage of all the upswings.
Disclosure: I have no positions in any stocks mentioned, and no plans to initiate any positions within the next 72 hours.