I always love to watch how Endeavour Silver is doing and when I look at the latest production numbers I see that the company has finally started to turn around.
Guanacevi production has risen tremendously and will keep on rising as it incorporates SCS and the new zones.
Bolanitos had some problems in Q4 which will get resolved into this year.
El Compas will get higher recoveries this year.
El Cubo is closed but will be offset by the other mines.
Overall, the total production has been stable and I'm confident that the company will turn cashflow positive this year on rising precious metals prices. The production numbers should rise somewhat as the company tries to fill its mills to capacity.
It's a pity they couldn't keep El Cubo running due to depletion, sometimes you're lucky, sometimes you aren't. It's better to close a non profitable mine than to produce at a loss.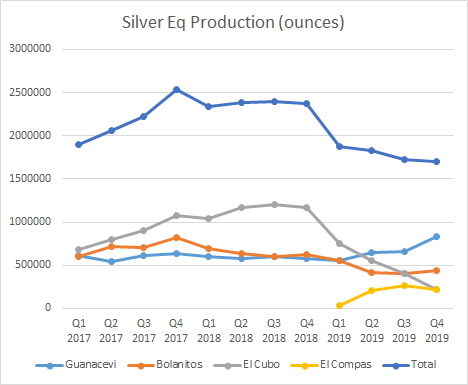 Disclosure: I am/we are long EXK.