The following report covers performance and feedback for Value Investor's Edge thus far in 2015. Officially launched on May 5th, 2015- all members who join within the first 3 months are guaranteed a rate of $249/yr.
Two Days Left
On midnight EST of August 4th, the annual subscriber fee for Value Investor's Edge will increase from $249/yr to $600/yr. This isn't a "last chance gimmick" as I first announced the price increase back in mid June. I am offering all of my initial charter members lifetime (of service) price guarantees at the initial rate of $249/yr. This guarantee will continue for future members, but will of course be set at the $600/yr level. I offer a full refund of unused time, so don't view the "year" as a lock-in, but rather a rate. I am confident that subscribers will find the value of this research service pays for itself in just a few weeks- especially if you are focused in the shipping industry.
Steady Growth and User Satisfaction
Over the past month, net membership has more than doubled, and market returns have been very impressive for the 'top ideas.' I offer a research service that sometimes uncovers dramatic market mispricings, but typically just provides reports and insights into the market. Some weeks there are no attractive trades, other weeks there might be several. I thrive in volatile markets, and recent events have created multiple buying and trading opportunities. I present frequent income plays, common equity plays, and a variety of options for those who really wish to push the risk/reward meter.
I currently enjoy 100% subscriber satisfaction, but am always welcome to improvements and changes. This service is for my subscribers, and I work to steadily enhance the quality/experience. My primary income is from by 'day-job', then followed by my investing and trading gains. Although my service has seen phenomenal growth, currently ranked #7 of 52 offerings on Seeking Alpha, I have made much more money in my trades than I do from this service. As I've said before, if I made more money from writing than I did from trading/investing, then I'd probably not be offering much value and subscribers would be better served by moving on.
Always ask yourself that when considering paying for research or "ideas." How good is this person? Does he/she make money investing/trading or are they really just good writers or a good salesperson. There's nothing wrong with paying for entertainment, but my subscribers aren't here for gimmicks, we're here to profit from market assymetries. I provide a variety of risk-level and income vs. growth options to cater to a wide need from investors.
Transparent Performance Tracking
I post all of my trades on Twitter and Seeking Alpha Stocktalks, but I delay them by 24-48 hours to allow subscribers to enter positions that might be otherwise crowded out. I typically post all of my sells in a live environment, but I am considering a 24-hour delay period there as well.
TipRanks tracks all of my official public ideas, and I am currently ranked in the global top 2% for 1-year performance, with even higher metrics for 2-year performance.
An example of some recent trade notes that subscribers will continue to see: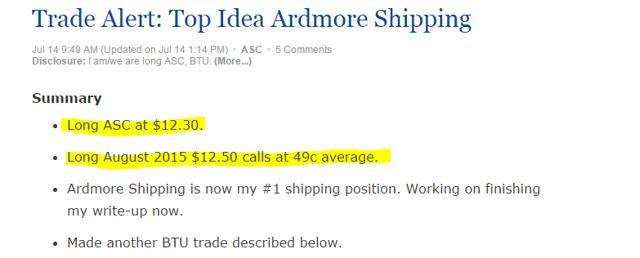 An example of my exits- publicly transparent and corregraphed to subscribers:

Finding Market Disconnects with Conviction Ideas
My top idea for March was Nordic American Tankers (NYSE:NAT)- $10. Top idea for April was Frontline (NYSE:FRO)- $2.30. Top idea for May was Frontline, $2.50-$2.95. Top idea for June was Navios Maritime Acquistion- $3.38. Top idea for July was Ardmore Shipping- $12.30. Top idea for August is...
Sample of Reviews
The best part of this subscription service is that I thoroughly enjoy participating. I have been blessed with subscribers who value the service, and who have been very patient with growth transitions. Here are a few of the recent reviews- so far 100% of feedback has strongly positive.


Any further questions?
Leave a comment, or send a message! Follow this link to sign up for Value Investor's Edge within the next 2 weeks to lock-in the $249/yr pricing. As always, I offer the guarantee that subscribers can cancel at any time and receive a 100% refund for unused time. Over the past 3 months, despite this generous guarantee, my retention rate is well over 90%.