Continuing Growth
Value Investor's Edge was launched in May 2015 as a deep value investors group, but I'm a strong believer in sticking to core competencies and shipping is a sector where I've built a strong record of proven outperformance, especially during periods of strong volatility. Shipping will likely always remain my top focus, but I'm always excited to work with skilled minds in various other sectors. 

Ian Bezek is a top-notch contributor who I've had the pleasure of working with for several years, including as a member of Value Investor's Edge since late 2015. Beyond the ability to benefit from additional smart minds and good research, Ian will be 100% independent in his research focus and all of his reports will be available to subscribers at no additional cost. 
Ian Bezek Bio
Ian has been a contributor on Seeking Alpha since late 2008, his education background is Economics and Political Science and he contributed to a highly profitable two-year run with Kerrisdale Capital Management. During his time with the firm, which focused on exposing and shorting fraudulent firms, Kerrisdale returned almost 300%. Over the past three years, Ian has worked as an independent equity researcher and private investor. He has also launched a popular "Daily Briefing" product on the main Seeking Alpha website.   
Recent "Biggest Hits" Sampling
Ian's record of clear thinking analysis has often seemed far more prescient then the typical analyst herd mentality. The following are just a handful of examples of his successful picks.
Macro Position- Gold Miners: 130-200% in 1y
In August 2015, Ian correctly pointed out that gold miners were far too cheap with the primary ETF (GDX) trading around $13/sh. Ian was a few months too early, but this relatively simple ETF play produced 1-year returns of over 130%. His favorite in the report, Barrick Gold Corp (ABX), was good for a triple in one-year. The entire sector did well, but Ian's timing was very strong, even though he was a bit 'early' he pretty much called the floor perfectly.
Auckland International Airport: 30% in 6m / 50% in 1y
In October 2015, Ian turned heavily bullish on Auckland International Airport (OTCPK:AUKNY), a firm I'd honestly never heard of before his report. He argued that Auckland was worth far more than their currently 'rich' valuation and made a strong case for strong moats and surging profits. AUKNY went from $15/sh to $24/sh in one-year (60% gains), while arguably taking less risk than the market. Here's a slide from Auckland's "interim 2017" (equivalent to 2H-16) presentation: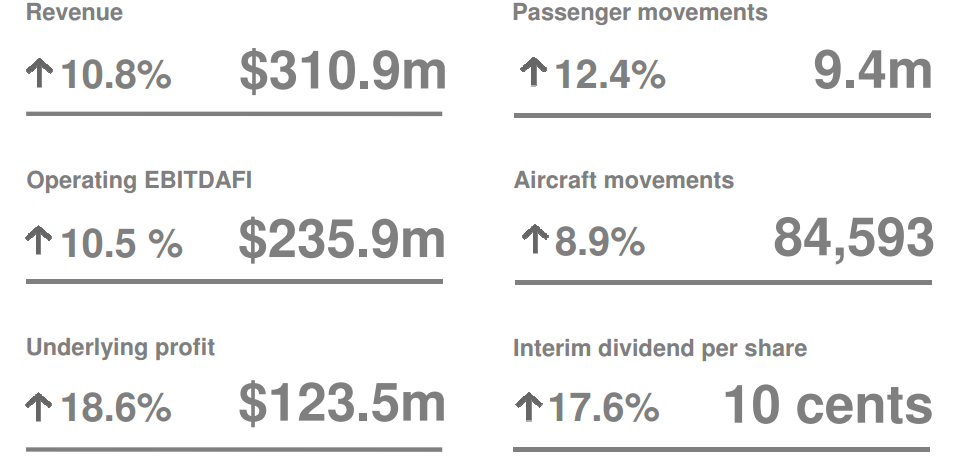 Washington Trust: 40% in 6m
In June 2016, Bezek turned bullish on a handful of smaller banks, with a highlight on Washington Trust (WASH). Although pretty much all bank stocks have surged since President Trump's election, Ian hit the valuation case on the nose with his introduction:

Ian made a strong case for the overall sector, but WASH was advocated due to its conservative posturing, which could shield investors in case we had a pullback. The comparative regional bank ETF (KRE) returned approximately 28% over the same time horizon, making Bezek's pick a bigger winner while arguably taking less risk.
Note: Ian also made a strong case for Northrim BanCorp (NRIM) in late September, a 30% gain in 3 months. 
Going Forward

Ian will continue to develop deep value and special situation ideas at his own pace and will work independent of my shipping analysis (i.e. I won't be telling Ian what to write or how to think!). All of his 'top idea' work will be initially shared exclusively with members of Value Investor's Edge where we will have the ability to judge the ideas on their merits with the benefit of a high-caliber discussion space. Ian will bring these reports public at a later date and will update our group on further developments. 
Feel free to send me a message at ANY time with further questions.