Marine Money
I'll be attending Marine Money Week, next Monday-Wednesday (18-20 June), and also in town Thursday (21 June) for additional meetings. This an excellent opportunity for us to meet with dozens of key management teams and industry figures - our attendance reflects the growing status of Value Investor's Edge - hopefully the first of many as our research budget and reach continues to grow.
I will be participating on a panel Wednesday morning to discuss investor appetite for shipping. I will also be attending the bulk of the entire conference, click here to view the full agenda.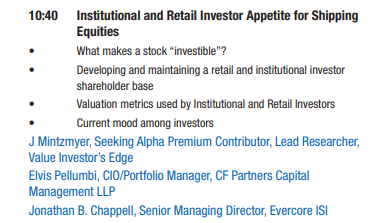 Besides attending excellent presentations and breakout opportunities, we will also be meeting with several dozens firm and key industry contacts. I'm still coordinating exact times with several of these, but I've included a list of attending companies below.
Attending Firms
There are many key firms at this conference, here is a list of the highlights, many of which I've already arranged meetings, a few of which we're still finalizing precise times:
Coverage?!
The absolute best place for coverage of Marine Money will be Value Investor's Edge. I'll have my laptop on-hand during the majority of the conference and will post updates in the live chat as well as during AM and PM report/blog posts. On the public side, I'll be doing more limited coverage, but we'll also have interviews / company updates / etc.
The *best* way to get messages/inquiries/etc to me next week will be by sending me a private chat message via Seeking Alpha. I'll be checking all other sources, but I imagine my email will be relatively swamped during the days.
I'll be utilizing Twitter and Facebook to a more limited extent. I've admittedly extremely under-utilized social media in the past, but that's likely to change going forward. Likely not to see anything 'new' there that isn't already shared in the live chat and/or Seeking Alpha in general, but it's time to grow our audience further and participating on these platforms is part of that.
Questions / Participation
I want this to be a community experience, so all questions/inputs are welcome both before and throughout the duration of the conference. Please feel free to either send me a private email, a message on Seeking Alpha, or post below this update for the benefit of all.
Free Trials
As a courtesy, we are keeping our free trials open through 20 June at midnight EST. Check out our service and the live coverage. We look forward to you joining our community.
Please feel free to ask any questions below or send me a private message at any time.