Headlines... Fake News? 
Have you seen the recent LNG headlines? The ones all over mainstream media? Chances are they looked like this:




My...Oh...My... No wonder key LNG stocks went...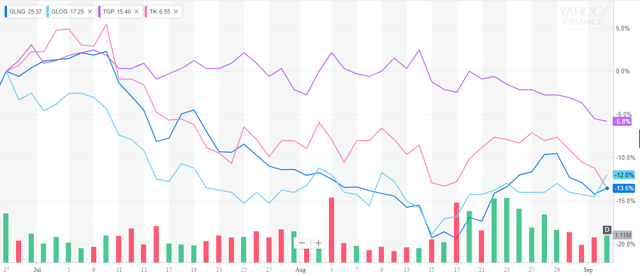 But guess what?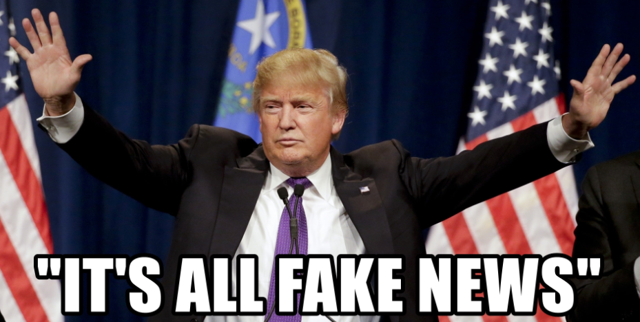 Ok. No, not really 'fake,' but let's do some digging... 
Did you see these headlines?



The US Gulf is the Fastest Growing Export Region... If you're a shipper, you HATE selling to Mexico. It's a TERRIBLE route.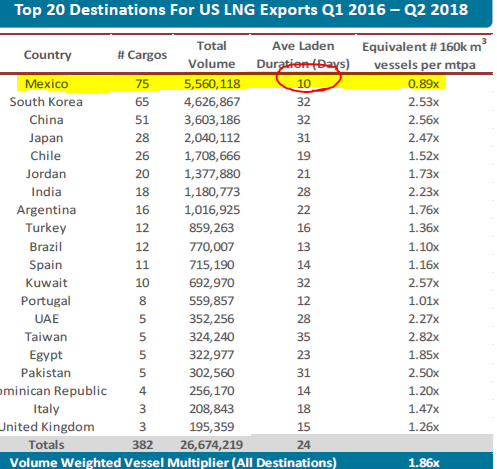 So China is growing with a multiplier of 2.5x and Mexico is shrinking with a multiplier of 0.9x? The global LNG market is set to see soaring volume growth through 2025 (see the NE Asia... Japan drop is already expected).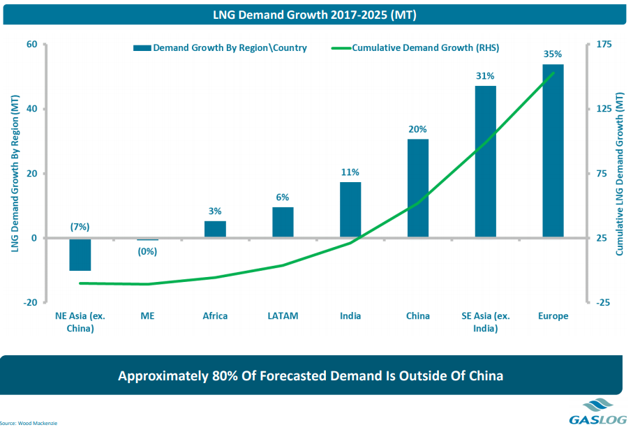 Note that not only is 80% of forecast demand outside of China, but any sort of US-China tariff situation only makes other projects look better... Who has all these other projects? Golar LNG (GLNG), is sitting on massive African FLNG proposals, all of which have world-leading economics.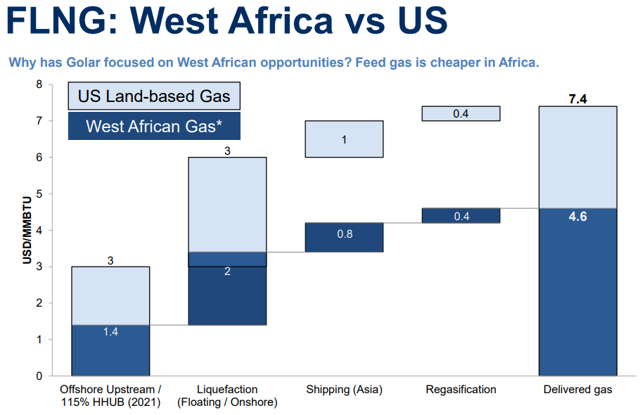 Yes. $4.60 MMBtu breakeven versus the mid-$7s for US-based LNG. I'm buying Golar. Lots of Golar. 
Transport Plays?
How do we think transport plays are doing? The headlines and the stock prices would have you think they're doing poorly. Nope. Killing it. The latest rates are $80-$85k/day for TFDE vessels.

Who's making the biggest killing? Golar LNG (GLNG) and GasLog (GLOG) are...
What else do we like... Teekay LNG Partners (TGP) is drowning in cash flow as new projects come on line and they are set for major distribution guidance in November. Who's going to benefit the most? Teekay Corp (TK).
What does TK need for a huge return? High oil and good LNG markets... We have both. The stock must be on FIRE. Nope: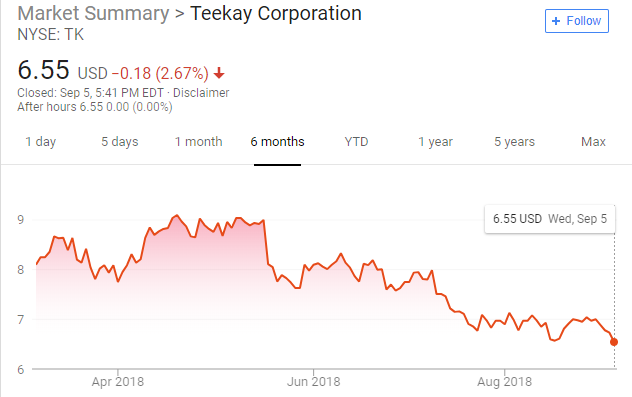 The lemmings are in control. They've almost all jumped off the cliff. Now's the question... Are we going to back up the truck for stuff like GLNG, TGP, TK, or jump off the cliff as well?
Hmmm?
We See 'Fake News' Often. Eventually Markets Correct.
Through our private research group, Value Investor's Edge, we've seen almost all of it... I've seen absolute crap getting pumped up and peddled- stuff like Nordic American Tankers (NAT) selling for $12 while the CEO crooned over CNBC and peddled risky junk to the masses. 
We've also seen absolutely unbelievable value opportunities. Golar LNG Partners (GMLP) at $7.70 in December 2015, more than a triple-bagger in a year. Scorpio Bulkers (SALT) at $2.95 and debt (NYSE:SLTB) at $9.10. Both nearly triples as well. 
Pendulums swing both ways. We're fundamentally minded, which doesn't always make for super-fast trades like the $9.95/m 'get-rich-quick' programs, but with our group of over 400 deep value and income investors you'll have integrity and facts-based research. 
LNG Markets On Fire... What's Next?
The above report covers the LNG markets and why I'm bullish. I have an even longer public report here. Want even more research? Earnings previews, reviews, top buying opportunities, and income lists?
Please consider joining Value Investor's Edge. We currently have two week free trials open. 
Income Opportunities?
Our income portfolio has beaten the S&P 500 since inception and has never seen a dividend cut. How many others can say that, 6-11% yields, no cuts.
Thanks for reading. Yes, there's a bit of an ad at the end, who doesn't like FREE stuff? Feel free to bookmark this page and come back in a few months.
Top-Tier Research
If you found this report helpful, I invite you to follow us for the latest access to our research. We offer a highly-ranked research service, Value Investor's Edge, which includes deep value coverage on 70+ firms, including dozens of stable high-yield income opportunities.
We've recently published a full-length quarterly income review, which covers over 50 income opportunities including partnerships, preferred equities, and bonds. Please consider joining the discussion at Value Investor's Edge. Send a private message at any time for more info. I look forward to sharing new ideas soon!