Note: This is a market update, issued 1 November 2019. Various references are made to Value Investor's Edge, our private research platform where these reports have been previously posted. Nothing in this update constitutes investment advice in any fashion. Investors should always conduct their own due diligence and not rely upon and guidance or updates from myself or from our analyst team at Value Investor's Edge. 
Free Stuff First! - Check Our Latest Updates
EURN Audio / Complete Transcript Link
SBLK Audio / Complete Transcript 
INSW Audio / Complete Transcript
Broad Market Update & Commentary
We've had a very nice run in shipping names during 2019 as the broad fear of 'Trade War Chaos' has given way to the actual underlying fundamentals (which have been good for awhile...) and we're starting to see much larger sector industry from hedge funds and other institutionals who are looking to invest alongside the 'IMO 2020' story. 
We've been on top of this cycle transition, which of course is great, but it's always better to have prompt timing in these markets. Sentiment has finally started to improve, but broadly speaking most folks I talk with are still bearish despite multi-year highs in almost every shipping segment. Let's take a quick peak at Navios Maritime Partners (NMM) to illustrate this point. 
They just reported Q3-19 results yesterday morning, slamming all estimates out of the park with adj. EPS of $1.67/unit, which even beat our private target of $1.40-$1.50 EPS! That's remarkable. Keep in mind they also just wrapped up a crucial refinancing, announced 15 October, which will save them around $0.20/qtr in interest costs! They also announced several positive Panamax charter improvements. Given current Capesize rates (still holding strong around $25k/day, the longest run since 2010), it seems very likely that NMM's EPS will actually be even higher q/q. If we annualize the $1.67 (which actually seems a bit low considering forward interest savings and upcoming HMM charter improvements) NMM trades at a P/E of 3.0x!
Sentiment is terrible. Longest run in Capesize rates (days consecutively above $20k/day) since 2010-2011 and we're inundated with continual headlines about 'rates falling' or trade war concerns. Missing the forest for the trees... 
Let's look at another firm that reported recently, Dorian LPG (LPG). They announced results yesterday morning, locking in $0.74 EPS versus our expectation of $0.70-$0.75. This actually included drags from scrubber installation offhire and several legacy charter deals well below current market rates. Normalized results would have been well over $1/sh EPS ... in a quarter.
We've been beating the drum on this one- long all year, and bringing our private Value Investor's Edge research public in mid-June with this report: 

The stock is up over 100% YTD for us and since the public update (processed 13th, out 14th) the name has returned 60% in 4-5 months. Crazy thing? It's still cheap! They are generating cash flows so rapidly in this environment that we are seeing as much as 40-50 cents per month piling up. I estimate current NAV is in the $18s and could be $20 by year-end... Yes, the stock STILL trades at a 30%+ discount to NAV.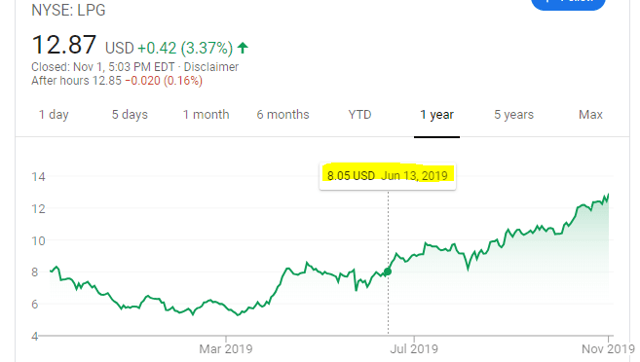 We hosted Ted Young, their CFO, on a live discussion this morning which was attended by about 35 members of Value Investor's Edge. Lots of discussion about the current markets and potentials for repurchases and hopefully eventual dividends. They want to be very responsible and have been prioritizing debt repayments and building up cash. Good for them. We'd like to see more payouts, but slow and steady (and smart!) wins the race. 
Sentiment clearly improving there, but there's room to go. This brings us to one of the biggest disconnects on the market today, with the potential for nice gains as investors see the progress: Teekay LNG Partners (TGP). I will be in New York City live for their investor day on 14 November and will be hosting a call for Value Investor's Edge as well as getting the latest updates on their strategy. They have effectively completed their growth program and cash flows are very strong. The stock has been weak all year and the recent kerfuffle due to accidental sanctions impacts was a very lucrative trading opportunity. DCF is likely to push into the $0.80s (over 4x dividend coverage!) into 2020 and these sorts of huge discounts are unlikely to last. My fair value estimate remains $25/unit there, 72% upside. 
We have full-length earnings reviews of all the firms who have reported thus far, including all of those yet to report, available on Value Investor's Edge. We have free trials open for the next few days as well. 
1 November: Review of Performance YTD
We have a live analytics platform available to members which includes the latest shipping rates, expected earnings, and other fleet dynamics. Additionally, we have a live tracker of our model portfolios YTD, which is where these snapshots are sourced. As of 1 November 2019, our two model portfolios, "Speculative Plays" and "Best Risk/Reward" have returned 70.8% and 46.6% YTD versus the market (Russell 2000) up 18% and the industry (SEA ETF) up 22%. This is an average outperformance of 40% against the market and 37% against our industry. Yes, it has been a good year for shipping, but it clearly matters where you invested!

Significant Income Coverage
We also offer significant income coverage, with both a model portfolio with 6 key names for 2019, along with several other advantaged income ideas, and full coverage of over 40 preferred equity and bond instruments. The preferreds and bonds in shipping have been a well kept 'secret' for many years and have massively outperformed the returns from every other higher risk sector with zero losses of capital across the spectrum of picks. These returns can be seen below, modeled both against the market & the high-yield comp Alerian (AMLP).

Note also the far lower volatility from this selection throughout the year both compared to the market and also to the Alerian. The raw outperformance is large, but we're off the charts in-terms of risk-adj metrics. 
Speculative Industries Require Good Research
Past performance is never any indication of gains in the future, but we've made good money in 2H-15, 2016, 2017, and 2019 (2018 was the sole loser, with most of this in the terrible months of November and December 2018). despite the shipping industry (our main focus along with related energy and infrastructure) looking like this (down 45% since July 2015):

Join Our Team, Free Look at Our Platform
This sort of market outperformance isn't simply due to my efforts and work- we have an excellent team of analysts and a group of over 500 members and affiliates who contribute and debate together. We don't always agree and there's never a 'party line.' Bulls and bears make money, don't be a pig!
Free trials are open for the next few days. Please feel free to ask ANY questions you might have below, including on anything I've posted about NMM, LPG, or TGP. Those podcasts are also totally free as well and I hope you'll find as much value from them as we already have. 
I know there's pushback on anything with 'ads' or selling stuff, so I hope there's a lot of great value in this update for anyone reading without the budget for our platform. Our research and travel budget is rapidly approaching 6-figures and should surpass it for 2020. If you find what we do to be valuable, please consider at least checking a free trial. 
Membership Rates Increasing in 2020
Even since VIE launched in May 2015, we have NEVER increased our rates for current members. That policy remains. Nobody will be charged more than their initial signup rate (currently: $219/m or $1,499/yr). Starting in 2020, our membership dues will increase to $299/m or $1999/yr for the first 50 annual sign-ups in 2020 and then $299/m or $2499/yr thereafter.
Sign up now to lock in current rates for the lifetime of the platform, with 2-weeks risk free, no obligation. 
Disclosure: I am/we are long NMM, TGP, LPG, EURN, SBLK, INSW.
Additional disclosure: I am long all companies mentioned as of close of market 1 November 2019. For practical limitations, these positions are only considered valid as of 1 November 2019. Please visit Value Investor's Edge for our latest portfolio holdings and trades. No direct positions in AMLP or SEA.