You who have read my articles know that I am very bullish on Ucore (OTCQX:UURAF). They are 100% owners of the Bokan Mountain project which has no residential or indigenous population within proximity of this project. There is a three mile road that leads to a harbor, which has a wharf and direct access to the Pacific Ocean. The main REE to be found in this mountain is Dysprosium. See chart below.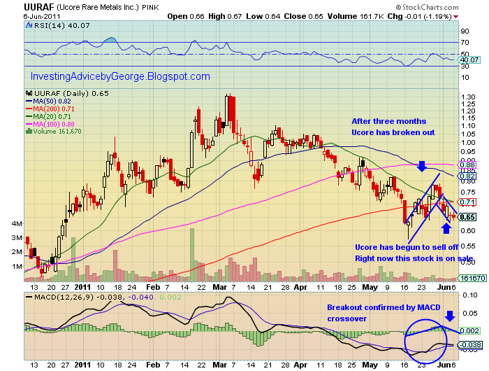 As I write this, on Tuesday morning June 7th this stock is on sale. I can only assume that it sold off in lockset with the rest of the mining stocks. Ucore is my largest holding and I bought more today. If it opens at this price tomorrow or trades lower I will be buying more.

Yesterday Ucore issued a press release and reported that it has acquired significant additional rare earth-prospective land holdings in Alaska. During May, 2011, the Company completed the acquisition of a substantial holding in the northern Ray Mountains region of central Alaska, on lands selected for mineral potential by the State of Alaska.
Through its wholly owned subsidiary Landmark Alaska LP, Ucore has completed the acquisition of approximately 11,400 acres located in the Ray Mountains, in close proximity to the Dalton Highway. The Company has additionally conducted initial analyses of field-concentrated heavy mineral samples from the region. Most of the initial sample set was collected directly from surface exposures, and the heavy mineral content can be expected to increase at greater depths.
The initial assay results indicate mineral concentrates containing 5% to more than 30% combined valuable metals, with a total rare earth element (NYSEMKT:REE) content ranging from 1% to 8%. The samples additionally show high heavy REE content and a high content of the strategic metal dysprosium. A summary of assay results from the 2008 drill program at the Dotson Zone are available at the following link:
http://ucore.com/ray-mountains-assay-summary-may-2011.pdf
Governor Parnell along with Senators Murkowski and Begich from the State of Alaska have shown tremendous support for Ucore and their plan to expedite the development of America's preeminent heavy REE asset at the Bokan Mountain project. With that in mind, Ucore has elected to even further invest in Alaskan REE exploration and development. With the Ray Mountains acquisition, they have now covered what they believe to be two of the most promising REE development projects. In the near future, we can expect the Bokan project to become an important source of heavy REE's to the U.S., and Ucore will now begin to evaluate the Ray Mountains property to this end as well.
The target metals are contained in heavy minerals which are widespread across the area, known to be resistant to weathering, and believed by Ucore geologists to be highly prospective for potentially valuable REE content and other associated rare metals. The Company has scheduled an initial reconnaissance program for the Ray Mountains project to commence this year.
The State of Alaska has been highly proactive in encouraging the exploration and development of strategic rare earth metals known to be critically important to the United States. As part of the Alaska State Budget which commences July 1, 2011, Alaska Governor Sean Parnell has announced a $500,000 allocation to the strategic assessment of REE resources within the state. Under the Alaska Statehood Act of 1959, Alaska is entitled to approximately 105 million of its own acres for resource development and other uses, and Ucore's Ray Mountains project is situated within lands selected under this entitlement.
Ucore's analysis of initial Ray Mountains samples indicates an unusually high content of the heavy REE known as dysprosium. High dysprosium content is also a hallmark of Ucore's flagship project at Bokan Mountain in Southeast Alaska. In a recent document warning of the strategic importance of REE to new energy-and defense related technologies, the U.S. Department of Energy noted that dysprosium is the most critical of the elements they evaluated and is currently derived only from sources in China. As we are aware China has been stockpiling dysprosium for their own use. 
Disclosure:
I am long
OTCQX:UURAF
,
AVL
,
OTC:TASXF
,
GMO
,
OTCPK:LYSCF
.