For the past several days I have been researching a company called Quest Rare Minerals (NYSEMKT:QRM). Quest Rare Minerals is a Canadian-based, exploration company focused on the identification and discovery of new world-class Rare Earth deposit opportunities.  The Company is led by CEO Peter Cashin and a highly-respected management team as well as a technical team with a proven mine-finding track record. Quest is currently advancing several high-potential rare earth projects in Canada's premier rare earth exploration areas: the Strange Lake and Misery Lake areas of northeastern Québec and the Plaster Rock area of northwestern New Brunswick. There are also two other holdings the Kenora North and Snook Lake Projects in Northwestern Ontario.
On May 23, 2011 Quest was approved for listing on the New York Stock Exchange Amex. Scott Cutler, executive vice-president and co-head of U.S. listings and cash execution, NYSE Euronext said he was pleased to welcome Quest Rare Minerals to the NYSE Euronext family of listed companies. Quest Rare Minerals and its shareholders will certainly benefit from the superior market quality, services and technology provided by NYSE Amex.
CEO, Peter J. Cashin, said that they were very pleased that our shares will start trading on NYSE Amex. Inclusion into the NYSE Amex will facilitate trading of QRM's shares by investors in the United States. More importantly, it will increase Quest's exposure to the U.S. investment community.
From the research I have done it seems that the flagship project of this company is the Strange Lake project which is located in Northeastern Quebec.
On June 8, 2011, QRM along with its exploration partner Search Minerals Inc. reported the first results from a diamond drilling program completed on the Strange Project. A total of four diamond drill holes for 310.3 m were completed during the program. More drilling in the area has already been planned because of the total Heavy REO's sampled between 38.5% and 70.4% were of the Heavy Rare Earth mineralization. Below find a list of both Heavy and Light Rare Earths found in sampling. 
Heavy rare earth oxides (HREO), includes Y2O3=yttrium oxide, Eu2O3=europium oxide, Gd2O3=gadolinium oxide, Tb2O3=terbium oxide, Dy2O3=dysprosium oxide, Ho2O3=holmium oxide, Er2O3=erbium oxide, Tm2O3=thulium oxide, Yb2O3=ytterbium oxide, Lu2O3=lutetium oxide.
Light Rare Earth Oxides (LREO), includes La2O3=lanthanum oxide, Ce2O3=cerium oxide, Pr2O3=praseodymium oxide, Nd2O3=neodymium oxide, Sm2O3=samarium oxide.
As previously reported, pursuant to the exploration and option agreement with Search Minerals Inc. and Alterra Resources Inc., a wholly-owned subsidiary of Search, executed on June 16, 2010, Quest may earn a 50% undivided working interest in the 30 mining claims by issuing an aggregate of 90,000 common shares of Quest to Alterra over a period of three years and by incurring mining exploration expenditures of $500,000 in the aggregate over a period of three years. Upon completing all of the payments mentioned above, Quest will have an option to acquire an additional 15% undivided working interest in the mining claims by making a payment of $75,000 before the fourth anniversary date of the exploration and option agreement, by issuing an additional 150,000 common shares of Quest to Alterra on or before the fifth anniversary date of the exploration and option agreement, and by incurring mining exploration expenditures of $1,250,000 in the aggregate on or before the fifth anniversary date of the exploration and options agreement.
Pursuant to the exploration and option agreement, Quest will enter into an assignment agreement with Search and Alterra pursuant to which Quest will transfer and assign to Search nine claims located in Western Labrador in the Province of Newfoundland and Labrador in consideration for 10,000 common shares in the capital of Search. Immediately following the transfer by Quest to Search, Search will transfer these nine claims to Alterra. These nine claims, together with 21 claims already owned by Alterra comprise the 30 claims that are the subject of the exploration and option agreement. The 30 mining claims are subject to a 1.5% net smelter return royalty in favor of Alterra. Quest may, at any time, purchase two-thirds of the 1.5% net smelter return royalty for $1,000,000.
Plans for upcoming summer work on the property are well advanced and will include additional exploration drilling, prospecting, geological mapping and rock sampling. Exploration on the Alterra (Search) Option Property will be operated from Quest's Strange Lake facilities. Construction work is underway to enlarge Quest's exploration camp to accommodate 100 employees, up from the current 55.  You don't have to be a weatherman to know which way the wind is blowing. This means they are doubling their exploration operations.
All of the above information leads me to conclude that QRM is not interested in being a "one trick pony." They are not interested in mining one ore. They are interested in dominating the procurement and possibly the production of both heavy and light rare earths for the next century.
When I was a kid I used to play little league baseball and I would look at the other team and could intuitively tell that there was a player on the opposing team that was the best player on the field. On Monday June 6th I had the pleasure of speaking to CEO Peter Cashin and was certainly struck with the felling that I was speaking to someone who was the best player on the field. While I did not completely understand his intentions on Monday, I think that this preliminary research I have done has made it clear to me what his intentions are for this company. I believe his intentions are the continued acquisition of properties that will propel QRM to be the dominant company in REE's for a long time. If my impressions mean anything, I will surely be betting on his ability to separate the "wheat from the chaff."
          While I still believe that Ucore (OTCQX:UURAF), Avalon (NYSEMKT:AVL) and Tasman Metals (OTC:TASXF) will be profitable and viable companies I think that there is a new player on the scene and we are getting our first glimpse at what may be the new dominant company on the world stage.
I wanted my readers to know that while the markets cratered yesterday I opened a stake in this company at $6.08 but had it figure for a buy at $8.00 or below. If it pulls back today I will buy more.
Below, please find a chart of this company and my preliminary analysis of QRM.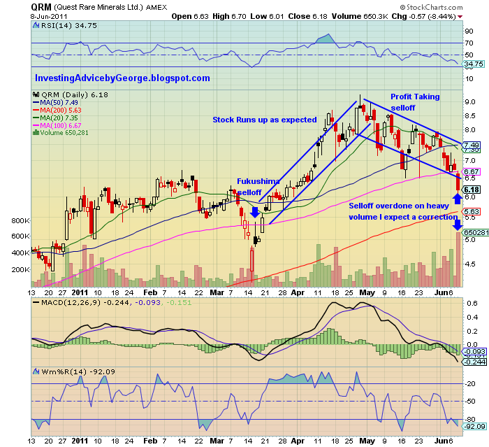 Disclosure:
I am long
QRM
,
OTCPK:LYSCF
,
AVL
,
OTCQX:UURAF
,
OTC:TASXF
.