One of my favorite holdings is US Gold (NYSE:UXG). Yesterday I listened to the conference call which I would encourage all to listen to it by clicking here. The CEO, Rob McEwen, is an amazing man. He exudes leadership. Before I talk about the stock I wanted to highlight a quote he used to open the meeting.  

"Life is full of distractions. No matter how tempting it may be to veer off your path, keep your goals in focus and keep moving forward."
                               -Gabriel Cid
While the stock closed at $5.85 (up 6.36%) it is still a staggering $.96 under the 200 day moving average and that only took 7 days to accomplish. See chart below.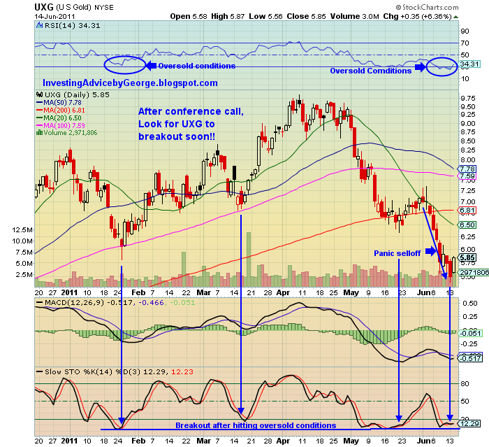 Here's what I know. I first read about this stock from an analyst and came to the party a little early. Instead of being dismayed, in light of what I heard from Mr. McEwen yesterday, I will be slowly doubling my already overweight position on this pullback. Remember I said that it has dropped $.96 under the 200 day moving average. After that conference call I see UXG opening higher today but if it doesn't  I will be adding.
          At the conference call, Mr. McEwen reminded everyone why they had gathered together. Gold! Gold is money and if you don't have some in your portfolio you should! Why, because gold will be $5,000.00 an ounce within four or five years. He also gave everyone a chuckle when he said that a lot of smart people have told him that $5000.00 is too low! Moreover, Gold (and silver) will be the insurance policy that ensures that you all live long and happy lives.
McEwen does not take a salary and he is the largest shareholder. Instead of taking a salary he makes his money the same way the investors do – when the price of the shares go up he makes money. I can't think of another CEO that does this – can you? His goal is to be included in the S&P 500 by 2015. In this light, he has proposed the combining of Minera Andes a silver producing company in Argentina with US Gold. Mr. McEwen is also the largest shareholder and is also the CEO of Minera Andes. He has as a result combined the staffs of both companies and has in intimate knowledge of Minera and feels comfortable combining the companies. His plan is to combine both  companies into McEwen Mining and the new company would have a market cap of 1.4 billion dollars. As I am sure you are aware, after 9/11 there were no foreign companies allowed to be in the S&P 500 . Mr. McEwen told of how astonished he was as he watched companies sell off 60% because they were no longer in the S&P. The S&P is comprised of American companies that play by American rules and for investors this is comfort. Subsequently, there is 1 trillion dollars invested in the S&P by index funds. That is why his dream of inclusion into the S&P is so important. Today there is one precious metals company in the S&P, Newmont Mining and Mr. McEwen aims to be the 2nd company by 2015.
So how does McEwen Mining get into the S&P 500? There are  criteria that have to be met. With the acquisition of Minera Mining they will have one hurdle left to cross and that is a market cap of 5 billion dollars. As I have already written as of today the combination of Minera Andes and US Gold has a market cap of 1.4 billion but with the projects that US gold has in the pipeline this is an achievable goal. I am very bullish on US Gold (UXG) and I suggest you listen to the call and if you feel the same way I would open a position because once Minera Andes and US Gold combine into McEwen Mining I don't see the price being this low for much longer. The whispers are of these two companies combining around October. 
Disclosure:
I am long
GLD
,
UXG
,
SLV
.