To 250 million people in 51 countries in the world the word for money is the same word as the word for silver. Silver literally means money. According to Noble Laureate
Milton Friedman
the majority of monetary metal throughout history has been silver, not gold.
Gold is the money of kings
while silver is the money of gentlemen.
Before we make a case for silver being money, let's take a look at
what is money?
I believe money is the grease or oil that lubricates the supply lines that bring goods and services to where they are needed. Without money our economy would be reduced to barter. The problem with barter is that you would not only have to find someone that has what you want but he would also have to have what you want in return. Let's face it, in this modern world of infinite goods and services this would be a complete disaster.
So no matter what we use as a medium of exchange be it gold, silver, paper or sea shells we need an unrestricted supply of money to keep the economy lubricated. Money is a unit of storage or a proxy for value that must be something completely different from what is being exchanged. This is why money must float freely in value to coincide with the law of supply and demand.
What is the true value of silver?
I have no idea. Silver like anything else will fluctuate with the laws of supply and demand. I do know this. If you are waiting for industry or the fiat printing of paper to send silver through the roof, you may be waiting a long time. That is because like a beautiful work of art is in the eye of the beholder the value of silver as money is perceived. It doesn't come with an instruction manual.
So here's where I come down on this. A dollar used to have stamped on it
"Silver Certificate."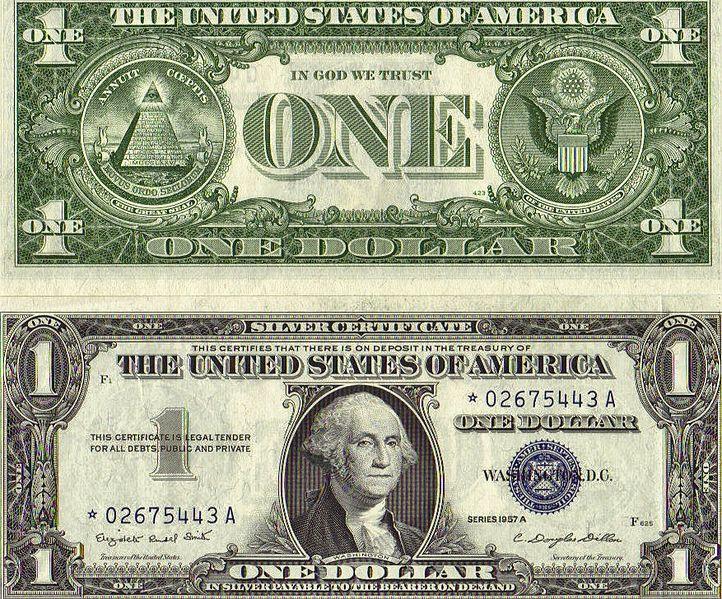 They were produced in response to silver agitation by citizens who were angered by the
Fourth Coinage Act.
The Coinage Act had effectively placed the United States on the
Gold Standard
which was fine but with each subsequent act the value of the dollar was debased. So in 1878 Silver Certificates were printed. One silver certificate could be traded for a silver dollar. Well in 1960 silver was trading for $1.29 which meant that a silver dollar was worth more than a silver certificate. In March 1964 Secretary of the Treasury
C. Douglas Dillon
halted redemption of silver certificates for silver dollars and while you could still trade with Silver Certificates. The new currency was the
Federal Reserve note
which still exists today.
While I like to hold physical silver there is a logistical problem with doing so. Where do you store it safely? Trading physical silver and gold is also a difficult endeavor. When you buy physical silver there is a premium over the spot price and when you sell physical silver there is a premium below the spot price. This is how brokers make their money. No one will buy or sell you silver without making a profit on the transaction.
As a result I like some of the ETFs that make holding silver very liquid. I recommend SLV, PSLV and AGQ. These stocks hold the silver and when you buy them you are buying the physical that is stored safely.
They are very liquid, which means that they can be trade easily on the open market. This makes them a very appealing way to own silver and gold safely.
So this begs the question in the long term, which way do you think silver will go? Let's take a look at a chart of
Spot Silver
below.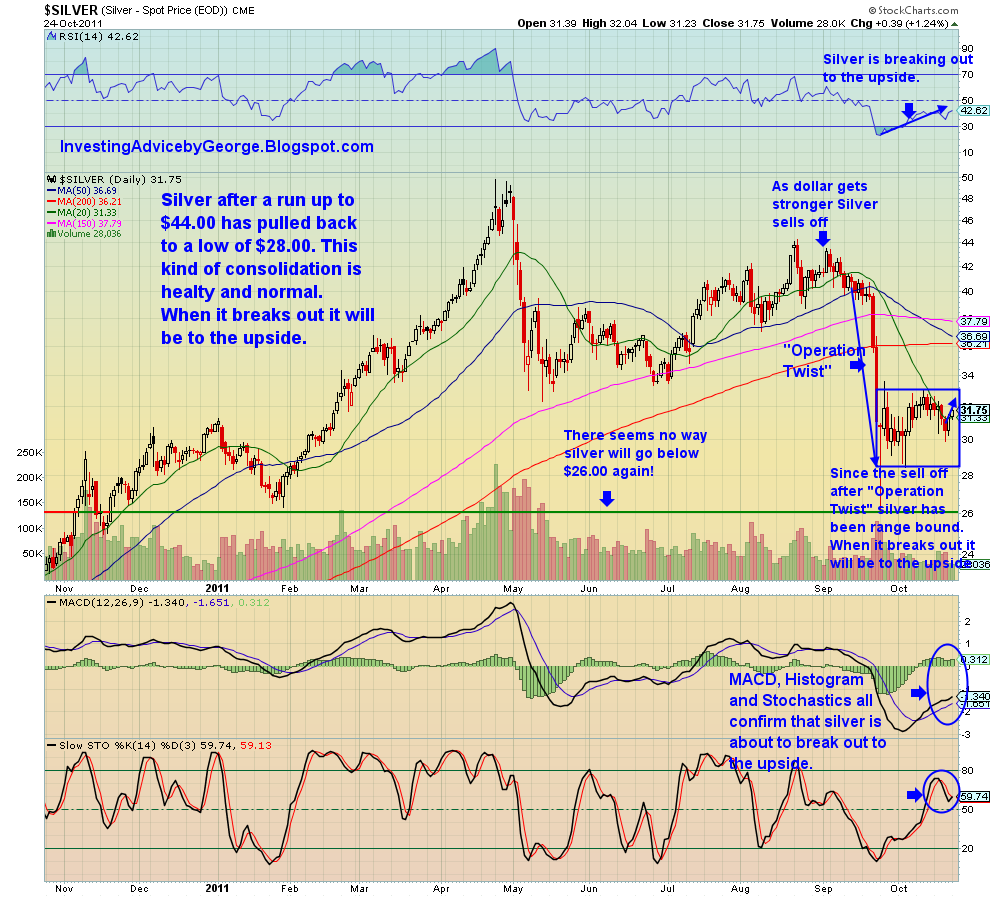 As you can see silver has been in a consolidation period for the last month. For those of you that like the market to move at warp speed let me save you the suspense. It doesn't.
In conclusion, after the volatility that silver has gone through since January of this year I think it's healthy for it to consolidate. When Silver breaks out again it will be to the upside. When silver does break through its consolidation owning SLV, PSLV or AGQ will produce a profitable return.
Disclosure:
I am long
SLV
,
PSLV
,
AGQ
.