Key Takeaways
The stock trades at 5.7x EBITDA following an overreaction to a decrease in customer spending due to elevated inventories, which should be worked through over the next several quarters.
The stock has given up a majority of the gains from the redemption of convertible preferred shares last year, which eliminated a significant share overhang and liquidation preference.
New products, emerging markets expansion, market share gains and a potential tuck-in acquisition should drive revenue growth while the growing, higher margin Trim product group should drive EBITDA margin expansion.
The steady cash flow and minimal capex requirements generate high FCF (yield of 11%).
A potential uplisting to NASDAQ from the OTC is a near term catalyst.
Company overview
Talon International (OTCQB:TALN) sells apparel accessories to fashion apparel manufacturers, specialty retailers and mass merchandisers through three product groups. The Talon Zipper group (53% of LTM revenue) sells a full line of custom zippers. The Trim accessories group (47% of LTM revenue) provides full-service outsourced trim design, sourcing and management services (trim products include labels, buttons, patches and ribbons). Tekfit is a patented fabric technology that creates a stretchable fabric from non-stretchable material that enables waistbands to stretch out and back by two sizes without the need to add expensive or unsightly elastics.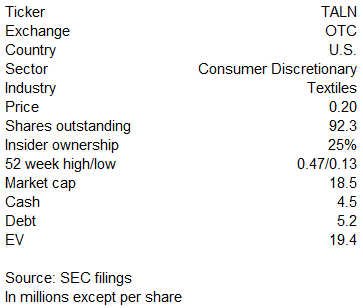 TALN is not "only as good as its last quarter"
Earlier this week TALN reported disappointing quarterly results as revenue decreased 4.1% to $16 million due to higher retailer inventories in 1Q14 that resulted in lower demand in 2Q14. However, the intermediate term outlook is more constructive for two reasons. First, the stock price decrease following the earnings release wrongly implies an other than temporary negative shift in demand as retailers should work through these inventories over the next several quarters.
Second, the overall impact is muted due to the successful effort by management to increase focus on the Trim product group whose specialty retailer customers are less affected by the recent weakness (revenue in this group increased 2.7% in 2Q14). Since 2011, Trim revenue (with a 37% GM) increased 31% while Zipper revenue (with a 29% GM) increased 23%.
The lower top line has not meaningfully impacted margins or cash flow generation. In 2Q14, the gross margin actually expanded 50 bps to 33.9% due to the more favorable product mix as well as lower manufacturing overhead and freight/duty costs. OpEx decreased slightly as an 8.6% decrease in G&A expenses more than offset an 11.1% increase in sales and marketing expenses (in order to support Tekfit; see below). In the LTM, TALN generated $2 million of FCF for a yield of 11% due to steady operating cash flow and minimal capex requirements. Moreover, cash taxes should be minimal going forward due to the $16.4 million of NOLs (last year the valuation allowance against the deferred tax assets was removed).
A shot at redemption
The loss of a majority of the exponential gains following the redemption of the preferred shares (the stock increased almost 8x over three months) implies a severe case of recency bias as investors have ignored the resulting benefits and instead choose to focus on the recent quarterly results. To provide some background, in 2010 TALN converted high interest rate debt into preferred shares in order to increase liquidity.
In July 2013, the preferred shares were redeemed for $18.8 million, which was funded with $7.5 million in existing cash, $5.5 million raised from an equity offering (61.1 million shares of common stock at $0.09; a 55% premium to the price prior to the announcement) and a $5.8 million promissory note. These shares were redeemed at a $7 million discount to the liquidation preference, which was scheduled to increase 16% annually to ~$41 million at maturity in 2016. In December 2013, the promissory note (which matured a month later) was refinanced through a new credit facility.
As a result, TALN now enjoys a simplified capital structure, no share overhang, a stronger balance sheet (only ~$700,000 in net debt) and access to a credit facility to help fund the multiple growth catalysts mentioned below.
TALN is still an effective competitor despite the fragmented market below and industry giant above
Even though YKK controls about half of the global zipper market, TALN is able to grow by focusing on the higher margin specialty retail customer (while YKK focuses on lower margin discount mass merchandisers) and providing superior service, customization and innovation that YKK cannot. These competitive advantages enabled TALN to steal customers from YKK over the past several years.
TALN is able to differentiate itself from the hundreds of smaller competitors through its global presence, ability to offer one-stop shopping (trim and zipper products), strong reputation (it invented the original American zipper in 1893) as well as shorter product development time and lower production costs through integrated design and manufacturing. This provided TALN with a diversified customer base of >1,000 manufacturing customers that represent 220 brands such as Victoria's Secret, Abercrombie and Fitch, American Eagle, Polo Ralph Lauren and retailers such as Express, Wal-Mart, Kohl's, J.C. Penney and Costco.
Clear path to continued revenue growth and EBITDA margin expansion
Management laid out a three year strategic plan that consists of 10-12% annual revenue growth, maintaining the gross margin at 32-34% and increasing the EBITDA margin to 8-9.5%. These targets should be attainable given the historical organic revenue growth (up 27% since 2011) and progressively higher EBITDA margin shown in the chart below.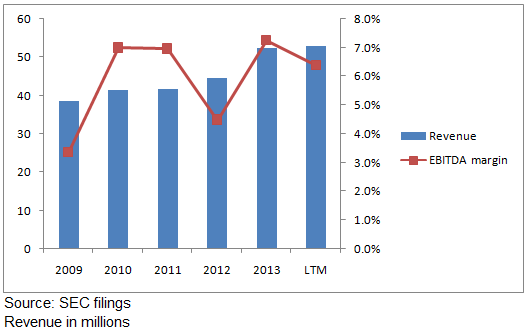 The lower EBITDA margin in 2012 was partly due to higher G&A expenses, which have since stabilized at ~$8.5 million while overall OpEx as a % of revenue decreased 225 bps to 27.9% in the LTM despite higher sales and marketing spending. This combination of continued top line growth (with a larger contribution from the higher margin Trim product group) and stable OpEx should enable the EBITDA margin to expand at least 80 bps from the 2013 level of 7.2% to reach the low end of the targeted range. The following four catalysts should enable TALN to achieve this top line target.
New brands/products. The continued addition of new brands over the past several years (shown in the chart below) not only reduced customer concentration but also provided a growing, recurring revenue stream as new brand revenue steadily increases over the course of the multi-year relationship as TALN wins more of its customers' business (cross selling of zippers and trim accessories). Management said on the 2Q14 conference call that revenue from new brands added since 2013 contributed $2 million in 2Q14.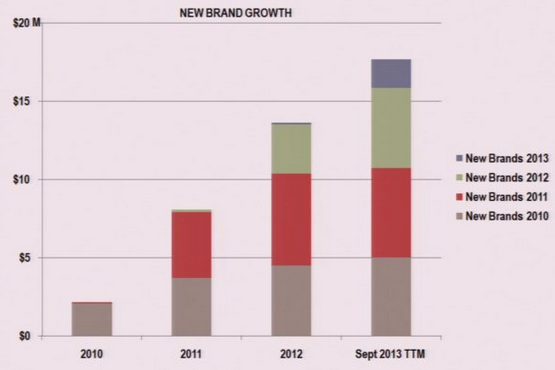 Source: Company presentation
As customers increase their dependence on TALN, they are unlikely to switch to a competitor as TALN is the only company in the industry able to offer this one-stop shopping. The prospect of moving from a single known provider of a high-quality solution to multiple unknown vendors is usually sufficient incentive to continue the relationship, especially given the consequences of a damaged brand in the event of quality issues.
The steady rate of new product introduction should enable TALN to capture greater share outside of the apparel market (footwear, backpacks, sleeping bags) and within the apparel market (industrial garments, safety zippers for children's clothing, a patented invisible bra fastener).
While Tekfit currently represents less than 1% of revenue (which results in the exponential growth rate being not meaningful), the contribution on an absolute dollar basis should increase significantly over the next several years as it is adopted by more brands in multiple applications such as dress shirt collars, denim jeans, hats and intimate wear. In June 2014, TALN granted Levi Strauss a license to use Tekfit in its Dockers line of pants. While management reported that buyers interested in using Tekfit in waistbands are more cautious, there have been positive results from its use in shirt collars in ~25 test stores with an expected wider roll out in 4Q14.
Emerging markets expansion. The 51% and 28% growth in China and Other countries (which includes emerging markets) since 2012 is largely responsible for the geographic diversity shown in the chart below, which should continue to increase following ongoing expansion into India, Bangladesh and Vietnam.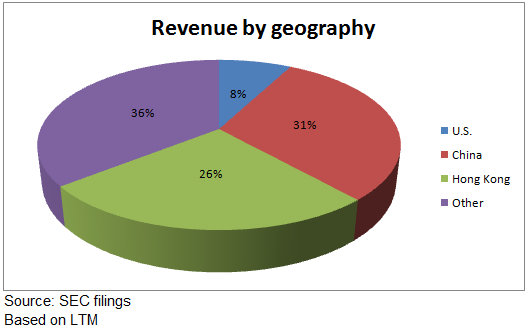 TALN should continue to steal market share (which is responsible for virtually all revenue growth over the past several years) in the fragmented, multi-billion dollar zipper and trim markets mostly from smaller, Asian-based competitors that lack its strong brand relationships.
The revenue target does not include any contribution from a potential tuck-in acquisition that would further expand its product offerings, which would result in additional cross-selling opportunities to a larger customer base. Management is targeting private companies with annual revenue of $5-15 million.
Risks
Although the majority of its products being made to order (and quickly delivered) results in low inventories, this also results in an almost immediate follow through of any lower customer demand (as seen in 2Q14; the opposite is true as well).
Lower discretionary spending would directly impact TALN given its dependence on the fashion apparel and accessories markets.
TALN may raise additional equity to fund a tuck-in acquisition. The dilutive effect should be lower than the July 2013 offering given the higher share price and potential to fund a portion with debt (which could be easily serviced with the strong cash flow).
Valuation and price target
A relative valuation analysis is difficult as its closest competitor YKK is privately held while other textile manufacturers would not be appropriate comps. However, valuing TALN (which trades at only 5.7x LTM EBITDA) on a standalone basis is more than sufficient to prove the investment thesis.
There is a near term catalyst in the form of a potential uplisting to NASDAQ, which would increase visibility and liquidity. Management said in the 2013 10-K that it intends to apply for this listing after meeting the requirements. A higher stock price (which could be achieved through a reverse split that was approved by shareholders at the November 2013 shareholder meeting) appears to be the only remaining unmet requirement. The board only has three months left to act (PDF alert) before the approval for the reverse split is terminated.
The conservative price target of $0.27 (for a return of 35% over the next 12-18 months) is based on a 10% revenue increase, 7.5% EBITDA margin and 6x multiple. Due to the lower liquidity, a wider stop loss should be placed below recent support at $0.17.
Disclosure: The author has no positions in any stocks mentioned, and no plans to initiate any positions within the next 72 hours.