Here's my latest update. Enjoy!
Mattersight Comes Through & Discovers Conservatism
Wednesday night, Mattersight (NASDAQ:MATR) announced Q4 results. They beat on the top and bottom line for the second straight quarter (after four straight misses). However, they lowered expectations for 2017. This disappointed some investors, but it appeased me.
Apparently, it appeased others, as well. I hoped for the stock to drop toward $3 so I could buy more. Instead, it ripped toward $4.
Late Wednesday night, I put together a video to explain my thoughts (some of which are moot, because the stock ripped), along with a spreadsheet, both which are now available to the general public.
While we're at it, RSYS reported earnings last night. It looked messy, but I think it points to a more-rapid transition to the newer technologies that got me excited about RDCM, RSYS, RDWR, and ALLT in the first place. I was a buyer in after-hours and view anything in the $3-4 range as a good place to accumulate if you don't have much of it.
Tap Out Of This MMA Stock
AMMA lock-up ends on 3/2/17. At that point, 6.67M shares will become available for sale. AMMA has been acquiring regional MMA promotions, which is a decent idea in principle. However, the valuation on AMMA is much too high in my opinion… and the lock-up presents near-term risk to the stock.
Accordingly, I shorted the stock a couple days ago (as a trade, at least). I may cover soon, because it's down a lot today. Sorry... I'll have to get these alerts published in a more timely fashion going forward :(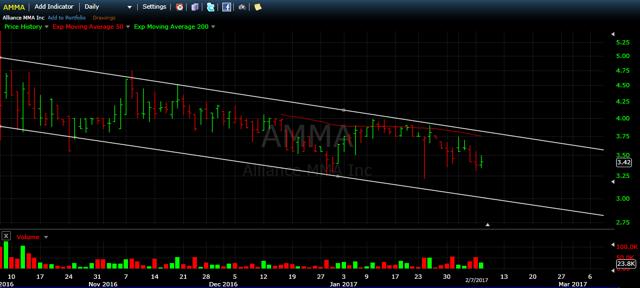 1% Portfolio Moves
See my 1% Portfolio for a few new moves. I've closed MFIN at a big gain, SHOP at a big loss, and added CALM and MRNA for reasons you can find in my latest Seeking Alpha comments. Cheers.
Understanding Insider Buying/Selling
It always cracks me up when I see investors read too closely into insider buying/selling activity without attempting to get the back story behind the activity. This is especially true of selling data (because, most of the time, someone only buys for one reason - a key lesson from Peter Lynch that I often reference).
One recent example pertains to Radisys (NASDAQ:RSYS). According to the latest data at Insidercow, Heartland Advisors just picked up a 7.4% stake in the company. That's clearly bullish. However, long-time investors, Nierenberg lowered its ownership from 9.6% to 6.9%.
Just looking at the surface data, Nierenberg surely knows more about RSYS than Heartland, one might assume. Thus, investors might say to themselves, "Overall, this is neutral or mildly bullish. I just hope Nierenberg doesn't know something."
But surface data should never be taken at face value without investigating the root cause. In fact, it is better to ignore the data completely then to draw conclusions from the headline. This is a perfect example.
First of all, there's no way of knowing which firm knows more about RSYS. Further, there's no way of knowing if either of these firm's assumptions are correct. However, with a little bit of homework, we can often gain greater insight into the surface data at hand.
As it turns out, my sources have been able to ascertain that Nierenberg lowered their position for two key reasons. One is that RSYS has risen to the point where their position size is double their norm. The other is that they have concerns regarding the stock market and would like to raise cash (by trimming many of their long positions across the board) to position themselves to buy low if and when the opportunity presents itself.
Finally, it was said that Nierenberg thinks the company has done a terrific job of executing its strategy and has great upside over the next several years, which may culminate in a strategic buyer taking them out.
So, why would they sell? Well, if you have been a student of my investing Methodology, you know that position sizing is a critical component of managing your money. You also know that stock market risk tells us when to be heavily involved in stocks and when to raise cash so we can take advantage of corrections. If you are familiar with those concepts, then you know exactly why Nierenberg trimmed their position.
As a result, when combining this information with Heartland Advisors' large purchase, it becomes easy to conclude that the latest Insidercow data is not neutral or a reason for concern, but rather quite bullish...
...and as is the case 90+ percent of the time, nobody "knows something".
p.s. Speaking of which, Yelin Lapidot Holdings (a highly-regarded Israeli institution) has roughly doubled their position in RADCOM (NASDAQ:RDCM) since November.
Additional disclosure: The information in this article is for informational and illustrative purposes only and should not be regarded as investment advice or as a recommendation regarding any particular security or course of action. The opinions expressed in Pipeline Data, LLC publications are the opinions of Mr. Gomes as of the date of publication, and are subject to change without notice and may not be updated. This content may also be published at PipelineDataLLC.com at a prior or later date. All investments carry the risk of loss and the investment strategies discussed by Mr. Gomes entail a high level of risk. Any person considering an investment should perform their own research and consult with an investment professional. Additional trading disclosures can be found in the Important Disclosures section at PipelineDataLLC.com.