This article is intended to provide a framework for understanding how we categorize stocks at PoisedToTriple.com. This framework is critcal for understanding how many great stocks emerge...and how their stocks move (up and down). This framework is particularly applicable to smaller caps, but also valid for many large caps.
Finding a great small cap story is only half the battle. The other (and more important) battle is figuring out how to profit from it. Understanding a company's progress in relation to its story is a key success factor. There are three distinct stages: The Great Find, The Wait Time, and The Gold Mine. A company's stock and its investors act very differently at each stage:
Stage 1 - The Great Find
A new technological upgrade cycle will soon unfold. A federal mandate will send billions of dollars into an area where funding and opportunities had previously been limited. A major economic change promises to breathe new life into a long-stagnant industry.
These and countless other scenarios can presage a windfall of revenue and profits for an otherwise sleepy or unknown public company. Recognizing such a scenario and its publicly-traded beneficiaries before anyone else is a Great Find.
Over time, more and more investors will discover the Great Find. This fuels a speculative run on the stock. In this stage, early investors often rack up enviable paper profits. Those who show up late could find themselves stuck with a long Wait Time.
Stage 2 - The Wait Time
The word is out. The Great Find is poised for accelerating growth and profits by the end of the year…or is it the end of next year? Thus begins the Wait Time.
More often than not, the Wait Time lasts longer than anyone expects. For several quarters (or years) earnings reports fail to meaningfully exceed estimates. Worse yet, results often fall short of estimates. In some cases, the disappointing results are a direct result of the coming Gold Mine. Purchases of soon-to-be-antiquated products grind to a halt. Customers delay purchases as they await government funding. The effects of economic change are slow to make their way through the system.
The Wait Time can last a lot longer than the initial build-up created by the Great Find. During this stage, investors will question whether this stock really was a Great Find. Many will become disillusioned or simply impatient. In either case, less people take an interest in buying the stock, while a growing contingent loses faith and begins to sell.
Many times, these stocks will flat-line and even drift lower. Traders will opt to sell during this period. Devout followers will hold their stock and may even buy more on the weakness. Holders will be tested. If the stock drops for long enough, investors will fear that something has gone wrong. Of course, fear is never a reason to buy or sell. In fact, it is usually a perfect time to do the opposite. This is why capitulation is usually a reversal point.
Most of the time, none of the fears come to fruition. The company reports its last mediocre quarter and provides guidance that they are beginning to reap the rewards of a Gold Mine. However, many investors are no longer around to hear the declaration. Others hear it, but are deafened by skepticism. They focus on the recent past instead of looking forward to the brightening future. They aren't around to experience the Gold Mine.
Stage 3 - The Gold Mine
The Wait Time is over. The company announces a quarter that exceeds Wall Street expectations and raises expectations for the quarter to come. 3-months later, they do it again…and then again.
The stock begins a renewed ascent. Often, the run will be interrupted when the stock hits levels last seen during the Great Find. Early and battle-weary investors recall how "stupid they were" not to sell at those heights…so they sell now.
Once demand regains command over supply, the stock heads to new heights, leaving countless once-believers in the proverbial dust. After a long, hard journey, it's the newest investors that reap the greatest reward. In some cases, the stock runs longer and goes higher than anyone ever dreamed.
How to Make a Big Profit
This framework extends beyond small caps. It actually applies to companies at every level of capitalization and even entire markets. The Internet Bubble was a perfect example of how the initial euphoria surrounding a "Great Find" can implode into a painful "Wait Time". However, as we saw with companies like Amazon.com, when the "Gold Mine" hits, it hits big.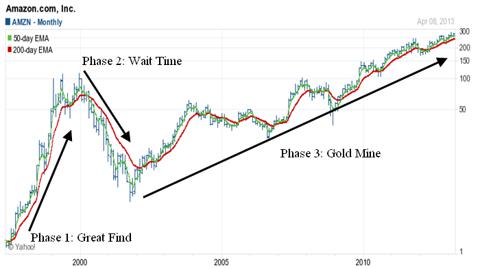 If every stock with a great story dutifully and predictably worked its way through the three stages, this section wouldn't be necessary. In reality, some great stories have unfortunate endings. Others end well, but not well enough to reward all investors (especially those who bought at over-hyped levels). In these cases, those who bought during a Wait Time collapse turn a great profit.
In any case, the key to maximizing profits is to correctly identify the stage in which the company (and its stock) resides.
There are hundreds of great small-cap ideas to be found on Seeking Alpha. A series of forthcoming articles will discuss some of the most promising stories and track their progress through the three stages. Each case will have its own unique characteristics, providing broad insight into the myriad paths a small cap stock can take on the way to fulfilling its potential.