The current malaise in the financial markets instigated by the US Federal Reserve's intention to taper bond-buying is creating havoc in the Asian and Latin American financial markets. The Asian markets have been particularly impacted with an expectation that "turning off the cheap money tap" would have negative consequences to their GDP growth in the near future.
The Asian countries that have been perceived to be particularly vulnerable to this scenario are India, Indonesia and Thailand, with the potential for the issue to spread across the broader Asian market. India and Indonesia are battling with similar issues around current account and fiscal deficits, high inflation, slowing GDP growth and political uncertainty with oncoming federal elections early next year. Debt-driven growth over the past 3-4 years have made them vulnerable to a larger impact of capital flight in these times. The currency for both India and Indonesia have depreciated over 10% this year and are among the worst performing.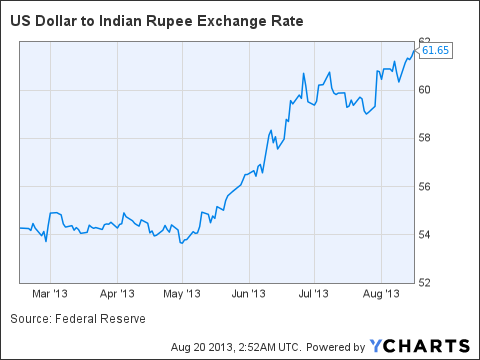 US Dollar to Indian Rupee Exchange Rate data by YCharts
Although there is a clear motive to draw parallels with the 1997-98 Asian Financial Crisis, this time the situation is different:
India and Indonesia are stocked with foreign reserves in excess of $US200 billion and $US100 billion respectively to cushion any short-term negative impact.
These are trillion-dollar economies driven by its young and highly educated workforce that is highly productive and competitive in terms of cost and service delivery.
On the macro-economic front, the debt-GDP levels are at a far lower level when compared with many European countries.
Although, the US and EU economies are stabilizing and showing signs of improvement (as indicated by the unemployment rates, PMIs, GDP growth), their troubles are far from being completely resolved.
Increased standard of living and change in consumption patterns in Asia have resulted in multi-national corporations having invested in various industries and businesses across this region with a long-term view.
The current rapid depreciation in Asian currencies is a knee-jerk reaction to Fed tapering and a case in point of cashing-in by institutional investors. Eventually, money will flow back into these economies as the long-term fundamentals haven't really changed.