We'd like to introduce today a profitable trading opportunity with Pershing Gold Corp (PGLC). We don't want to bother you with a long nor boring analysis of the company (like most penny stock newsletters do), instead we'd like to highlight just the important points in regards to this opportunity:
1. PGLC announced that they signed an agreement with Victoria Gold (TSX-V:VIT) to acquire mining claims from VIT's subsidiary, Victoria Resources (US) Inc.
TAKEAWAY: This is the "beginning" of PGLC's press campaign
2. In February of this year billionaire Dr. Phillip Frost funded Sagebrush Gold, Ltd. (SAGE). Late last week Sagebrush Gold changed its corporate name to 'Pershing Gold Corp' and its stock ticker from SAGE to PGLC, respectfully:
13:44 3/26/2012 SAGE Sagebrush Gold Ltd. Common Stock PGLC Pershing Gold Corporation. Common Stock **
TAKEAWAY: rumor of another round of funding from Dr. Frost has been circulating OTC markets and added fuel to PGLC engines
3. Mark Lauther. This is the main guy behind PGLC $1.1M promotion. 'nuff said
TAKEAWAY: If you recall the famous Jammin Java (JAMN) run from ~$1 past $6 a share - then you remember Mark Lauther's deal. That was HIS promotion.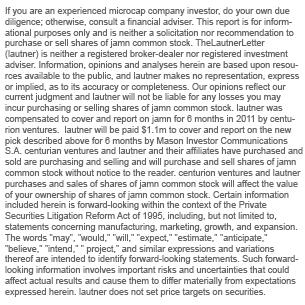 Last but not least: PGLC stock traded 6.41M shares vs 338K 10day average. Volume speaks!
Happy Trading!