Written on: April 9, 2011

So far, how are you doing with stocks? Any gains or losses? Well, in this kind of economy, it is really hard to manage a win-win situation when trading stocks. You need to do your "homework" every day. Of course homework is not about school works; in this case, homework means you need to spend infinite amount of time researching for stocks and their companies' stats, looking at their balance sheets or income statements, browsing through analysts' opinions and recommendations, and reading the most updated news on the chosen companies. You might think the above tasks are really hard to accomplish – it is definitely normal to think this way; however, if you don't do the homework, then you won't be able to make money on the stocks market floor. Always do your homework!
Anyway, April 4 to April 8, 2011 is not so bad.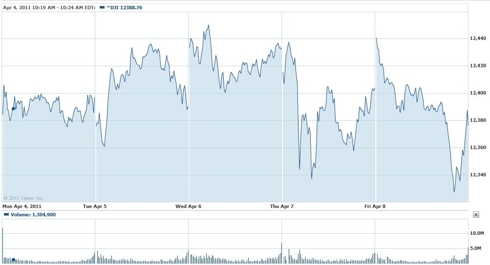 From Yahoo Finance (Dow Jones Industrial Averages)
As you can see the chart (5-day) above, the DJI did not fluctuate that much. It is closing below 12,400 – in this way, it is not that good. There is a big resistance level at 12,400 and the DJI is unlikely to break it soon.
So, is it a double top (when looking from Feb. to Apr. 2011)?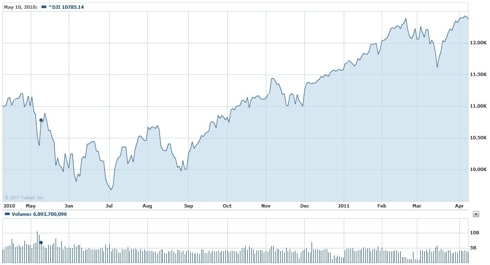 From Yahoo Finance (Dow Jones Industrial Average)
The above chart (1-year) shows a possible double top from Feb. to April 2011 after an inverse head and shoulder. If that is not a double top, then it will go back to the uptrend channel. If that is a double top, then it can fall back to 11,750 or so.
Hopefully, the upcoming week you will know whether it is a double top or a continuous uptrend. In the meantime, play safe and set stops!
Stocks that interested me are the following: MCP, NOK, and S
1. Molycorp Inc. (NYSE: MCP)
Years founded: 2010
IPO
MCP is basically just a mining corporation. It owns the Mountain Pass rare earth mine in California – the principal asset of this firm. As the rare earth minerals are in short supply, MCP profits from these minerals.
Chart: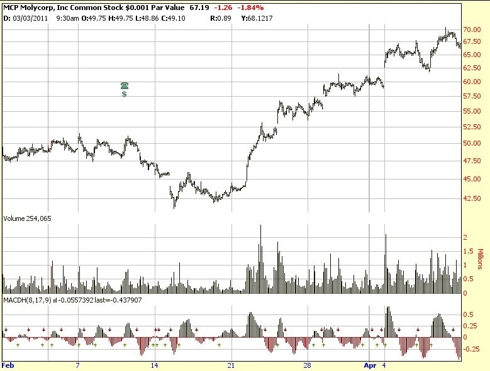 From Prophet Chart (MCP)
The above chart (30-days) shows MCP rises from around 42.50 up to 70.00 in less than 20 days – that is almost a 65% increase in its stock value!!!
2. Nokia Corporation (NYSE:
NOK
)
Years founded: 1865
Estimated number of employees: 132,430 (end of 2010)
NOK is a multinational communications corporation based on Finland. It manufactures mobile devices and communication networks. Its sales are in more than 150 counties. It is the world's largest manufacturer of mobile phones in 2010.
The chart (30-days) shows the stock rises from 7.80 up to 9.10 within 25 days – that is nearly a 17% gain if you buy it from the bottom!!!
3. Sprint Nextel Corporation (NYSE:
S
)
Years founded: 1937
Estimated number of employees: 40,000 (in 2010)
S is a telecommunication company – which provides wireless calling and internet businesses.
When you look at this 30-day chart, S rises from 4.20 to 4.80 in just three weeks – that is a 14.28% increase!!!
HAPPY SATURDAY!!!!!!!!!!