The Market Equilibrium Indicator is designed to show imbalances between the growth the market and the economy by tracking stock market total-returns and economic input (financial capital). It is intended to give a window into economic imbalances building underneath the market to help give a better understanding of current conditions.
The model is calibrated such that zero indicates there is no imbalance, (no impetus for stock market growth), and 1.0 is set to the average imbalance over the past 50 years, indicating that economic inputs support average stock-market growth levels.
It is important to remember that the market is actually driven by investor activity. Economic imbalance is a force that acts on the market, but investor greed and fear can overcome it for periods of time.
A more detailed explanation of the EQ indicator can be found here.
The latest updates to this indicator and other indicators are here, and on my Instablog.
The chart below shows the EQ Index vs S&P 500 price level: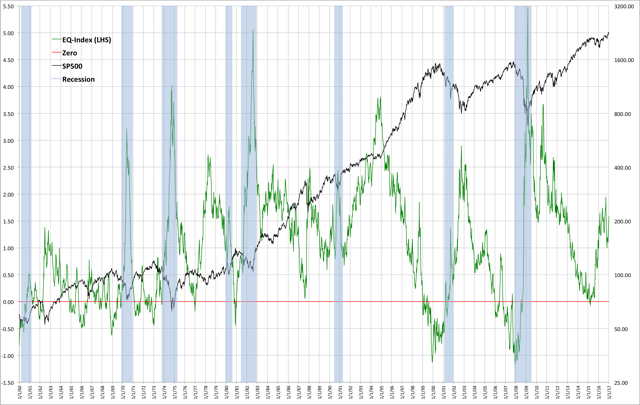 The chart below shows the EQ Index vs S&P 500 total return: