Henry Hub natural gas price is currently around US$4 per mmbtu
Strong demand in Europe and Asia as prices are around US$10 per mmbtu
In US, the current inventory is about 500 billion cubic feet more than 2008 when Henry Hub natural gas price was above $8 per mmbtu (multi-year high)
According to the Department of Energy, the inventory level will remain similar for 2011 and 2012

 

The excess inventory resulted from the new techniques developed in North America, namely horizontal drilling and hydraulic fracturing, that have enabled economical extraction of natural gas from an unconventional source called shale gas
There is no major facility in North America to liquefy the excess natural gas for export to Asia and Europe
Several North American companies (Apache Corp, Cheniere Energy Inc, Dominion Resources Inc, and Freeport LNG) have announced plans to build four export terminals, scheduled to start operating in 2014 and 2015. They have a combined capacity of at least 1 trillion cubic feet each year, twice the amount of inventory difference between today and 2008 mentioned above. Preliminary agreements have already been signed by the customers for half of the output.
Henry Hub natural gas price should bounce back to above US$8 per mmbtu in 2014 as the excess inventory is eliminated through the new export terminals
According to the Department of Energy, electricity generation accounted for 30% of natural gas consumption in 2009. The usage has been increasing 5% a year on average from 1999 to 2009. The main driving force for this trend is the replacement of coal-fired power plants with natural gas-fired ones.
Many states and countries are phasing out coal-fired power plants due to their greenhouse gas emission.

 

Natural gas-fired power plants emit only half as much greenhouse gas.
Natural gas will replace coal as the major source for electricity generation as renewable energy such as wind and solar still suffers from cost and weather issues. US and EU set their renewable energy targets to only 20% and 30% by 2020. In contrast, the current usage for coal and natural gas are 45% and 25% respectively in US.
There was a 30% (capacity) spike in the construction kickoff of natural gas-fired power plants in 2008. Given the average 3 year construction time, these generators will come online in 2011 and push up the Henry Hub natural gas price.
US is on track to a gradual economic recovery as many companies reported earnings comparable to or higher than the years just before the financial crisis. Energy consumption will increase in 2011 and beyond as the economy continues to improve.
Between now and 2014, Henry Hub natural gas price will move up for the two reasons listed above, more natural gas-fired power plants and better US economy.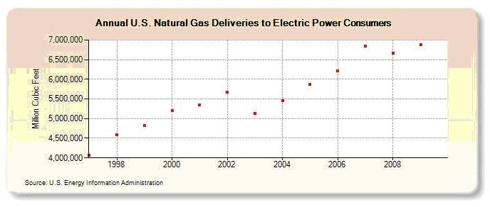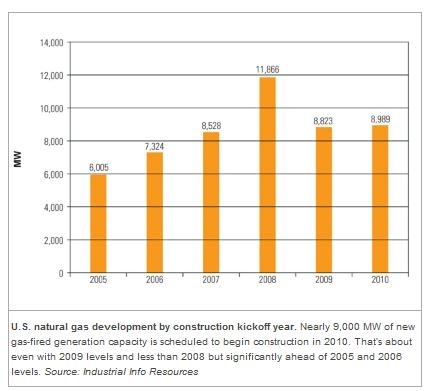 Disclosure:
I have no positions in any stocks mentioned, but may initiate a long position in
ECA
over the next 72 hours.