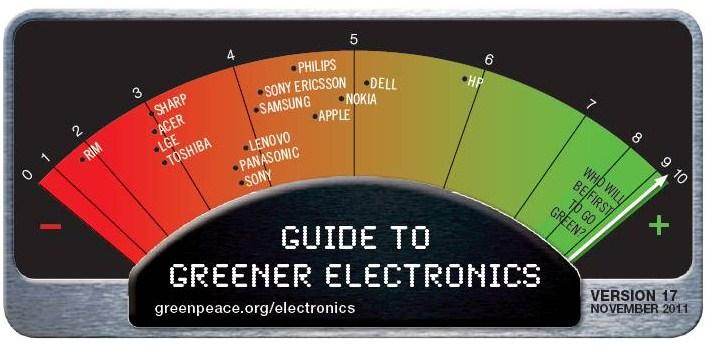 After jumping five spots in the 2011 Greenpeace Guide to Greener Electronics, Apple (NASDAQ:AAPL) now ranks as the 2nd greenest smartphone manufacturer. Nokia (NYSE:NOK) holds a narrow margin to retain the #1 ranking as the greenest smartphone manufacturer among the Top 15 global consumer electronics companies ranked by Greenpeace. Samsung (OTC:SSNLF) drops two spots in the overall ranking. See the chart below.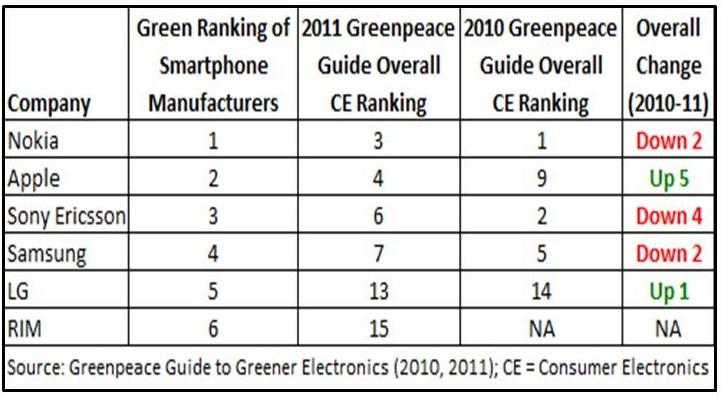 There are three attributes that enabled Apple to significantly improve its 2011 Green Ranking:
Sustainable Operations: Most of its points were scored in this category because of its stellar recycling program that is used where more than 95% of its products are sold. It exceeded its goal by achieving greater than a 70% recycling rate (as a percentage of sales 7 years ago).
Product Energy Efficiency: Apple's products are at least twice as efficient as the Energy Star standards; in the case of the Mac mini, it is six times as efficient. The key to these achievements is Apple's product design – using more efficient power supplies, optimized power management software and components that require less power.
Avoidance of Hazardous Substances in Products: All Apple products are BFR-free and PVC-free. They also are mercury-free and have arsenic-free glass. The majority of product packaging is made from post-consumer-recycled fiberboard and bio-based materials.
Greenpeace does cite important areas for improving Apple's green score:
GHG Emissions: Apple needs external verification of its reduction in GHG emissions and needs to specify a noteworthy target to reduce emissions in the future.
Renewable Energy: Although renewable energy now comprises more than 13% of its facility-related electricity consumption, Apple needs more ambitious goals for increasing its renewable energy use by 2020. Its plan to use solar power for its iCloud facility in North Carolina will help.
Paper Sourcing: While Apple does use recycled paper in its product packaging, it has not published any paper procurement policy that excludes suppliers that are involved in deforestation and illegal logging.
Since Apple and Samsung have been mano a mano in the battle for being the greenest smartphone provider, Apple has clearly won this new round (See Apple vs. Samsung: Battle of the Green Giants). Samsung was penalized in its ranking because it backtracked on its commitment to eliminate BFRs in all of its products. Additionally, it has not published any target to cut absolute GHG emissions which needs to be at least 30% by 2015. Similar to Apple, it also needs an eco-friendly paper procurement policy.
Greenpeace has upped the ante for the world's leading consumer electronics companies in the November 2011 Guide (Click here for the full report). The top scoring companies in the future will be those that:
Reduce carbon footprint throughout the entire product lifecycle;
Set ambitious renewable energy goals by 2015; and
Find innovative solutions for extending the lifecycle of products by using universal chargers, extending battery life and enabling replaceable parts and upgradeable software.
Will consumers choose their next smartphone based on how green it is?

If you enjoyed this article, you may also want to read the following Seeking Alpha articles/blogs:
Apple vs. Samsung: Battle of the Green Giants
The Animated History of the iPhone


* Article first published as Apple Gains, Samsung Drops in Green Rankings on Technorati.
 
Disclosure:
I am long
AAPL
.