A Forgotten Form 4


China Integrated Energy (OTCPK:CBEH)  is yet another Chinese reverse merger whose financials and dilutive equity offerings have drawn the scrutiny of the investment community and the opportunistic eyes of short sellers, including those of yours truly.

Assuming around 40M shares outstanding, CBEH trades at a 2010 P/E of about 4.5, has no debt, lots of cash, and is growing earnings at an impressive rate.  The rock bottom valuation is arguably attributed to the allegations proposed by short sellers specific to CBEH and other Chinese reverse mergers.  CBEH has responded to these allegations and has upgraded its auditor to KPMG in an effort to prove itself legitimate. CBEH's KPMG audited 10-K is due in March.

CBEH's CEO and founder, Xincheng Gao currently owns around 55% of the stock.  Considering the company's cash-rich debt-free balance sheet, growth in earnings, and cheap valuation, one would expect Mr. Gao to hold on to his company stock dearly. But in the world of Chinese reverse mergers, expect the unexpected.  A careful reading of CBEH's SEC filings reveals that Gao sold a small portion of his ownership to two individuals at below market prices in September of 2009

Buried on page 52/58 of 10-K filed 3/31/10 , one finds this interesting admission: 

Based solely on our review of copies of such forms received by us, we believe that during the fiscal year 2009, the executive officers and directors of the Company and every person who is directly or indirectly the beneficial owner of more than 10% of any class of security of the Company complied with the filing requirements of Section 16(a) of the Exchange Act, except that Redsky Group Limited and Mr. Gao did not file a Form 4 reflecting the private sale of 517,200 shares of Redsky Group's common stock, which occurred on September 10, 2009.


A Strange and Profitable Transaction


An S-1/A filed on 10/29/09 reveals Gao sold 517K shares to Longgen Zhang and Yuan Gong for $4.50 on 9/10/09. A prospectus filed on 11/5/09 offers for resale to the public up to 517K shares when the stock traded for $6.20, and another prospectus filed on 5/14/10 offers up to 257K shares to the public from the same September 2009 private sale when the stock traded for $11.37. Consolidating the information from these filings, one can estimate how much money Zhang and Gong made from this transaction which took place around the same time CBEH offered shares to the public.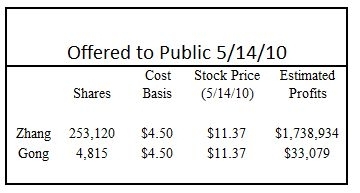 Aside from the failure to file a Form 4, which is normally necessary when the CEO/majority owner sells stock, several things strike me as odd about this transaction. First of all, why would Gao sell a stake in his company at below market prices, creating an instantaneous mark to market loss of $1.3M? If he wanted to sell some shares, why did he not do so in the open market and receive over a million dollars more than he did by selling to Zhang and Gong?

Secondly what service did Zhang and Gong provide to CBEH or Gao that warranted such compensation? And why did the compensation come directly out of Gao's pocket rather than the company's coffers. For context, Gao received $54,000 in cash compensation in 2009. As of 9/30/2009, China Integrated Energy reported $40M of cash on the balance sheet, so there was no reason the two could not have been paid by the company in cash.


Longgen Zhang and Yuan Gong : CFO's of other US listed Chinese stocks


According to Forbes, Zhang was the CFO of Xinyuan Real Estate from 2006-2008 and has been the CFO of JinkoSolar (NYSE :JKS) another U.S. listed Chinese company since 2008. What "financial advisory" services did Zhang provide to CBEH while he was CFO of another company deserving of approximately $900K in immediate MTM profits, or just under 20 times the CEO's 2009 compensation?

According to Forbes, Yuan Gong has been the CFO of China Energy Corp (OTC : CHGY) since December of 2009 and served as a director of Xinyuan Real Estate Company from 2007 to 2008. His stint as VP of Capital Markets at CBEH ended quickly after the private sale took place.


More Selling to Come?


Considering this transaction occurred in September of 2009, why should anyone care?  The answer is that Gao may sell more shares given that the S-3 Shelf Registration filed in May of 2010 includes the potential sale to the public of 1M shares owned by him. While a prospectus has not been filed for such a sale, I am curious to see if Gao sells more of his presumably undervalued company in the future.

Furthermore, in deciding whether to side with the longs or the shorts, this transaction may provide one piece of the puzzle. In my opinion, a private sale of shares by the CEO to two CFO's of U.S. listed Chinese stocks, on which both make multiples of the CEO's low salary, is extraordinarily odd, if not suspicious, especially when one considers CBEH's proclaimed growth prospects and prosperity. Just as Gao plans to sell 1M shares in CBEH's most recent shelf registration, I am inclined to sell his company's stock short. Perhaps a KPMG audited 10-K within the next month will clear the cloud of scrutiny currently looming over CBEH. Perhaps not.
Disclosure:
I am short
OTCPK:CBEH
.