Recently, International Fuel Technology, Inc. announced that it is changing its corporate name to Fuel Performance Solutions, Inc. to more accurately reflect and communicate to the public the current and future nature of the Company's business operations. "Our Company has evolved into a provider of not just fuel additive products, but of solutions to better performing fuels for the end user," said Jonathan Burst, the Company's CEO. "This name change is a natural part of the progression we have made as a company.
Dynamic changes in the fuel market -- changes to lower content sulfur in diesel; increasing percentages of bio-diesel being blended with diesel; varying underlying bio-diesel sources; and the ever present need to reduce fuel costs, maintenance costs and emissions -- are driving end users to seek solutions to optimize the performance of their fuel. Acting on market feedback obtained from its distribution partner network, IFT has developed, and continues to develop, specifically designed superior performing fuel additive formulations that provide solutions to these end user needs."
Mr. Burst continued, "Our products have been scientifically proven to reduce carbon emissions and maintenance costs, increase fuel efficiency and have no effect on fuel composition. They are easy to blend, and are appropriate for use in a wide variety of applications."
As stated by world renowned rail consultant Interfleet Technology, who has managed and overseen numerous laboratory tests and field demonstration processes utilizing DiesoLiFTTM, 'The DiesoLiFTTM fuel additive technology has been rigorously and independently scrutinized in both industry standard test bed procedures and within a major in-service field trial. Over the course of five trials (four test bed and one in-service field trial), there is clear evidence that a significant improvement in fuel consumption is realized by using DiesoLiFTTM. The methodology employed for the test measurements is considered to result in accurate and unequivocal data'.
[Note: DiesoLiFTTM is a proprietary surfactant-based fuel additive formulation that provides a significant improvement in fuel economy and a reduction in harmful emissions. In addition, it increases fuel lubricity, provides detergency benefits and co-solves normal amounts of free water, which collectively reduce maintenance costs for the end user. The product is easy to use, only splash blending is needed, and its use has been proven to have no harmful effect on fuel composition, make-up or standard specification. The PerfoLiFTTM BD-Series provides superior oxidation stability and deposit formation control to bio-diesel and bio-diesel fuel blends. These desirable product characteristics are well-documented through extensive independent laboratory and field testing.]
"The Company now has 26 sales professionals in addition to the sales forces belonging to distribution partners operating both in the US and internationally. The Company has reported sales (and repeat orders) in Europe, the Eastern Mediterranean, and the U.K. as well as the US."
Mr. Burst added, "In calendar year 2013, customers purchased over $700,000 worth of DiesoLiFTTM and the PerfoLiFTTM BD-Series. That was more than double the figure for 2012. We anticipate continued growth in our revenues in the coming quarters stemming from continued reorders from existing clients and prospective customers completing their validation studies and beginning to purchase our product. One such prospective customer, a major New York City Agency, recently concluded a successful 18-month evaluation which demonstrated a meaningful fuel economy improvement."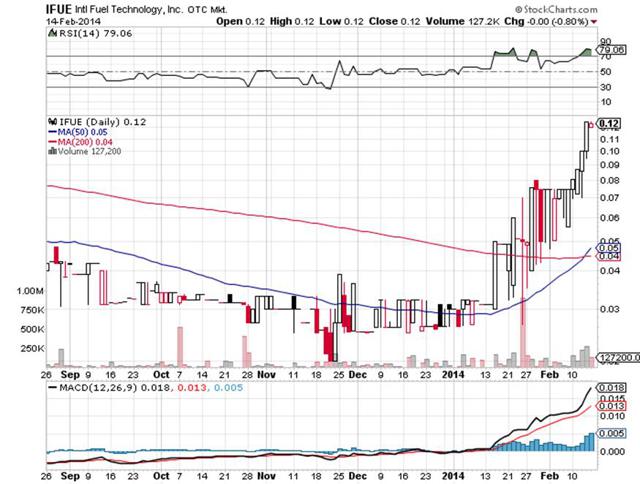 An independent report by Stuart A. Brown, an award-winning science and technology writer and reporter (stuartfbrown.com) arrived at some important and compelling conclusions:
· Users of DiesoLiFT in the railroad, trucking and other industries consistently report fuel savings ranging from 3% to 6% and higher, lower exhaust emissions and a reduced need for maintenance of fuel system components such as fuel injectors and fuel filters. The consistency of these results is noteworthy.
· The body of test data supporting IFT's claim for DiesoLiFT's fuel-conserving properties is overwhelming. The project manager at the UK railway consulting firm Interfleet stated that the "fuel economy claims by IFT are irrefutable."
· Laboratory testing for fuel economy is considered highly reliable because of the controlled conditions and the established procedures that are adhered to.
· IFT's technology can potentially apply to every diesel engine in the world since diesel engines have injection systems that spray pressurized fuel into the combustion chambers and therefore can benefit from DiesoLiFT's ability to enable more efficient and cleaner combustion.
· DiesoLiFT is a patented formulation comprising a complex mixture of surfactant detergent substances.
· Because of its surfactant chemical formulation, DiesoLiFT cannot cause any harm to engine components
· DiesoLiFT's benefits also extend to users of biodiesel fuels.
· Improved combustion reaction reduces emissions of pollutants including carbon monoxide, unburned hydrocarbons (soot), and less of the climate-altering gases oxides of nitrogen (NOx) and carbon dioxide (CO2).
I have been an investor in IFUE shares for a number of years (admittedly, I was early) and have added to my position recently. Here's my thinking:
The commercializing of a destructive technology is a long, arduous process. (It took Xerox some 20 years to commercialize its breakthrough technology.) IFUE developed unique, revolutionary additives but because of its small size it needed to repeatedly convince end users of its claims. Prospective customers were initially skeptical, wondering "how a little unknown company could invent something, possibly THE 'silver bullet' , that the big companies have been unable to do?"
Now after nine years, the company's efforts are bearing fruit:
Manufacturing will be handled by two major international chemical manufacturers
Key distributors have been and will continue to be signed up in major markets
The marketing force has been increased dramatically
Patents have been applied for and/or issued
The products now have brand recognition in the marketplace
The company is focusing its efforts overseas because fuel prices are much higher there than in the U.S. and because marketing efforts can be more concentrated. In the U.K., for example, ATOC (railway industry trades group) initiated (and paid for) testing of the company's products and then shared the positive results with its members.
As far as competing technologies….there aren't any. Extensive work with the rail operators and with Interfleet (a world renowned rail consultant) has confirmed that "there is no one out there with a fuel additive for fuel economy other than IFUE……period!"
The company's products are being acknowledged as top performing technologies for bio-diesel stabilization. They have received the coveted "No Harm" certification from the German-based Association for the Quality Management of Bio-diesel (AGQM) under its "No-Harm and Efficiency" program. This certification is the international standard in the bio-diesel industry due to the demanding requirements necessary to obtain such certification and, in many countries, this is necessary before entering the market.
It seems to me that International Fuel's stock risk-reward ratio is especially attractive now, in view of …
Business momentum
Enormous commercial business opportunities
Extensive patent portfolio
Management, including a Nobel Laureate, who heads research and maintains important business contacts in Brazil
An improving balance sheet
Prospect of announcements of orders over the next few months
The stock's better technical picture
Disclosure: I am long IFUE.